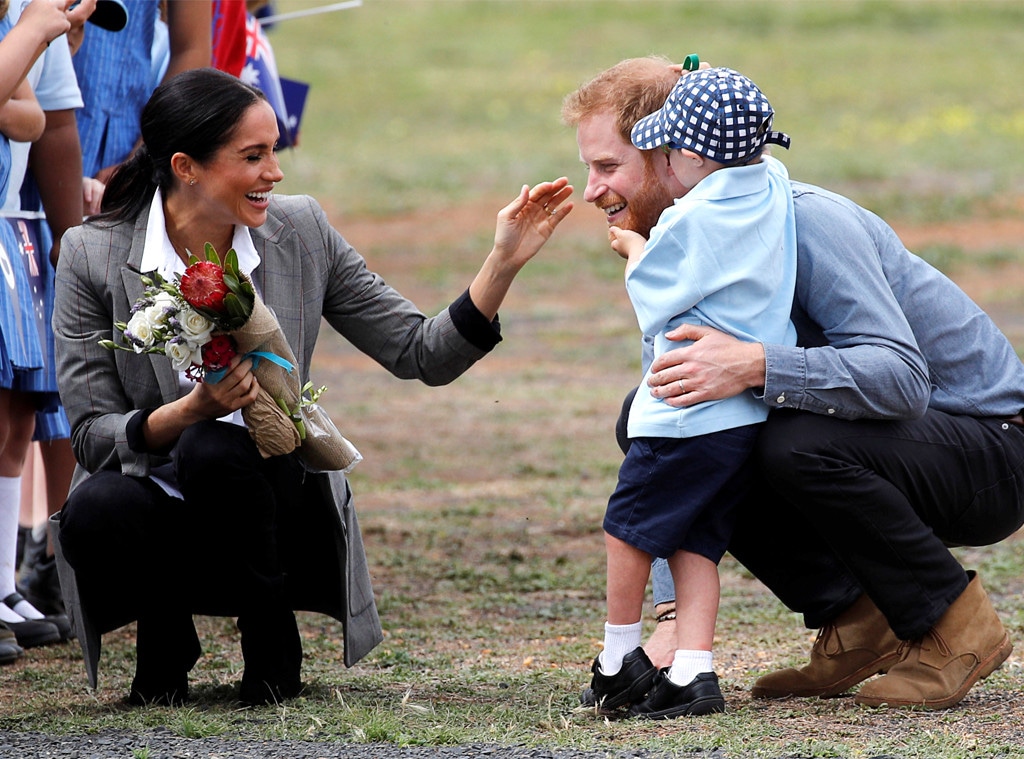 Phil Noble - Pool/Getty Images
Meghan Markle and Prince Harry's welcoming committee was full of the cutest kids.
The Duke and Duchess of Sussex's Royal Australian Air Force jet touched down in Dubbo, Australia to a warm welcome from children from nine schools in the area and the city's mayor, Ben Shields. Harry and Meghan were flourished with hugs and happy cheers as the kiddos excitedly met the royal couple. One little boy tugged on Harry's beard since "his favourite person is Father Christmas."
Some of the school-aged children even brought the parents-to-be bouquets flowers.
For their arrival in the small town, the Duchess wore a pair of Outlander jeans with a blouse from Maison Kitsune and a jacket from friend Serena William's collection. To top off the look, she wore a Natalie Martin necklace and a pair of boots from J. Crew.
During their visit to the city in New South Wales, the couple will help with the unveiling of a new aircraft to mark the 90th anniversary of the Royal Flying Doctor Service, visiting a drought-affected farming family and attending a community picnic.
Phil Noble - Pool/Getty Images
On their first stop of the Royal Invictus tour, the newlyweds met cheerful fans in Sydney, Australia, including a teen who resembles a young Meghan. The girl, who wore a shirt that said "Girls Can Do Anything," was lucky enough to have the Prince snap a photo of her and Meghan, despite it going against royal protocol.
They also met a 98-year-old woman named Daphne Dunne, whom Harry had met during his 2015 and 2017 visits to Australia. Harry introduced his wife to his friend and pleasantries were exchanged. Before they parted, Meghan told her, "Hopefully the next time we see you we'll have our little with one with us."
The pair recently announced they are expecting their first child together.