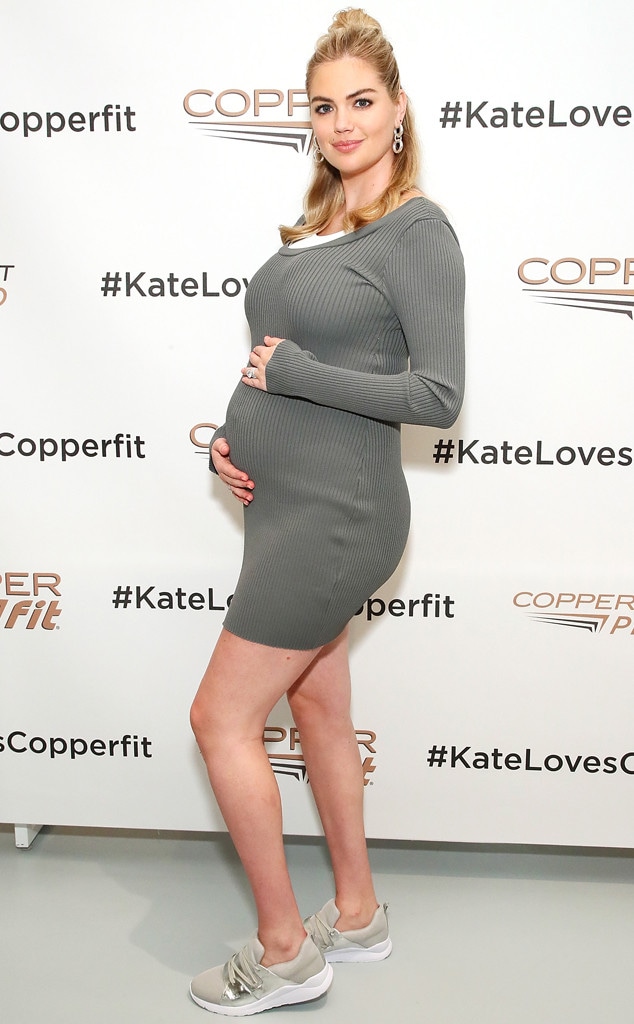 Astrid Stawiarz/Getty Images for Copper Fit
Being pregnant won't stop Kate Upton from breaking a sweat in the gym.
More than three months after news broke that the Sports Illustrated Swimsuit model and husband Justin Verlander were expecting their first child, E! News is learning new details about Kate's pregnancy journey.
With help from trainer Ben Bruno, the supermodel is trying to stay fit and feel her best as she prepares to expand her family.
"A lot of the workouts Kate has been doing are based on the Strong4Me workouts," Ben shared with E! News exclusively. "The main thing is that when you're pregnant, some days you have more energy than others and you just have to listen to your body. Kate is still exercising. It's a toned back version of what we were doing."
These days, a typical workout can consist of reverse lunges and hip thrusts. Kate still loves to ride the bike. And yes, she can still use weights. It's just "dialed back" a bit more.
"I think when you're pregnant, it is not the time to try to set personal records in the gym so we dialed back," Ben explained to us. "The main thing is you have to listen to your body so you know some days it's not in the cards to work out and that's okay."
Strong4Me Fitness is a 12-week fitness program designed for women and created by both Ben and Kate. The program helps women of any fitness level build strength and confidence so they can be strong for their lives.
Throughout her pregnancy journey, Kate has found herself traveling for work commitments or to support her husband during the MLB playoffs. Oh didn't you know? He's a pitcher for the Houston Astros and kicking some butt.
Fortunately, the Strong4Me workouts have minimal equipment required and can last about 30 minutes.
While a good fitness routine can provide great results, healthy eating is also important. Ben said that Kate's been "eating how she feels" and there's no strict regimen.
"I have really learned throughout the whole thing is that every woman is different and every pregnancy is different," Ben explained. "So you have to take each day as it comes and listen to your body and do the best you can. There is nothing wrong with taking days off if you don't feel up to it."
In between Kate's date nights with Justin—they just went to Beyoncé and Jay-Z's On the Run concert—and her business ventures, Ben assures fans the mom-to-be has simple goals.
"Staying fit and just feeling good," he explained to E! News. "She says she feels better when she moves her body. It's just feeling good and feeling strong. That is the main thing."