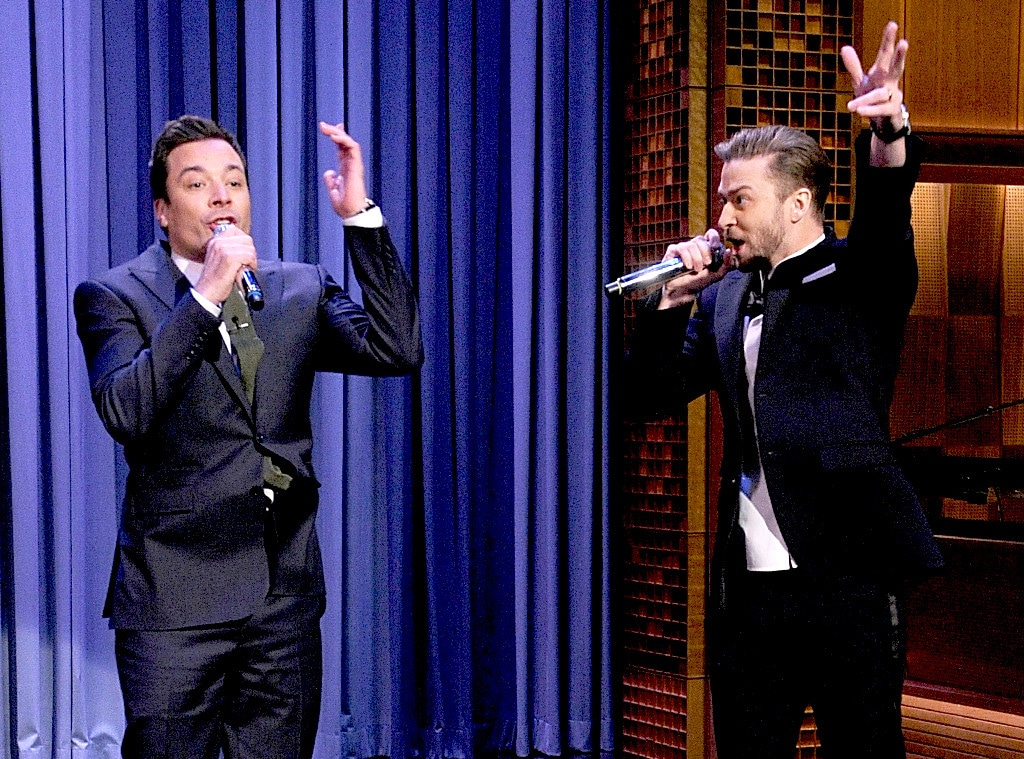 Jamie McCarthy/Getty Images for The Tonight Show Starring Jimmy Fallon
Jimmy Fallon is a musical genius. Yes, we said it and we meant it.
The actor and comedian might be a late night talk show host for a living, but he can definitely belt out a tune when given the opportunity. Luckily, Fallon's love of music plays a major role on his show The Tonight Show Starring Jimmy Fallon and it is one of our favorite things about this evening series. 
Not only does Fallon talk to the biggest celebrities every night, but he makes them do hilarious musical skits in addition to funny games and bizarre challenges. Over the years, the 44-year-old comedian has taken on iconic musician's songs himself, teamed up with singers to do things like the "History of Rap" and challenged actors to "Lip Sync Battles" and we love each and every music-infused moment on his show.
That's why, we are celebrating The Tonight Show being a finalist for the People's Choice Awards' Nighttime Talk Show of 2018 category with a music roundup.
As you scroll through this story you will see some of Fallon's biggest and most impressive music moments on the show, because music is sort of his thing...and being funny, duh.
Whether you love Fallon and The Tonight Show for the different segments of "Classroom Instruments," or you wait every week hoping for another installment of "History of Rap," music is a part of this talk show and we wouldn't have it any other way.
Once you're done rocking out to these funny music-centered moments make sure to vote for Fallon's talk show to win at this year's People's Choice Awards!
Lip Sync Battle
OK, there have been a lot of "Lip Sync Battles" sketches on The Tonight Show that we've loved, but there are two that we can't help but point out. For starters, when Fallon went up against Ellen DeGeneres it was almost too much to handle. Not only did DeGeneres sing to "B**ch Better Have My Money" by Rihanna, but Justin Timberlake was in the audience judging and his reactions to everything was so funny.
Our second favorite, and maybe the best of them all, was with Emma Stone. The La La Land singer battled it out with the host by singing tracks like "Hook" by Blues Traveler (which is super-fast) and "All I Do is Win" by DJ Khalid and we aren't worthy of her amazing talents. Fallon also killed it by lip syncing to "Fancy" by Iggy Azalea and "Mr. Roboto" by Styx and wow, just wow.
History of TV Theme Songs with Will Smith
What's better than watching Fallon sing a bunch of theme songs all in one clip? Having Will Smith join him, duh! The duo rocked out to the classic TV tunes like, the Golden Girls "Thank You For Being a Friend," the Three's Company theme song and of course Smith had to belt out his own TV show anthem for The Fresh Prince of Bel-Air. It was so outrageous and wonderful to watch. 
Classroom Instruments
The Tonight Show's "Classroom Instruments" segment has become a fan favorite and we can see why, it's so much fun. Our top three guests to take part in this skit have to be Adele, who sang "Hello" with Fallon and The Roots using classroom instruments like a banana toy as a phone, Camila Cabello with "Havana" and The Lonely Island singing "I'm on a Boat." Each and every one of these makes us laugh whenever we watch them, but in reality they are all really good musical performances as well.
Bruce Springsteen Singing "Gov. Christie Traffic Jam"
Fallon's parody on "Born To Run" is freaking awesome. He takes on Bruce Springsteen's iconic song and wardrobe choices as he sings about Governor Chris Christie and about the Fort Lee, New Jersey bridge scandal. Then the Boss himself joins Fallon in a matching outfit and it's almost too much awesomeness to handle.
Songversation with Justin Timberlake
If you ever wanted to know what a conversation would be like between besties Timberlake and Fallon then this "Songeversation" clip is exactly what you need to see. In this skit the duo sings their conversation including a tangent about cookies. "Eating the last cookie is the thing that you should do. It's not the last cookie if we split in two. White Macadamia Nut!" they sing to one another. The two then talk about their kids hanging out at Chuck E. Cheese AKA Charles Edward Cheese. "Charles Edward Cheese, that's his birth name...on his certificate," they sing and it's so strange, yet perfect.
Two Neil Youngs Sing "Old Man"
The talk show host proved he is a talented singer when he took the stage as Neil Young performing the memorable track "Old Man" in Young's iconic hat and long locks. It was like watching the singer perform live and only got better when the actual artist joined forces with Fallon and sang in harmony with him.
Peter and His Heckler Sing "Don't Stop Believin'"
This might be one of the funniest moments on The Tonight Show and yet it's rarely talked about. Fallon takes the stage as a random guy named Peter singing "Don't Stop Believin'" in this sketch and then a heckler in the audience, played by Will Ferrell, interrupts him throughout the entire song. When Peter sings one line, the heckler quickly responds asking questions like, "Oh, there's more people. Where's he from?" or "Wait, the strangers are back! Where are they waiting now?" It's hilarious. Plus, the heckler eventually joins Peter on stage to dance and sing and we can't help but laugh at the whole skit.
History of Rap with Justin Timberlake
One of the most iconic series of music moments on this late night show is definitely any, and all, of the "History of Rap" skits with Fallon and real-life BFF Timberlake. They have done six different installments of this bit and each one is better than the one that came before it. From "Slim Shady" by Eminem to "Gangsta's Paradise" by Coolio so many rap songs are covered in these videos and we can't get enough from this duo.
Now that you're all hyped up and can't stop singing along to these musical moments at work, it's time to vote for The Tonight Show Starring Jimmy Fallon for Nighttime Talk Show of 2018! The deadline to vote for the final round of the PCAs is Friday, Oct. 19.
(E! and NBC are part of the NBCUniversal Family).