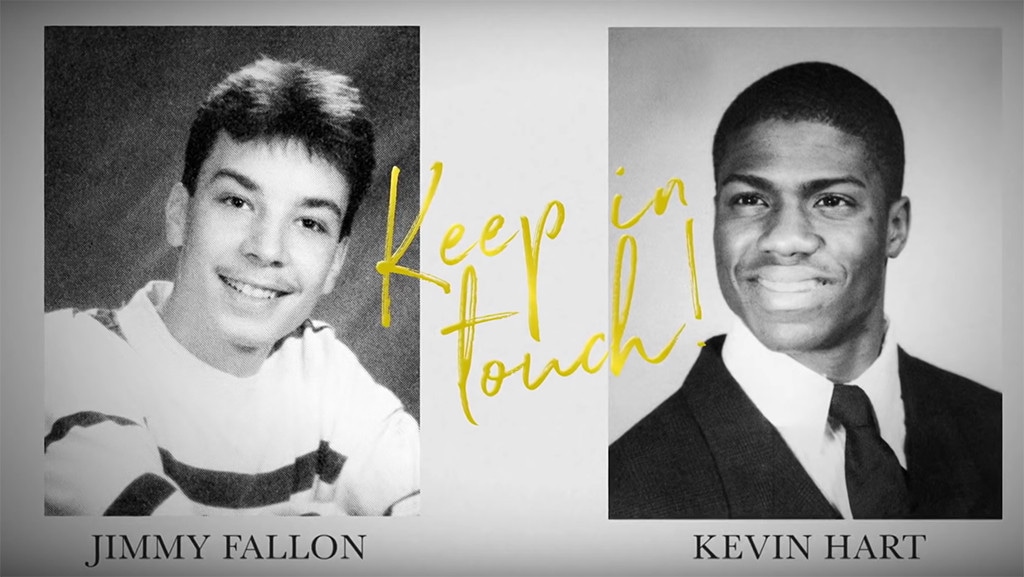 YouTube
Nothing like a little high school rivalry.
Jimmy Fallon and Kevin Hart gave students the ultimate surprise this week by crashing a few classes at a high school in Queens, N.Y. and competing to see who was the better student. It all went down on Wednesday's episode of The Tonight Show.
First, the new students had math class. Fallon tried to make a good first impression by bringing his teacher a shiny, red apple. However, the comedic actor outdid the late-night host by gifting the instructor a whole gift basket of Apple products. The teacher seemed even less impressed with Fallon after putting his algebraic skills to the test.
Then, they had science. While the two celebrities were initially excited to dissect a frog, they both felt a little nauseous once they saw the amphibian sprawled out on the tray. 
"I'm going to throw up," Hart said. "I can see his ass."
After that, it was time for lunch. While Hart seemed to fit right in with his fellow classmates, Fallon made an awkward entrance by loudly dragging his chair across the floor and telling a joke that didn't land. 
Unfortunately, things didn't get much better during gym class. Because the duo showed up late, they had to climb ropes. Fallon then struggled with running the required laps and received a few painful pummels from Hart during dodgeball.
Finally, the better student was announced during a graduation ceremony.
"Jimmy, we know you tried very, very hard and we're very proud of you," the commencement speaker said. "But Kevin, you are the better student."
As he tearfully accepted the honor, the actor surprised the students by revealing they were going to see his new movie, Night School, before it officially hit theaters.
Watch the video to see the hilarious clip.
(E! and NBC are both part of NBCUniversal).