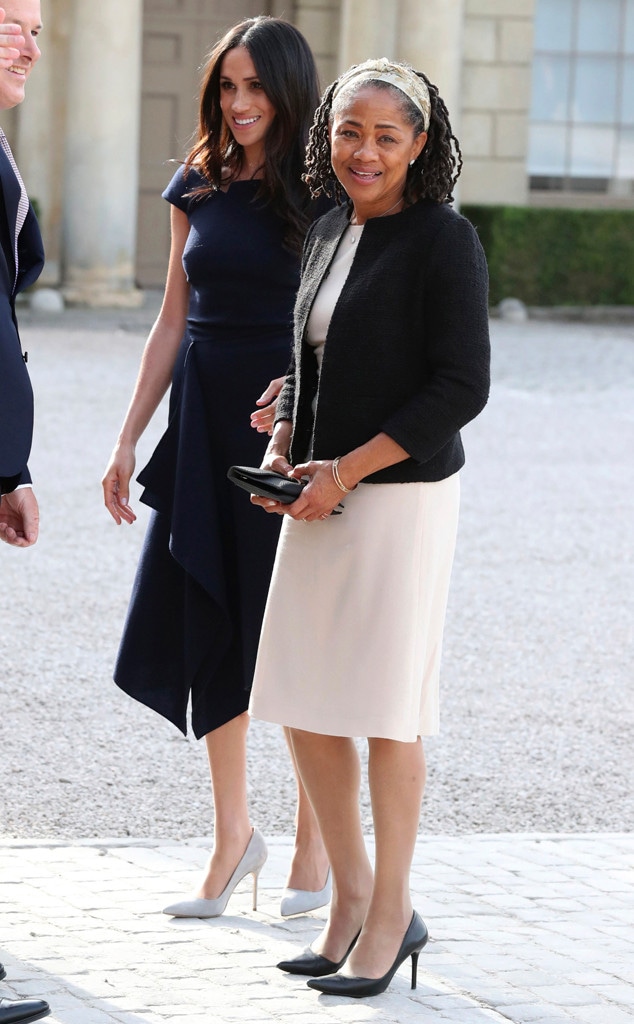 Steve Parsons/Pool Photo via AP
Meghan Markle's half-sister appears to have a new target in her latest Twitter rant.
While Samantha Markle has been critical of the Duchess of Sussex and Prince Harry in recent social media posts, her latest messages are centered around another family member.
Doria Ragland, you may not want to hear the rest of this story.
In tweets captured by the Daily Mail, Samantha sticks up for her father while throwing a dig at Meghan's mom.
"The world does not know that our dad raised her most of the time without the input of her mother especially from age 12 through high school and he gave her everything she had and is," Samantha claimed. "She was never raised as an only child. Truth kids! He is amazing and successful and mags lie."
She also replied to a follower, "Glad you love people you don't even know. But everything that you think you know from tabloids is a lie. Dad pretty much raised her most of her life on his own and Doria was not around very much."
According to Samantha, Doria may appear to be Meghan's best friend now. But she claims it's only because "she ghosted her best friend of 30 years."
Ultimately, Meghan is still the topic of many tweets. In fact, Samantha still appears to have an issue in the fact that the Duchess of Sussex isn't as close to Thomas Markle as she used to be.
"You have no idea what is going on behind the scenes. She ignored my father through a heart attack. There is no excuse for it," she shared with one Twitter follower. "You would be mentally ill to think that is OK. Maybe you were the one who needs the counseling."
Just days before the royal wedding, Thomas underwent surgery related to a recent heart attack. His doctors advised Meghan's father to not travel overseas for the wedding. "I wish I were there and I wish them all my love and all happiness," he ultimately told TMZ about the special day.
As for the family feud that continues to play out in public, Samantha isn't shy about sharing her theories into why things are estranged.
"She did not ignore everyone because they spoke out. Everyone spoke out because she started ignoring them," she claimed on Twitter. "I apologized for my wisecracks. But not for pointing out that she is in the wrong."
Samantha continued, "She has ghosted both sides of the family. She needs to earn our trust. It is the other way around. You don't crap on an entire family and then run around crying that you cannot trust everyone." To be continued!