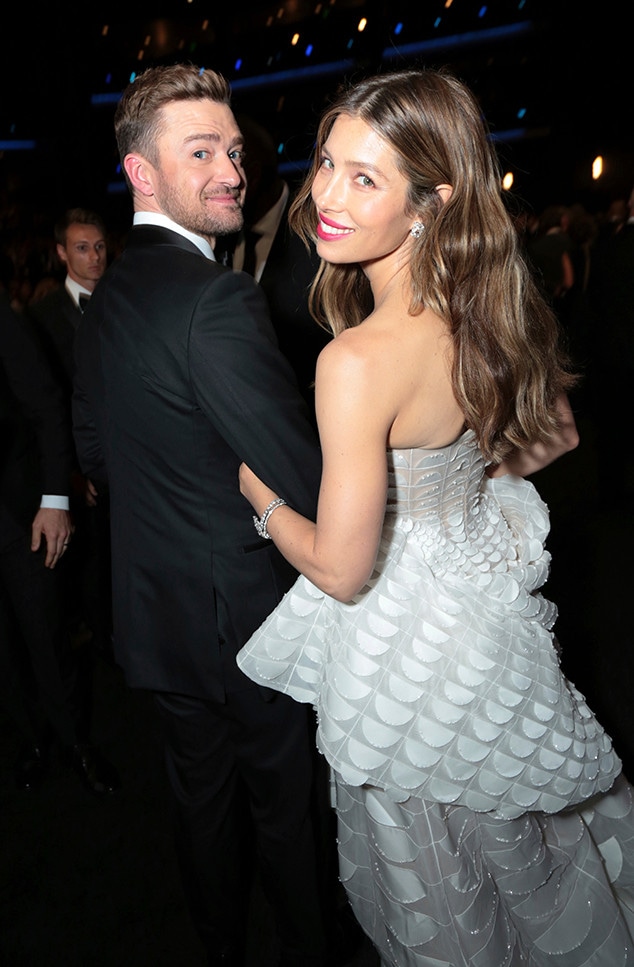 Alex Berliner/Invision/AP/Shutterstock
Jessica Biel loves her husband and she isn't afraid to show it, especially on Instagram.
On Monday, Justin Timberlake  uploaded a photo of himself staring intently at his computer screen as he sits on a large brown leather chair. He looks dressed and ready to go for the fall weather as he dons a knit beanie, long-sleeve shirt and slacks. The caption revealed that he's working on a book: "Doing work...on my book." He looks as if he's focusing on writing the next great American novel.
His ever-supportive wife approved of his writing and commended his work ethic in a rather cheeky Instagram comment. "My wordsmith at work," she wrote. "Always in awe of your big.... brain." She added an emoji of a face blowing a kiss.
The "Say Something" singer's upcoming book—also his first—is called Hindsight & All the Things I Can't See In Front of Me. According to his site, the book will "give readers a peek into Timberlake's creative process through an intimate collection of images from his personal archives that range from childhood to present day." It hits bookstores and the web on Oct. 30.
Timberlake and Biel's relationship continues to epitomize couple goals, both on and off the red carpet. While at the 2018 Emmys, the former *NSYNC member told E! News' Giuliana Rancic he would "do something obnoxious" if Biel won the Emmy for her role in The Sinner. She was nominated for Outstanding Lead Actress in a Limited Series or Movie.
The two of them and their son, Silas Timberlake, spent the summer jet-setting across Europe for Timberlake's Man of the Woods tour. They ventured to Paris, the Netherlands, Denmark and Sweden, just to name a few.
In May, the 7th Heaven star spoke with E! News about how she and her husband keep that spark alive in their relationship, besides Instagram comments of course. "You just have to make time for date night, time for yourself alone and time with your partner. It has to be fun!" she said.
Biel offered some suggestions as to how to make that happen. She told E! News, "You have to continue to make the space for yourself and your partner to just have fun like you did before you had kids. And not talk about them! Keep it fresh, keep it exciting. Spontaneous if at all possible."
Timberlake and Biel tend to share lovey photos of each other on Instagram and profess their affection for one another in their sweet snapshots. On Timberlake's birthday, she posted a picture of her in his arms and wrote, "I'm so proud of all you've accomplished and all that is ahead for you. plus you're a super hot dad. A ninja dad. A kiddie teeth brushing, Jedi sleep mind tricking, intimidating dad voice disciplining SUPER HOT DAD. I love you, you hot dad.. I'm here, right by your side, OG fan girl."
Biel and Timberlake are coming up on another important day together: their sixth wedding anniversary. They tied the knot on Oct. 19, 2012 at the Borgo Egnazia Hotel in Fasano, Italy.
Other than Timberlake (presumably) working on some finishing touches on his book, it's another big day for the singer. Lance Bass posted  the ultimate throwback photo on Instagram of his fellow band-mates and penned why Oct. 1 is such a significant day. "October 1, 1995. I met these a--holes. We took this picture a couple of weeks later. We had no idea what was about to happen to our lives. Happy @nsync day! And yes that is a very sassy pose I'm giving. #NSYNCDay"