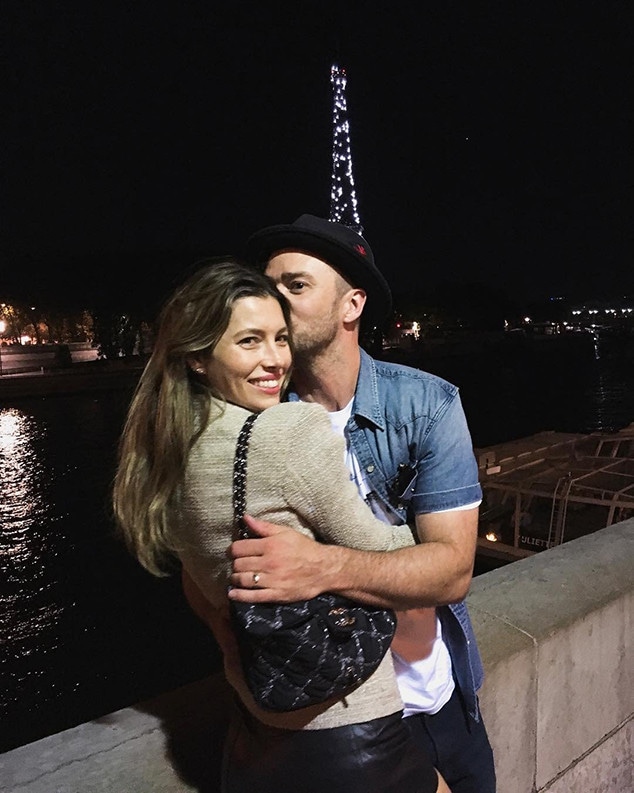 Instagram
Jessica Biel is having an unbeatable summer.
The Sinner actress joined her husband Justin Timberlake on his Man of the Woods tour this summer, which went all over Europe. Both Biel and Timberlake have shared photos of their travels alongside their son, Silas. The three of them ventured to Paris, London, Amsterdam, Copenhagen and more. 
Today, Biel shared two sets of slideshows on Instagram of their various destinations. In her first album, she wrote, "And that's a wrap on the European leg of the #MOTWTour and I'm already nostalgic. Europe, you're a dream."
Some of those snapshots include a video of the married couple playing football on the beach, an incredibly scrumptious looking pizza, art and the London Eye.
In her second of envy-inducing uploads, Biel's pictures include her on a boat in Sweden, a funny bathroom sign and more art.
Biel, Timberlake and Silas have been having the time of their life this summer. During their jaunt in Paris, the "Say Something" singer shared a picture of Biel and Silas rocking near-matching hair styles as she gives her son a big kiss. "If that pic doesn't say 'City Of Love' then I'm out..." he captioned it. 
The couple continued to make "The City of Love" live up to its name when Biel and Timberlake showed some PDA while the Eiffel Tower shimmered in the background. 
Back in the Netherlands, the happy family strolled on the beach and Biel wrote on Instagram, "Do we look European? Because we sure feel European! Summer, please never end..."
With Biel balancing her acting career with Timberlake's music all while raising Silas, they seemed to have worked out a system for maintaining a romantic spark. "You just have to make time for date night, time for yourself alone and time with your partner," she told E! News in January.
She added, "You have to continue to make the space for yourself and your partner to just have fun like you did before you had kids. And not talk about them! Keep it fresh, keep it exciting. Spontaneous if at all possible."
Also in January, Timberlake told radio host Zane Lowe on Beats1 Radio about his desire to grow his family. "I want to have as many [children] as we can, if I'm being honest," he said.
Their son Silas was the namesake for his latest album. Apparently, Timberlake Googled "meaning of the name Silas" and "it sent me to this to this site and it said, 'of Latin origin, meaning 'Man of the woods,'" he told Lowe.
From the woods to the beach, the Timberlake family sure had an adventurous and worldly summer.