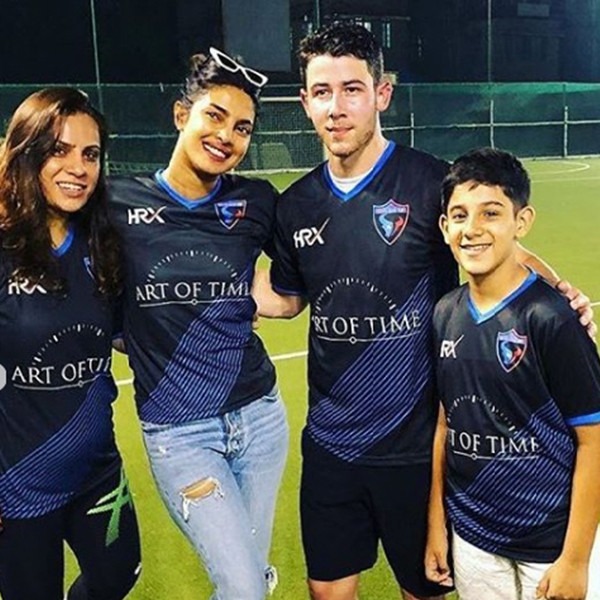 Instagram
Who needs cheerleaders when you have Priyanka Chopra on the sidelines?
As Nick Jonas enjoyed another trip to Mumbai with his fiancée, the "Jealous" singer decided to play some sports with a few new and old friends.
Lucky for him, Priyanka was more than happy to support from the sidelines.
In a new Instagram post, the Quantico star shared several photos of her man "playing for humanity." Maybe she loves his bloody knee after a physical game of soccer. Maybe it's the outfit that includes a makeshift headband, yellow sneakers and Nike tank-top. Whatever the case may be, Priyanka was a big fan.
"Bae in Bombae!!" she wrote on Instagram when sharing several memories. "#friends #mumbai #football @nickjonas." And yes, Nick "liked" the pics after they were posted.
Even though Nick had some fun on the field, the former Jonas Brothers member also fit in some time to work. Over the weekend, the man behind huge hits including "Chains" and "Right Now" returned to the music studio with a special guest.
"Yesterday in the studio with @ollyyears and what a talent he is!" he teased on Instagram.
This isn't the first time Nick and Priyanka have traveled to India together since their engagement. Back in August, the pair paid it forward by visiting an orphanage together.
They also confirmed their engagement after celebrating their new relationship with family in India.
"Nick is calm and mature. He's a wonderful person and everyone in the family just loves him," Priyanka's mom Madhu Chopra shared with After Hrs via DNA India. "He's so polite and respectful towards elders. What more can a mother want!"
She added, "I always trust Priyanka's judgment; she's not impulsive. She gave it a lot of thought and when she decided on something, I was sure it would be good."