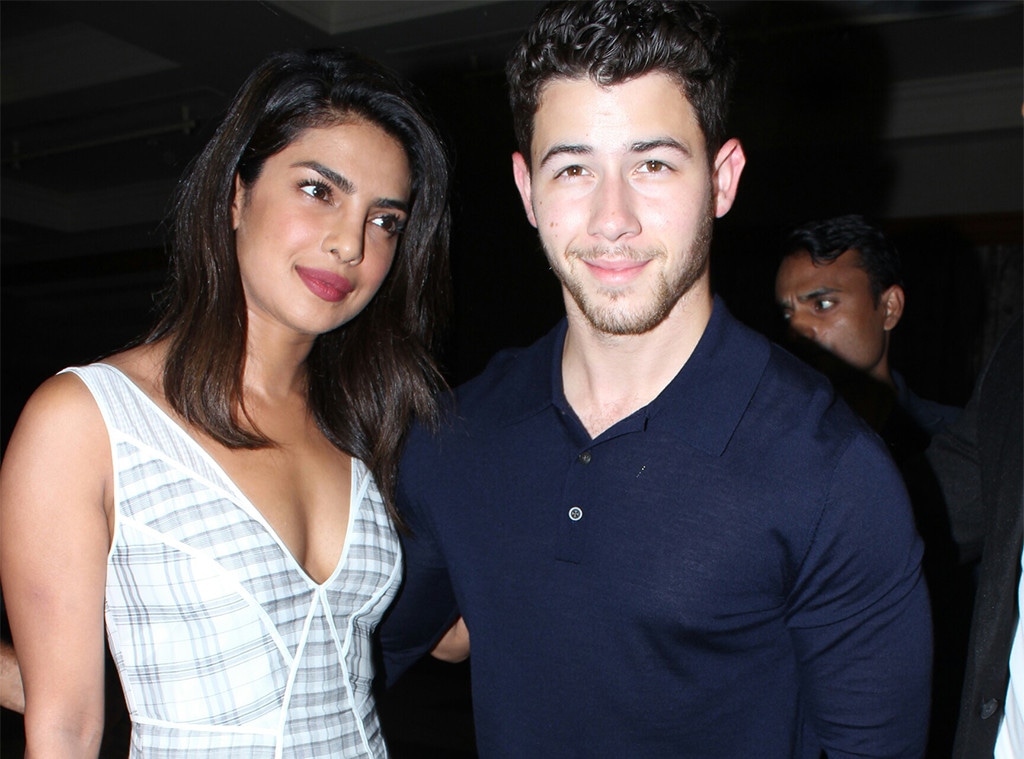 Newslions Media / MEGA
Nick Jonas and Priyanka Chopra are bringing love and smiles with them everywhere they go.
The couple recently confirmed their engagement after arriving in Mumbai, India for a family celebration on Saturday, which also included a traditional Roka ceremony. The family gathering wasn't the sole stop for Chopra and Jonas. On Sunday, the groom-to-be posted a video on his Instagram story of his fiancée dancing with a young girl in front of a clapping and elated crowd at St. Catherine's Orphanage. He captioned the video, "St. Catherine's orphanage today. My heart is full."
The 36-year-old actress used similar language in one of her Instagram photos. In one picture of them looking longingly at each other, she described her love for her fiancé. "Taken.. With all my heart and soul," she wrote.
Jonas added the same photo and penned, "Future Mrs. Jonas. My heart. My love."
Chopra and the "Jealous" singer put on their dancing shoes Saturday night, too. In the same Instagram story, Jonas filmed himself bopping along to the music while the Quantico star breaks it down in the background.
News first broke of their engagement in late July, but they both remained mum about the celebration on social media up until this weekend. Last week, Chopra showed off the engagement ring in an Instagram picture where she was posing with her friend Raveena Tandon.
The diamond ring is a stunner, and Jonas was very particular about his choice. E! News learned at the time that the former Jonas Brothers member shut down the Tiffany & Co. store in London so he would be ensured of his own privacy. WP Diamonds president Andrew Brown helped put the ring into perspective. Brown told E! News the ring is "a high quality cut weighing around 4 carats." Brown estimated the retail cost of the ring to be about $200,000 due to the cut and clarity of the stone.
It's a big wedding season over at Chez Jonas. Aside from Nick and Priyanka, middle brother Joe Jonas got engaged to Game of Thrones star Sophie Turner back in October. The brothers have been on double dates together and reportedly celebrated Nick and Priyanka's engagement as a group after Nick proposed.