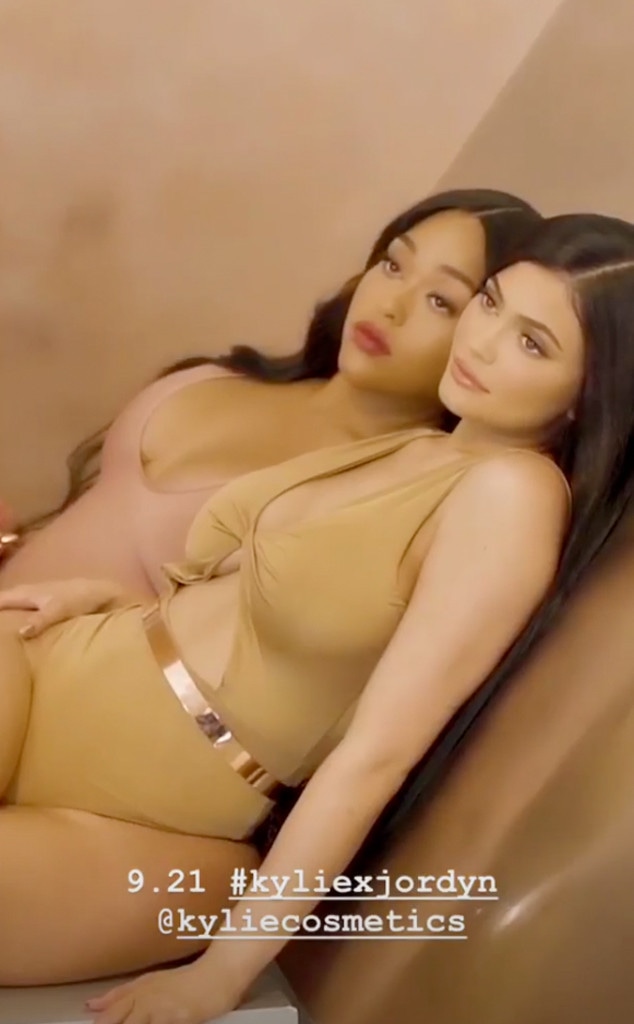 Instagram
Kylie Jenner and Jordyn Woods stunned in matching leotards as they posed for pictures for their new cosmetics collaboration, Kylie x Jordyn.
Jordyn shared a picture from their photo shoot on Wednesday. The photo, captured by famed photographer Greg Swales, showed Woods lounging in a soft pink one-piece while Kylie leaned over her in a bronze, belted ensemble. Both women wore their hair down for the shoot and looked glam modeling their cosmetics line. 
Kylie also posted a few behind-the-scenes shots on Instagram Stories. The pictures showed the women sitting side by side and resting their heads against one another as the camera clicked away.
This wasn't the first time the friends sported matching outfits for the launch of their new line. The celebrity duo also modeled sparkly ensembles earlier this week, with Kylie rocking a bodysuit and Jordyn sporting a mini-dress.
The makeup collection, which is part of Kylie's multimillion-dollar empire Kylie Cosmetics, seems to embody their friendship. According to a sneak peek of a palette Kylie shared earlier this week, some of the shades are named "loyal," "ride or die" and "sister." Another palette includes colors called "best life," "no new friends," "inseparable" and "together forever." Many of the shades also seem to reflect the shimmery tones reflected in their modeled ensembles.
Kylie and Jordyn have been BFFs for years, even before the makeup mogul's fame escalated to another level. 
"She was there before I was Kylie Jenner," the reality star once said. 
And even though they've experienced a lot of changes throughout their lives, including Kylie welcoming her daughter Stormi Webster, the two have always been there to support one another. In fact, Jordyn said their relationship has even "gotten better" since Kylie became a mom. 
"It is a part of life and the process of growing up," the bestie said. "I think it has been really great with her around now. Stormi is so sweet and so beautiful. I love hanging out with her all day." 
It looks like Kylie's passion for beauty has rubbed off on her, too.
"When I met Kylie, I was a tomboy. I didn't wear any makeup," Jordyn said. "I didn't wear hair extensions or anything. I saw them do it. And over time after watching Kylie put on makeup, I learned how to do it myself. Now, I really only trust myself to do my makeup."
Their new line launches Sept. 21.