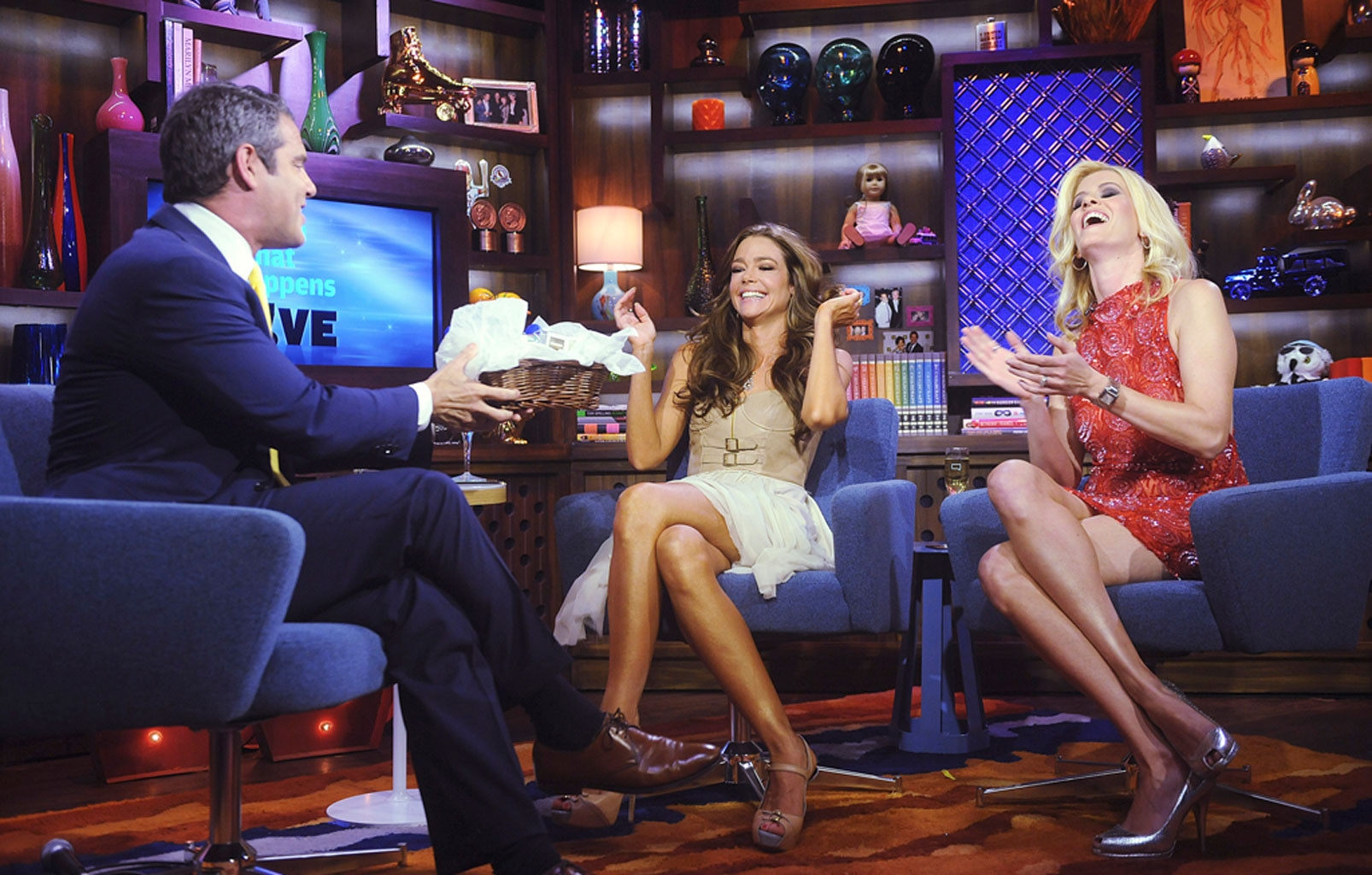 Brad Barket/NBC/NBCU Photo Bank via Getty Images
Apparently Denise Richards woke up one day and decided that she didn't have enough frenemies in life.
We kid, for the most part, but presumably she's fully prepared for the excitement that lies ahead as the newest cast member of The Real Housewives of Beverly Hills, which is currently shooting its ninth season and has counted Richards as a fan from the beginning.
"Heck yeah!" Richards told Us Weekly back in 2011 when asked if she'd consider joining RHOBH, which had only been on for one season at the time. "It's one of my favorite shows!" 
The woman who launched a million teenage fantasies 20 years ago when she whipped her top off in the cult-classic Wild Things and then married and divorced Charlie Sheen finds herself in like-minded reality-TV company among the multi-tasking wives, ex-wives and moms who populate Bravo's geographically sprawling franchise.
Seven years ago Richards was already friendly with Kyle Richards and Lisa Vanderpump, and Adrienne Maloof was a neighbor of her ex-husband's when Adrienne was still married to Dr. Paul Nassif.
Andy Cohen has also hosted Richards at the clubhouse multiple times on Watch What Happens Live and they've had a grand time.
"Tequila," Richards quipped to EW back in 1998 when asked how she calmed her nerves before shooting that infamous threesome shot in Wild Things with Neve Campbell and Matt Dillon.
Happily, wine is welcome on the Real Housewives.
So, she fits right in—and brings with her perhaps the most jam-packed baggage of them all...
Wild Things was only Richards' second movie, but by then she was a veteran model and had popped up a dozen times on TV on the likes of Saved by the Bell and Beverly Hills, 90210.
The twisty noir drama catapulted her into Maxim, FHM and, eventually, Playboy history as she became one of the premiere pin-ups of the late '90s and early '00s. She even played a Bond girl, nuclear physicist Dr. Christmas Jones opposite Pierce Brosnan's 007 in 1999's The World Is Not Enough. Also that year she had what was perhaps her best acting role (no offense, Dr. Jones), in the dark pageant comedy Drop Dead Gorgeous.
But being the perennial hot chick has its disadvantages when you're trying to have a film career.
"There were definitely parts I couldn't get," Richards reflected to Smashing Interviews last year while talking about her return to movies in the crime drama American Violence and the digital film Black Pills. "I couldn't get cast as 'the girl next door' even though that was how I always saw myself. I didn't see myself as a sex symbol. I was a girl from Illinois."
Meanwhile, she met Charlie Sheen in 2000 on the set of the rom-com Good Advice, and they started dating after she guest-starred on Spin City, which he joined after Michael J. Fox left, in 2001. Their first date was watching a baseball game at Sheen's place, where Richards made the first move.
"He was Mr. Polite, such a gentleman," she later told People.
Sheen and Richards married on June 15, 2002, at the Brentwood home of Spin City creator Gary David Goldberg in front of only about 85 guests.
"When I met Charlie, he truly was, in my eyes, the man I wanted to have a life with. I was ignorant to a lot of different things in his past, but I believe everyone deserves a second chance," Richards explained on The View in 2008 when Joy Behar expressed skepticism that the actress couldn't guess what she was getting into by marrying Charlie Sheen.
"I didn't know that person," Richards insisted, referring to the person who accidentally shot ex-girlfriend Kelly Preston in the arm, had a history of substance abuse and was a known patron of Heidi Fleiss' VIP escort service. "And then, as the marriage went on, things came out and I filed for divorce." 
Richards couldn't even do reality TV—E!'s Denise Richards: It's Complicated—the first time without a fight with Sheen, who objected to their daughters being on the show. Richards ended up having to go to court to get permission.
She won, and Sam and Lola Sheen did get to appear on their mom's series, which ran for two seasons and put numerous rumors to rest, such as whether or not Richards dated certain bold-faced names. Starship Troopers co-star Patrick Muldoon? True. Mario Lopez? False. John Stamos? True. ("He didn't want to be with a woman who had children, so that's, like, out the door. We had a good time, though!")
And, of course, Richards dated Richie Sambora—but not, she forever insisted, before he was separated from her friend Heather Locklear, Sambora and Locklear having been among the guests at her and Sheen's wedding.
"I did not interfere with their marriage," Richards told Ryan Seacrest on his KIIS-FM show in 2008. 
It didn't last with Sambora, but Richards told Redbook, "Being with Richie was the first time I could be myself with someone. That was an amazing feeling. And he brought a sense of happiness to my home that hadn't been there in a long time. So I definitely fell in love with him. That would have been a big price to pay for just some rebound fling."
That year was a bumpy one all around, part of it spent hammering out a custody arrangement with Sheen, who long before his pre-"winning" meltdown was volatile and difficult to get along with anyway. Richards first filed for divorce in 2005, while she was six months pregnant with Lola, but they reconciled and tried counseling.
The fix was only temporary, however, and by the beginning of 2006 the divorce was back on. Richards also sought a temporary restraining order, alleging Sheen had pushed her and threatened her and her parents, and then when she discovered he was looking at questionable pornography online his response was "I hope you f--king die, bitch." 
Their split was finalized that November, with Sheen ordered to stay 300 feet away from his ex-wife and their kids unless it was during a pre-agreed-upon visit.
Jesse Bauer/startraksphoto.com
Richards' mom, Joni, died of cancer right before Christmas in 2007 and her father, Irv Richards, moved into her home in Hidden Hills, Calif., so he could be closer to his grandkids and they could provide emotional solace for each other.
Meanwhile, Richards eventually had Kat Von D cover her "Charlie" ankle tattoo with a colorful winged sprite.
"I went through the most difficult divorce and custody battle, publicly, which made it 10-times harder," Richards said on The View in May 2008, calling it a "calmer time" for her at last.
"After I had [Lola], I was very vulnerable," she added, explaining why she didn't immediately go through with divorcing Sheen in 2005. "I had two babies and I just wanted to know that I did everything I could to make the marriage and the family unit work. I had a lot of guilt splitting up our family. I didn't come from a family of divorce, but there's a lot the public doesn't know. I've never publicly said what happened."
She got "a lot of flak," Richards said, when she detailed allegations against Sheen in a court filing, which in turn went public. People accused her of needlessly airing their dirty laundry. "But at that point, I'm a mom who is protecting my children and I didn't know what was going to be public, what's going to be sealed. That I have no control over."
Reality TV, however, was her choice, and Sheen, for all his exploits, didn't like it. However, Richards said, Sheen had signed the waiver required from both parents to allow the girls to be on camera. Then "he changed his mind" and wanted her to agree to custody changes, but "one has nothing to do with the other," Richards continued. "I wasn't going to sacrifice the protection I had in place for the show, so I asked the judge."
"Everything's a battle and I hope that one day he and I can get to a place where we can co-parent together," she added. "This is not a healthy situation for my kids."
Richards also lamented to Redbook at the time, "Charlie is truly a stranger to me, and that's the really sad part. I know many people who have gotten divorced and remained good friends, and I envy that because it's obviously much healthier for the kids than our situation."
In response to critics who would, like Sheen, accuse of her exploiting her kids for her reality show, she said, "It upsets me that people have been so judgmental...See the show at least, and then make a decision. Also, if Charlie and I had decided together to keep our kids away from the media, I would understand where he's coming from now. But we made the decision as a couple not to shield our children. I'm always pleasant to photographers around the girls because I don't want them to be fearful. They didn't ask to be born into this life."
In 2009 she and Sheen re-hammered out a custody deal, with the Two and a Half Men star calling it "what's best for the girls," and in 2010 Richards was granted sole legal custody—several months before Sheen was hospitalized following an outburst at the Plaza Hotel in New York, which was witnessed by a porn star and while Richards and their daughters were staying in a different suite nearby, and a little less than a year before Sheen was spectacularly fired from his hit show.
Richards was also famously granted $50,000 a month in child support.
"Not my money," Richards fired back at TMZ in September 2011 when asked if she was thinking about the $25 million her ex was reportedly getting from his $100 million wrongful termination suit against Warner Bros.
Richards adopted daughter Eloise Joni Richards in June 2011. She and Sheen eventually put the past, if not quite behind them, then at least off to the side, and when his third ex-wife, Brooke Mueller, was caught up in her own personal issues in 2012, Richards stepped in and looked after the sparring exes' young twin sons, Bob and Max.
While years beforehand Richards had lamented the "awful" way she'd been portrayed in the media at points, often aided and abetted by Sheen, she was eventually widely hailed as the hero of the saga—the stable, no-nonsense mom who provided the safe space.
That didn't stop Sheen from flying off the handle in Richard's direction on Twitter in 2013, however, accusing her of keeping his children away from him, but Richards handled it, tweeting back, "@charliesheen U done ranting? keep it classy dude. Our kids don't need to be privy to this, U are welcome 2 spend xmas w/us Hope u still come...@charlie sheen u were & are welcome 2 see them. I never asked 4 your plane. we love u. Please 4 our kids stop this...."
Sheen went after Richards again in June 2015, calling her a "washed up piglet" and the "worst mom alive," and Richard responded with stone-cold kindness, tweeting, "Happy Dad's Day! @CharlieSheen have a great trip in Mexico! Kids were disappointed u weren't here for it—Hey we'll celebrate when u r back!"
Months later Richards was pulled back into her ex's headlines in 2015, when Sheen opened up about being HIV-positive and his brush with death before getting his health under control.
She was fine, Richards assured inquiring minds.
What was once one of the ugliest divorce wars in Hollywood eventually reached a détente—because really, Sheen had no choice but to calm down eventually.
A year after she took her ex to court once again to ensure he was abiding by the terms of the trusts he set up for their daughters, as promised, Richards posted a photo of herself, Sheen, Sam, Lola and Eloise gathered around the dinner table in January 2017.
"We've had a colorful year ...at the end of the day we're still a family.. @charliesheen #familydinner," she wrote.
As Richards once told Women on the Fence, the kids were too little to understand what was going on at the height of the drama, so she played the long game.
"I maintained my sanity by knowing what's important, and what was important was taking care of my two babies," she explained how she got through the worst of the mud-slinging and still was rooting for her daughters to have a relationship with her dad. "I knew over time it would pass. It didn't pass as quickly as I would have liked," she laughed, "but I knew I had to stay focused on really blocking a lot of that stuff out and being the best mom I could be."
These days Richards is leading a quieter life with her three girls and boyfriend Aaron Phypers, who sweetly called his girlfriend "#mybetterhalf" on Instagram.
Richards and Phypers, who was previously married to Nicollette Sheridan for about six months, were first photographed together last September, went mutually Instagram-official in December—and it looks serious.
Among other things, these two appear to have bonded over their love of animals—animal rescue being a longtime passion of Richards'—with dogs and cats all over their respective accounts.
And now, her years-long dream of joining The Real Housewives of Beverly Hills is coming true, now complete with an epic back story, all ready to unpack with a group of ladies who totally get it.
(E! and Bravo are both members of the NBCUniversal family.)