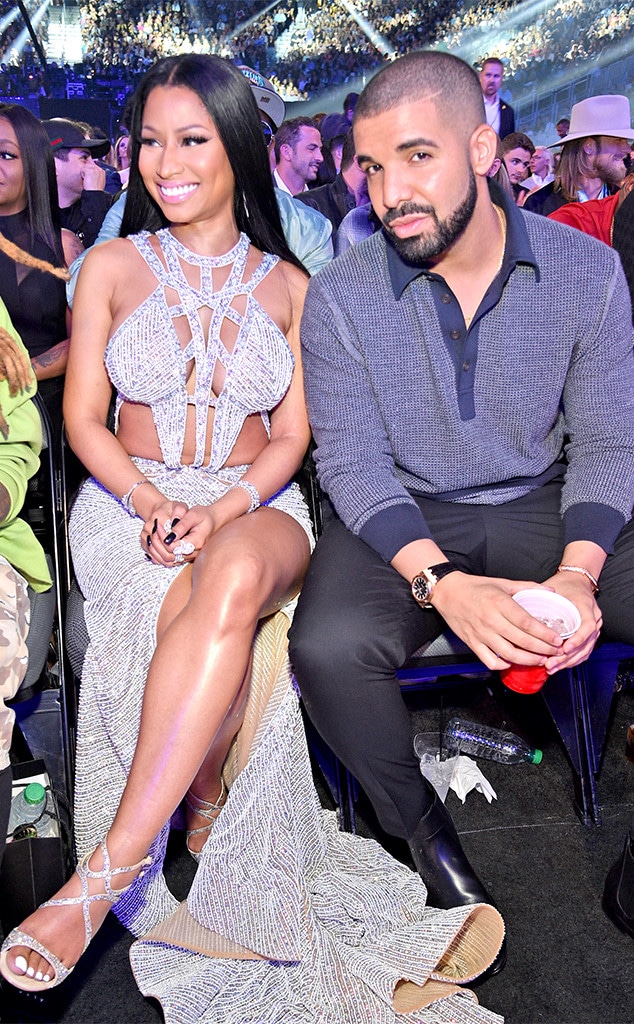 Kevin Mazur/BBMA2017/Getty Images for dcp
Get a room, you two!
As Nicki Minaj puts the finishing touches on her upcoming album, Queen, the rapper spent the afternoon with longtime confidant and frequent collaborator Drake. The reunion, which Minaj documented on Instagram, spurred some commenters to say what's been on fans' minds for quite some time. As one user put it, "Get married already!"
Drizzy has rapped about making a Mrs. out of Nicki previously, but for now it appears the pair is loving every moment of their friendship. 
In the video, Drake shouts out her hit collab with rapper 6ix9ine, whispering in Minaj's ear, "What's that song called again? 'Fefe?'" 
His comment sends Nicki into a fit of laughter as the "Chun-Li" MC puts her hand over her mouth and says, "Wow!" 
So what brought Champagne Papi and Nicki the Ninja back together again? Fans have theorized that Drake joined her in the recording studio for a last-minute addition to Queen. (Which if that's the case, Aug. 17 really needs to come sooner.) 
Over the past year, the artists worked to mend the strains put on their friendship by Nicki's ex, Meek Mill, who feuded with the Scorpion performer throughout their relationship. In a recent interview with Beats 1 Radio, Nicki said she and Drake are like an "old married couple."
She revealed they've had "a lot" of falling outs over the years. but added, "Then every time we make back up, we're like, 'I love you!' It's so stupid. Drake has given me some of the best advice of my career… Even when there were things happening, even when I couldn't speak to him, I think he felt the love I will always have for him."
So have the stars finally aligned for Nicki and Drake to move out of the friend zone? Both are reportedly single, so only time will tell!