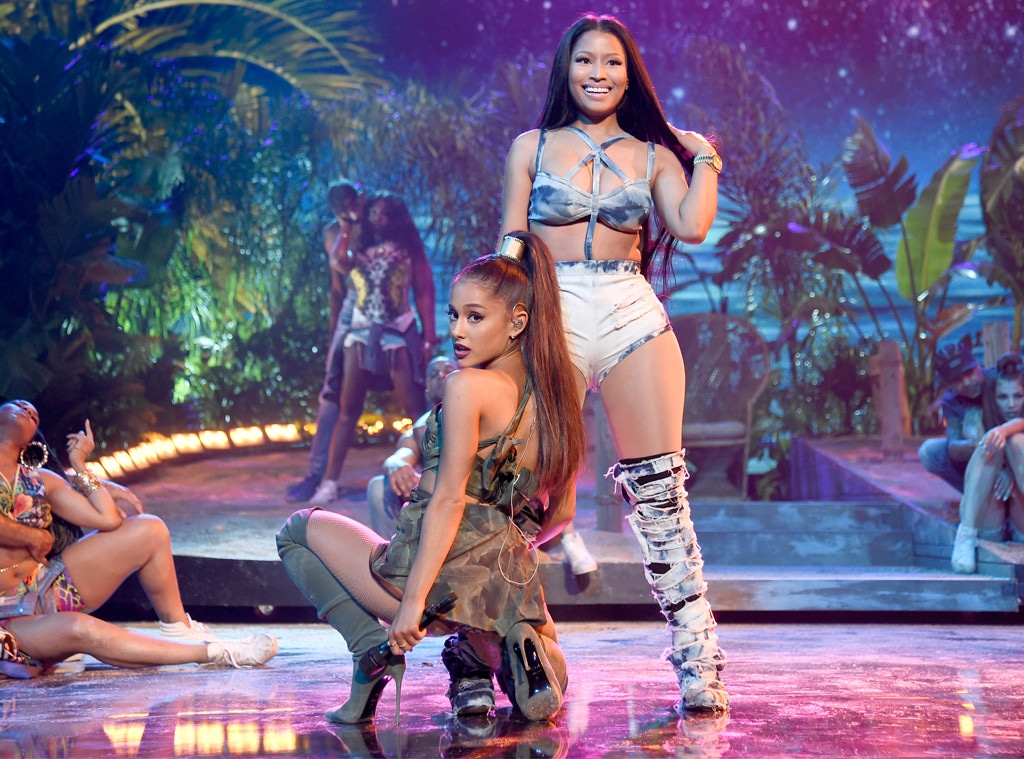 Kevin Mazur/AMA2016/WireImage
Pitting women against each other? That's not Nicki Minaj and Ariana Grande's style. 
After the rapper announced Wednesday that her Barbz would have to wait another week to listen to Queen (Nicki's first studio album in four years), it didn't take long for internet trolls to point out that August 17 just so happens to coincide with Grande's album release date. 
The close friends and frequent collaborators, who reunited earlier this year for hit songs "Bed" and "The Light Is Coming," dispelled any assumption that Queen and Sweetener were purposefully positioned to compete for the music chart's top spot on Twitter. In fact, Ari found the idea borderline offensive.
The pop star tweeted, "me n nicki laughed at dat," to which Minaj responded, "I love this woman. Can't wait for the fans to benefit from all the hard work on both ends. We love your passion. You guys will be VERY happy. Trust. That's all I'll say." 
In response to the social media uproar, Grande also tweeted, "Jesus is this what's going on today? imma jus stop logging in at all lmfao. that's my f--kng sister. she's clearing a sample. buy and stream queen & sweetener aug 17 bye. these numbers don't mean as much to the artist as they do to y'all. jus want y'all to listen to the project."
Queen was set originally set to drop June 15, but was pushed back two months as the "Chun-Li" MC perfected the album. This time around, Nicki is still in the process of obtaining the rights to sample singer-songwriter Tracy Chapman in one of her songs. 
For even more details on Nicki's musical comeback, check out everything we know about Queen thus far.