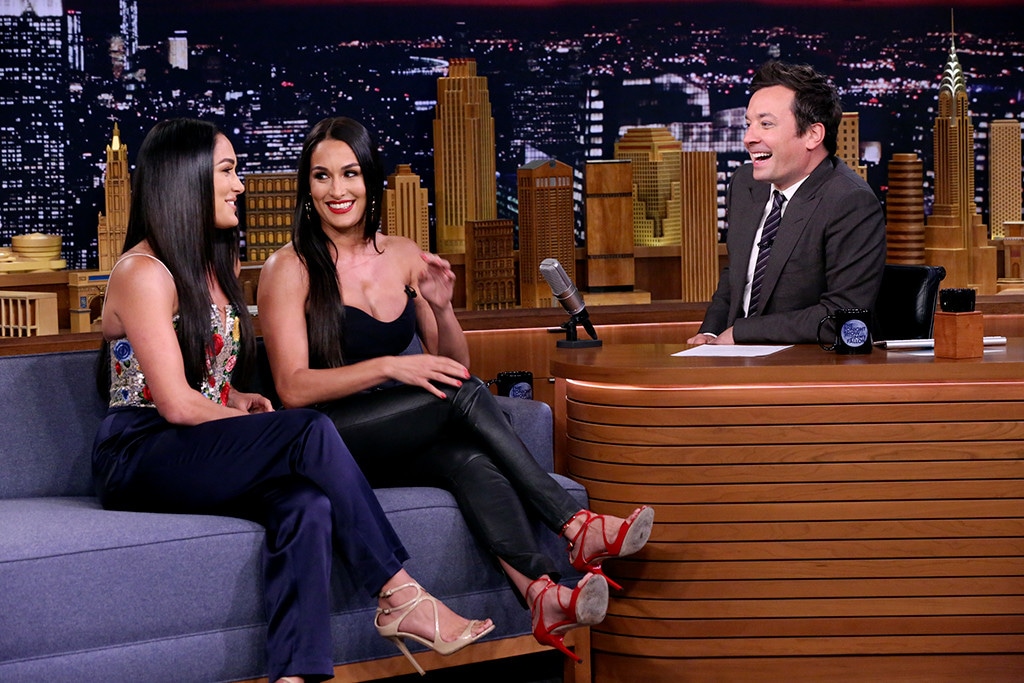 Andrew Lipovsky/NBC
Breakups are never easy—that's why Nikki Bella and Brie Bella used to break up with each other's boyfriends when they were younger.
The Total Bellas stars made the confession on Wednesday's episode of The Tonight Show.
"We never had to go through, like, the emotions of a breakup," Brie said, explaining they used to call up and dump the other's boyfriend to save the other from an awkward conversation.
Nikki then joked she could have used her sister's help when she went through her public breakup with John Cena.
"So, where were you a few months ago?" Nikki teased, resulting in an audible audience groan.
"That would have been a hard phone call," Brie replied.
In April, Nikki and John shocked WWE fans by announcing they were ending their engagement and calling it quits after six years together. Fans watched the moment the two called off the engagement on E!'s Total Bellas and the heartache that followed after the two broke up.
Still, it looked like there was hope for the couple. They reconciled and John said he was willing to give Nikki a child—a commitment she had wanted for a long time and had been a point of contention in their relationship.
But as the wedding planning seemed to be getting back on track, Nikki realized the two faced more issues.
"I wish it could be different...I've had almost six years of working on us and fighting and taking in a lot, and I just feel like I've hit the point where I'm just so exhausted and done," Nikki told Brie in a recent teaser for Total Bellas.
During their Tonight Show appearance, the twins opened up about being so candid on their show.
"Brie and I—we're just beyond open books," Nikki said, "but we feel like, if you want to have a reality show, like, you can't have the fake stuff. Like, you really have to let people into your life and that's how you connect with people."
She also admitted this season has been "really painful" and "super tough" to relive.
In addition to talking about relationships, the two talked about Brie's daughter, Birdie, and what it was like for the little one to see her dad get back in the ring.
Watch the video to see the full interview.
(E! and NBC are both part of NBCUniversal).