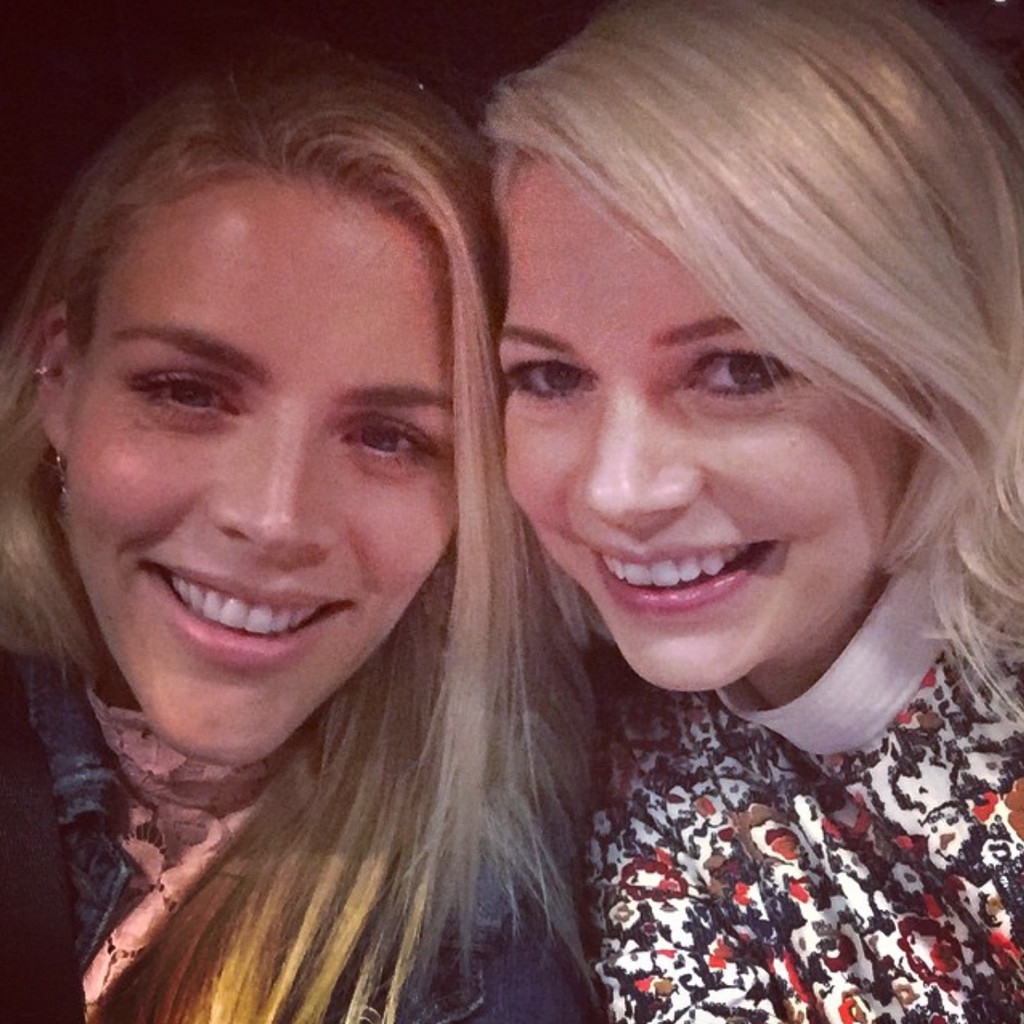 Instagram
Busy Philipps
and
Michelle Williams
 just have one of
those
friendships—the kind outsiders see and wish they could get in on. 
The pair, costars since Philipps joined the cast of Dawson's Creek in 2001, always just seem like they're having more fun than everybody else. And, sure, their lives are a touch more glamorous than the average mortal. Their best friend moments involve walking arm-in-arm on the Oscars red carpet in custom Louis Vuitton and Elizabeth Kennedy designs or transforming Williams' pixie into the "perfectly millennial pink" after a night at Paris Fashion Week. 
But that's not the only reason the pair are the subject of endless Internet listicles crowning them as BFF goals. 
After all, their 17-year friendship is built on more than hair dye and black tie events. They've endured moments together that not a single one of Philipps' million-plus devoted Instagram followers would envy. The most glaring, of course, being the time Philipps rushed to Williams' Brooklyn row home after her former partner Heath Ledger was found dead in his apartment of an accidental overdose. She was there again 10 years later, flying to San Francisco (where Williams was filming the October thriller Venom) to literally be a shoulder to cry on. 
But for Williams, 37, it's all those other times in between that truly make the difference. Explaining to People how grateful she was to have the star in her life, she shared, "I said to her recently, 'You have really saved me from ever being lonely because you are always right there.' We are so close and can tell each other everything. I don't know what I would be or who I would be without Busy." 
Larry Busacca/Getty Images for Tony Awards Productions
You guys, being there for a pal is just Philipps' thing. In real life the woman famous for playing the best friend (see: Freaks and Geeks, Dawson's Creek, Cougar Town and her most recent turn as Amy Schumer's top confidante in I Feel Pretty) is totally the type that comes through when you need her. It's not just that she knows a large swath of the industry after some 20 years of work or that she's so darn approachable—in her recent Health cover story, she joked about being "the mayor of Hollywood" after her interview with the writer was interrupted countless times by fans—she just likes to be the person those in her circle can count on. 
"Her passion is people," William explained in The Cut's profile of her pal, who, no doubt will mark her 39th birthday today with a stream of well wishes. "She has this amazing quality: People just fall in love with her. Like, you spend 10 minutes with her, and people are like, 'She's incredible.'" 
Williams speaks from experience. To be fair, she was given the heads up about how cool Philipps was shortly after word got out the Freaks and Geeks alum would be joining the cast of her teen drama. "Someone had said, 'When you two meet, there is going to be a chemical reaction,'" Williams recently recalled to People. "I had been really excited for this girl to land in Wilmington. We became inseparable and I fell in love with her." (Philipps has described their instant connection as being akin to love at first sight.) 
Williams credits the Chicago native's intriguing braids, overalls and confident exterior. "She was the coolest girl I had ever seen," she explained to Entertainment Weekly. "I just thought, 'I want to be this person when I grow up.'" But it was Philipps' unwavering loyalty that likely sealed the deal. 
Often times, Philipps has said, she'd have to shoo away would-be suitors from William when they'd visit their favorite haunts in the seaside North Carolina town. But on one occasion, she was forced to actually defend her new bestie's honor.
"Michelle and I were at a bar one night, and this girl kinda was a little drunk, and accused Michelle of being really rude to her on a flight. Michelle Williams is my best friend for many, many years. She has never been rude to anyone ever. She is the sweetest, kindest, most loving human," Philipps recalled during a recent appearance onThe Late Late Show with James Corden. "If it had been me she'd accused, I would have been like, 'That kinda tracks,' but she accused Michelle of being rude, and I was just like, 'I will not stand for this.'"
To show she meant business, Philipps continued, she pulled out a secret weapon: "I had my nose pierced, you know in the middle, like a bull, at the time, in my early 20s, which people didn't know. And I would hide it when I was doing my acting jobs. And so, I flipped my nose ring down and was like…'Should we take this outside?'"
The pair simply have the type of friendship worth fighting for. In Williams, Philipps—long open about her battle with anxiety—found a sympathetic listener.
Asked about the highlight of their years together on Dawson's Creek, the mom of Birdie, 9, and Cricket, 4, basically answered it was all of them. "My memory of being with her then doesn't have anything to do with the show or working, but it was on our time off," she told Entertainment Weekly. "It was talking on the porch all night long and it was back when bread was still okay to eat. It was copious amounts of bread. That's what I remember: an endless conversation over multiple bread baskets." 
Jeff Vespa/VF11/Getty Images
But as good as their listening skills were, perhaps just as importantly, they were great at staying silent when necessary. In her Health profile, Philipps hinted at rough patches—moments in her life she was likely to share with Williams. 
Some of the toughest times in her 11-year marriage to screenwriter Marc Silverstein came last summer while he was directing her in I Feel Pretty. "The specifics of what that is and what that means, I don't think is super important, publicly, to get into," she told the mag. "Everyone is working and struggling to make it work, you know? But I think being honest about how difficult marriage is, and succeeding in a long-term relationship is—I think that's a great conversation to be had." 
And with Williams present on set for at least a few scenes, we're guessing it's a talk they shared. 
Jonathan Leibson/Getty Images for Landmark Vineyards
Discretion was equally important in the wake of Ledger's death. Philipps was a constant presence then, supporting both her friend and her goddaughter, the couple's now 12-year-old child Matilda. But she's never, ever spoken about what transpired. 
When the New York Daily News asked her about it months later, she neglected to answer because that's what friends do. "I've never talked about it. I've never shared it, because I'm hyper protective of [Williams] and her daughter," she noted to The Cut.
In fact that only reason she was addressing it at all is because she'd received some flak for uploading her moments with Williams on the tenth anniversary this January. "I think some people felt like I was being exploitative," she said of her video, which captured her crying to MGMT's "Time to Pretend," a track that came out months before Ledger's passing, and then consoling Williams. "Certain people in the public feel protective of it. And they're like, 'You shouldn't be talking about it.'" 
But Williams, who Philipps says is "my family", wasn't among them. As the Manchester By the Sea star told The Cut, "I trust her judgment implicitly." 
Theirs is a friendship built on an unshakeable faith and a shared ability to prop each other up when needed.
For instance, the time Philipps was forced to undergo sinus surgery and returned home to find a life-size cutout of Williams waiting for her. The offering was intended to keep the Critics' Choice Award winner company. "It's so hilarious" she shared, "and also keeps scaring me when I come into the room, which is also kind of hilarious. Truly one of the best gifts I've ever gotten."
Because that's what these two do. They're simply there for each other. Even before Ledger's tragic passing, Philipps was Williams preferred plus one at award shows, tagging along as the couple attended the 2006 Oscars for their joint project Brokeback Mountain. 
And as Williams made her impressive transition from teenage TV standout to perennial Oscar contender, Philipps was there to keep her laughing as they walked through the gauntlet of cameras, revel in her wins (she recently admitted to still having Williams' Golden Globe for My Week With Marilyn in her L.A.-area home) and cheer her up with carbs after losses. 
"For the most part, these awards shows, while they are fun, they're high pressure for the people who are nominated, and for those walking the red carpet. You know you're going to be torn asunder if people don't like your outfit or your dress. You're up for an award that you may or may not win. There are all these other factors at play," Philipps explained to Elle. "I think for her, and for me too, to have each other by our sides as we go through this process, and when she's been nominated, or on other red carpets that we've done together, or events, it's just great to have somebody that can be your touchstone for reality. Maybe I'm giving away a secret, but we always try right before we get to one of these red carpets to just look at each other and say, 'Don't forget how lucky we are. This is our life now.'"
Now, with 2018 looking to be the year of Philipps—she just landed a late-night talk show, Busy Tonight with E! and preorders for her October memoir This Will Only Hurt a Little  have her steadily climbing Amazon's Top 100 books list—Williams will doubtlessly return the favor.
Arguably the higher wattage star of the two, Williams has long been content with her supporting role as guest star in Philipps' must-watch Instagram stories. In one clip the Blue Valentine actress steps on to Philipps' balcony to investigate the loud, um, relations between two raccoons. In another, the pair sit on a Massachusetts porch to discuss the various men they made out with on Dawson's Creek. 
And Williams is sure to figure heavily into her bestie's new book. The writer released a teaser on Instagram, sharing this passage: "Michelle is a very easy person to fall in love with. Anyone who really knows her will tell you that. And probably anyone who barely knows her would say that, too."
Christopher Polk/Getty Images
As for the talk show, Williams has is already signed on as guest and loyal viewer. "She's really funny and she's really honest and she draws people super close to her, so I feel like it's an amazing combination for her," she told Access Hollywood. "And I can't wait to be on it."  
She's not alone. After 20 years in the business, Philipps told E! News' Giuliana Rancic at May's NBCUniversal Upfront 2018, she knows plenty of famous faces who would be perfect to join her on camera. "I think we're going to be going into my world a little bit, yeah," she said. "And we'll be taking some of my celebrity friends and some celebrities into my world, too and filming that and bringing that to you. So, there's a lot coming at you on Busy Tonight."
Ethan Miller/Getty Images
Even with that stiff competition, Williams says she will be "offended" if she's not the inaugural guest. "I'll call her tonight when I leave here," she told Access Hollywood, "and I'll let her know word is out people want us." 
Truer words may never have been spoken.