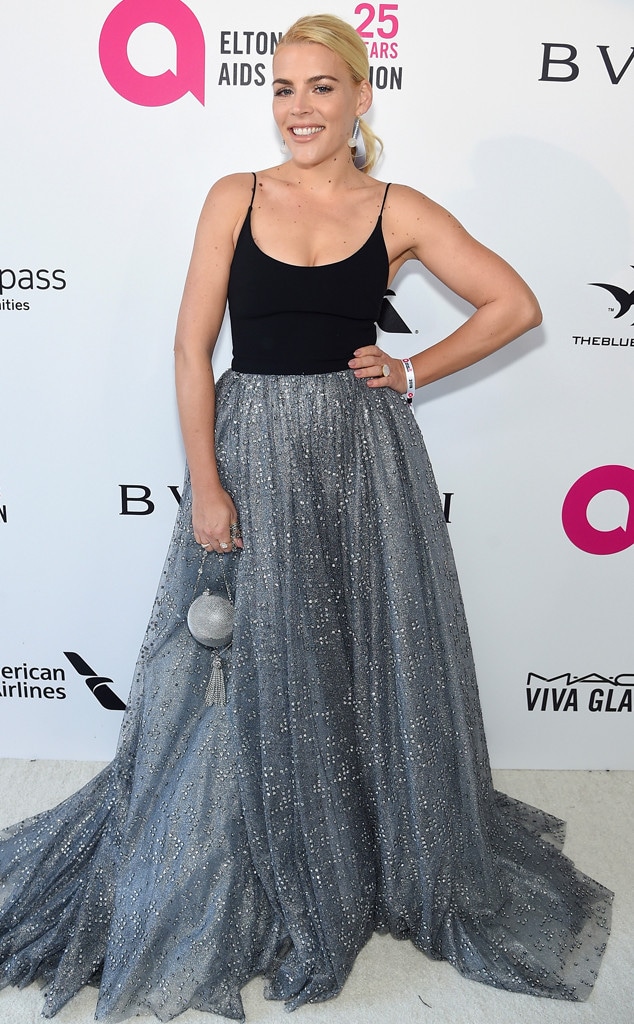 Jamie McCarthy/Getty Images for EJAF
E! is looking even more star-studded these days!
E! announced Tuesday a bevy of new shows, including an innovative talk show hosted by Busy Philipps, a new docu-series following the lives of married musicians Ashlee Simpson-Ross and hubby Evan Ross and the return of E!'s beloved franchise True Hollywood Story.
From standout roles in projects like I Feel Pretty, Cougar Town and Dawson's Creek to her role as fan-favorite BFF to bestie Michelle Williams, Busy Philipps is endlessly entertaining. Now the ultimate insider with the wildly popular Instagram account brings her star presence and unfiltered hilarious commentary on literally everything to E!'s new talk show Busy Tonight (working title).
Ashlee and Evan (working title) will follow Simpson and Ross, a young millennial couple (both from famous music families) balancing marriage, kids and careers. Ashlee and Evan will also take viewers inside the recording of their first duet album. 
The series that told Hollywood's most compelling stories is back with the return of E! True Hollywood Story, which will take a modern approach to the moments shaping pop culture. Each self-contained documentary will explore a topic, headline or person that became the ground zero for a revolution, change or shift in culture, told by the people who were on the frontlines of the story.
"E! is a pop culture network that is for and about women, and these series hit the mark for when it comes to fun, aspirational content and engaging storytelling for our audience," Amy Introcaso-Davis, Executive Vice President of Production & Development at E!, said today in a statement. "With this slate, we are excited to present strong women on our air who bring big personalities and unique points of view. E! True Hollywood Story is a beloved franchise that has never been more timely and relevant."
E! also announced Tuesday three other new series plus three unscripted development projects:
The Funny Dance Show (working title):
For more than a year, Stand Up 2 the Streets has played to sold-out crowds at the No. 1 comedy club in the country, The Comedy Store. Created and hosted by comedians Justine Marino and Heidi Heaslet, this one-hour format harnesses the conventions and spectacle of dance pop culture found in movies like the wildly popular Step Up franchise and TV shows like So You Think You Can Dance and Dancing With the Stars but with a comedic POV. In each stand-alone episode, four comic celebrities compete for a donation to the charity of their choice. Anchored by comedian and pop culture expert, Justin Martindale, an irreverent judging panel critiques the performances so that the audience can ultimately vote on the winning team. The Funny Dance Show is the hilarious antidote to the hyperbolic dance shows that take often themselves way too seriously.
The LadyGang (working title):
What happens when you mix the Girls Trip sense of female community with juicy pop culture commentary, no-holds-barred celebrity interviews and three equally gorgeous and hilarious L.A. ladies? You not only get a "Podcast of the Year" winner with over 22 million listens, but a phenomenon that graced People magazine and made Entertainment Weekly's "Must List." Welcome to the LadyGang, the TV show based on the podcast created by Keltie Knight, Becca Tobin and Jac Vanek. 
Nat & Liv (working title):
Natalie Halcro and Olivia Pierson are influencers, designers, and fashion & beauty bloggers that have over five million followers on Instagram alone. But more importantly they are family. Cousins and best friends, this docu-series will take us to a part of their lives that we've never seen before from Vancouver to Los Angeles.  From their hilariously direct older brothers, to Nat's hippy sister, to their hysterical parents, Nat and Liv's family will make you laugh and cry…sometimes at the same time. 
Three unscripted projects in development include:
The Twins Project (working title):
Three vibrant sets of twins all have their sights set on conquering each of their own worlds. From radio DJs, to pop artists and social media fame, the docs-series will explore their dynamics as siblings, best friends and co-workers while reaching new heights in their careers and choosing to do so together, rather than alone. 
Written by the Stars (working title):
Written by the Stars takes the most ridiculous first-hand excerpts from celebrity autobiographies and transports them from the page to the screen. Quoting directly from the books and with the help of a hilarious SNL-esque troop, the most epic celebrity stories come to life—viewers will see their favorite celebrities' hazy nights, crazy affairs, behind the scene antics and Hollywood secrets.
Wonder Women (working title):
The need for stuntwomen in the entertainment industry has never been greater. This competition-elimination docu-series will follow a stunt director on a journey to find the next great stuntwoman. Each week, hopefuls will face challenges that test their physical, mental, and emotional strength—requiring them to give their all if they want to become the next breakthrough female stunt performer.