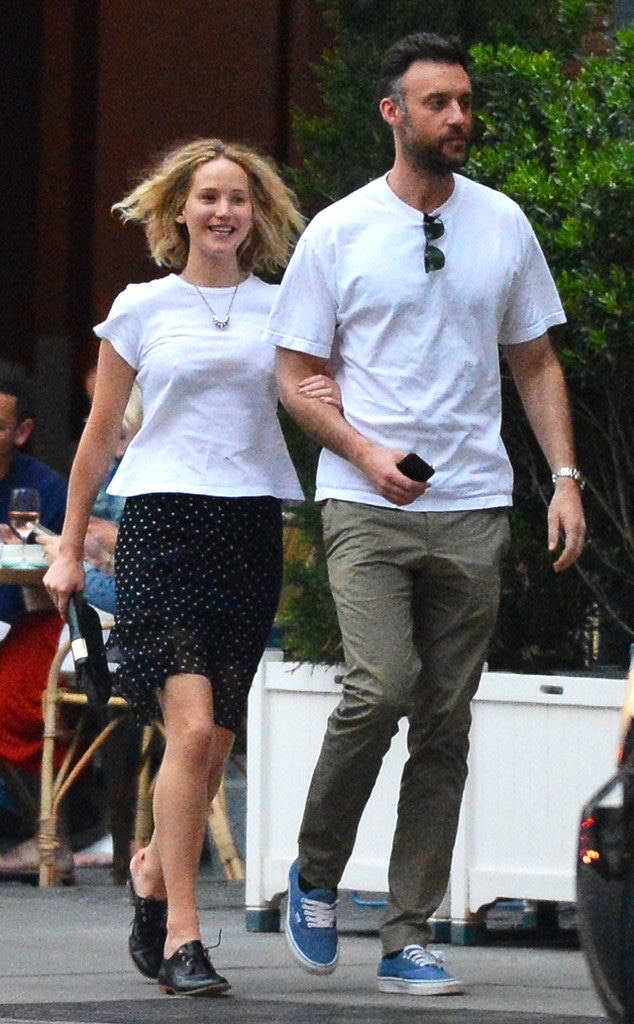 TheImageDirect.com
Jennifer Lawrence is getting married!
The 27-year-old Oscar winner is engaged to art gallerist Cooke Maroney, her rep confirmed to E! News on Tuesday. 
The news comes roughly eight months since the two were first romantically linked in June. At the time, Jennifer and her new man were spotted by photographers for the first time together during a casual date in New York City. 
While a big congratulations is in order for these lovebirds, you may be wondering who Cooke is and how he snagged Hollywood's golden girl. Here are five things to know about J. Law's future husband: 
1. He's in the NYC Art Scene: 
Maroney works as a director at Gladstone 64, one of the Gladstone Galleries, which represents big name artists including Lena Dunham's father, Carroll Dunham. Prior to Gladstone, Cooke worked at Gagosian Gallery. His father, James Maroney, also worked as an art dealer. 
2. He's a New Englander: 
He grew up on his parent's farm in Vermont, according to Medium. Per Maroney's Facebook page, he later attended high school in Middlebury, Vermont before enrolling in New York University. There he reportedly studied art history, and clearly continues to pursue his passion in the Big Apple! 
3. Art Brought Them Together: 
The future wife and husband met at an art gallery. How apropos!
4. He's a Major Man About Town: 
Describes Page Six, Cooke is often seen at "high-end art openings" in New York City. Internet sleuths have also uncovered photographs of Lawrence's rumored new beau at a party in the Hamptons. A real social butterfly! 
John Shearer/WireImage for Teen Vogue
5. And Yes, There's a Possible Paris Hilton Connection: 
At the very least, Cooke and Paris are connected on social media. A private Instagram account linked to his name follows the famous heiress, as well as Hollywood insider Derek Blasberg. It's a very real possibility Maroney is actually friends with Hilton, because in 2013 he was photographed with Stavros Niarchos, an infamous ex of the socialite's. 
Lawrence previously dated Darren Aronofsky for a year before their Nov. 2017 split. She confirmed her single status in a February 2018 interview with Howard Stern, sharing, "I am not in a relationship. I am making it clear that I have not had sex in a very long time. I would like to have a relationship, you know—it's hard out there!"
A year later, the star is getting ready to take on a brand new role: bride.
(Originally published June 6, 2018 at 1:43 p.m. PST)