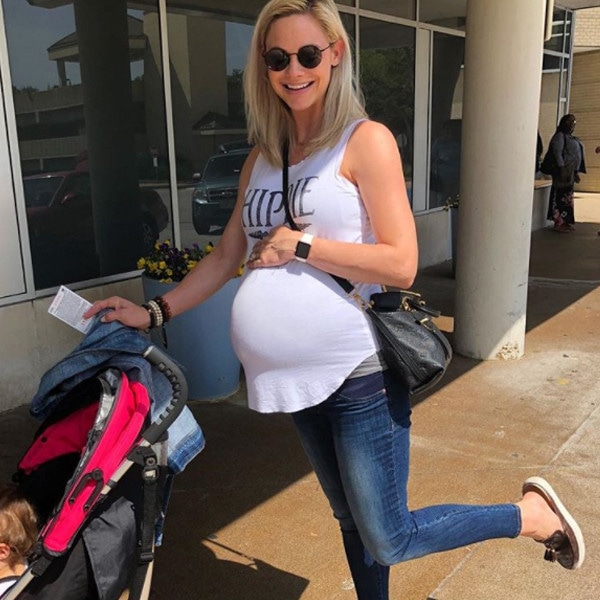 Instagram
UPDATE: Meghan King Edmonds and husband Jim Edmonds have announced the names of their twin boys: Hayes and Hart. In a blog post released this afternoon, the reality star explained how she and her hubby decided upon the monikers.
"Both are family names: Hayes (who looks like Jimmy) is Jimmy's great-grandma's maiden name, Hart (who looks like me) is my great-great-great grandpa's first name," she shared. "Our family is now completely complete."
________
Jim announced their arrival on his Instagram Story Wednesday, showing his arm with two small ink footprints. "1 little foot each," he wrote, adding, "They made it. Everyone is safe and healthy." Jim also promised, "Pictures will come soon."
Meghan updated her Instagram later in the day with a new photo and birth details.
From social media to blog posts, the former Real Housewives of Orange County star has been open and honest with fans about all her milestones. In fact, she gave fans a heads up that two babies were coming very soon. 
"I'm so excited today because not only did I make it to 35 weeks pregnant (average twin gestation in the US) but both boys are (FINALLY!! After not cooperating for weeks!) in position to allow me to have a smooth labor!" she recently shared on Instagram. "After weeks of painful contractions things have really settled down."
Meghan continued, "I feel so happy, positive, and relieved! Thank you for all your good vibes, keep them coming so that I can have the labor I want (drug-free/intervention-free!)."
Whether enjoying a babymoon at the Rancho Valencia resort or a heartfelt baby sprinkle, the past nine months have definitely flown by. And along the way, excitement has been brewing in the entire family especially from baby Aspen.
"Aspen is going to be a big sister!" Meghan shared on her website when first announcing her pregnancy. "It was so hard for us to keep it a secret from everyone especially since we shared our entire IVF journey with Aspen on RHOC from the very beginning."
Perhaps one of the biggest highlights from Meghan's journey with twins was the photo shoot where she recreated Beyoncé's iconic pregnancy photo.
Back in May, the Bravo star worked with photographer Heather Mohr to channel her inner Queen Bey or as she called it—King Edmonds.
With three kids under two now living under the same room, we have a feeling this is going to be a summer to remember. If anyone can do it, though, it's the Edmonds crew.
Congratulations!