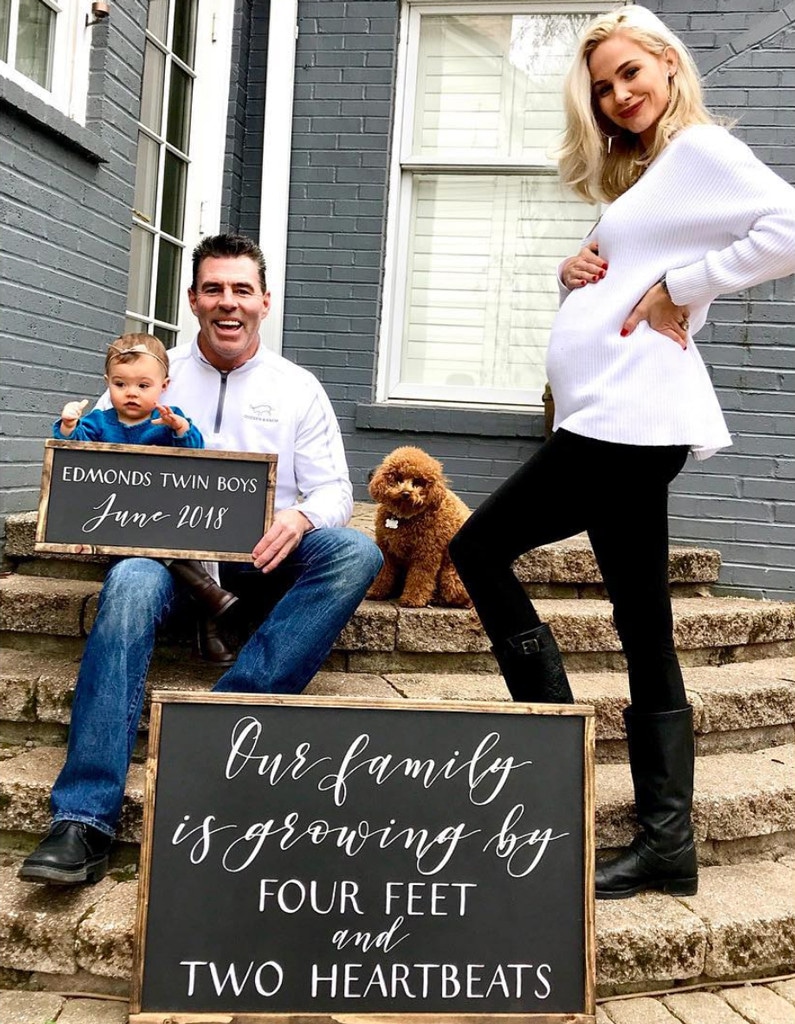 Instagram
Meghan King Edmonds is crazy in love with Beyoncé's pregnancy announcement—so much that she recreated it. 
The Real Housewives of Orange County alum took a page out the triple threat's Instagram playbook and debuted a replica of Knowles' unforgettable floral photo shoot, which famously featured the future mom of twins in a veil, bra and underwear against a colorful backdrop. 
For Edmonds, who is expecting twin boys this June with husband Jim Edmonds, the image clearly made an impression on her. "If I can't be Queen Bey I'll settle for King Edmonds," she captioned her version of the photos, shot by photographer Heather Mohr, in which she also donned a pink bra and blue underwear while posing under a floral arch. 
However, she seemed to get ahead of any critics when Edmonds added, "#imitationisflattery." She also noted, "#thisIsNotMyMaternityShoot."
It was just ahead of Christmas 2017 that Edmonds announced she was expecting not one, but two new additions to her growing family. "Surprise, surprise! We're having TWINS! Oh boy oh boy!" she captioned her announcement at the time. "#doubletrouble #threeundertwo."
Meanwhile, Beyoncé sent the Internet into a complete frenzy when she dropped the viral news in Feb. 2017 that she was pregnant with twins. Without blinking an eye, fans launched into analyses of the photo, studying everything from her caption to the colors of her intimates. 
The image ultimately became the most-liked of the year with currently more than 11 million likes. 
What do you think of the expectant star's recreation? Share with us in the comments below!