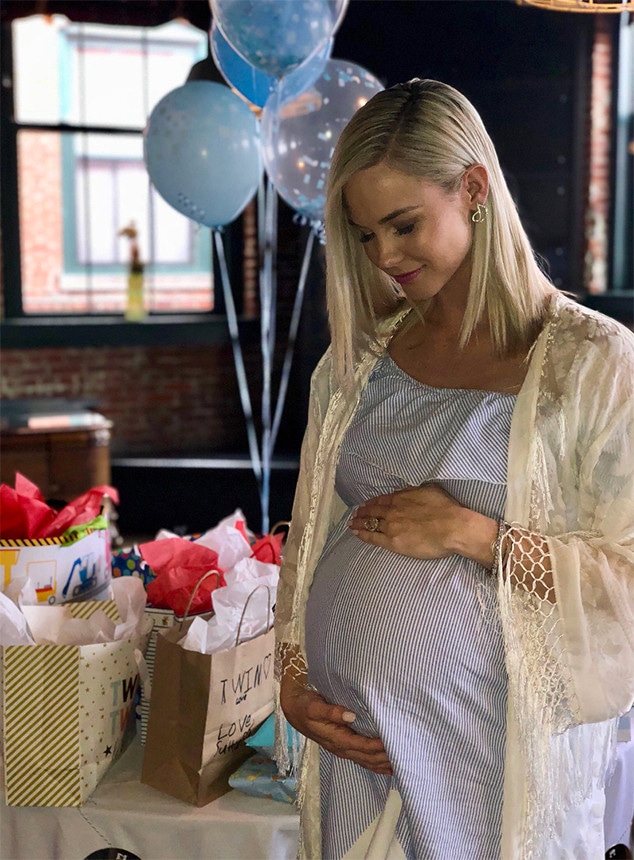 Instagram
It's baby shower, or rather, sprinkle time for Meghan King Edmonds.
The 33-year-old former Real Housewives of Orange County star is expecting twin boys with husband Jim Edmonds.
Meghan posted on her Instagram page on Saturday photos of herself with family and friends at her baby sprinkle, a trendy name for a baby shower celebrating the upcoming arrival of a child that isn't the parent's first. She and Jim also share a 1 and 1/2-year-old daughter, Aspen, while he has four more children.
"We celebrated a pajama gift-themed sprinkle at Sqwires Restaurant in St. Louis, hosted by Katie Lappas, and sipped non alcoholic champagne by @drinkreadytopop," Meghan told E! News exclusively.
There was also a surprise appearance by the new Nuna Demi grow twin stroller. Guests also brought boys' pajamas as gifts.
The pregnant former reality star showcased her baby bump in an off-the-shoulder blue striped dress.
The party featured blue balloons, small white and blue flower arrangements, blue macaroons with white cream filling, vanilla and chocolate frosted cupcakes adorned with blue flags and Champagne.
The St. Louis is Meghan's hometown and is also where Jim used to play for the St. Louis Cardinals and where her stepchildren live full-time. The couple plans to leave California and is building a house in the city.