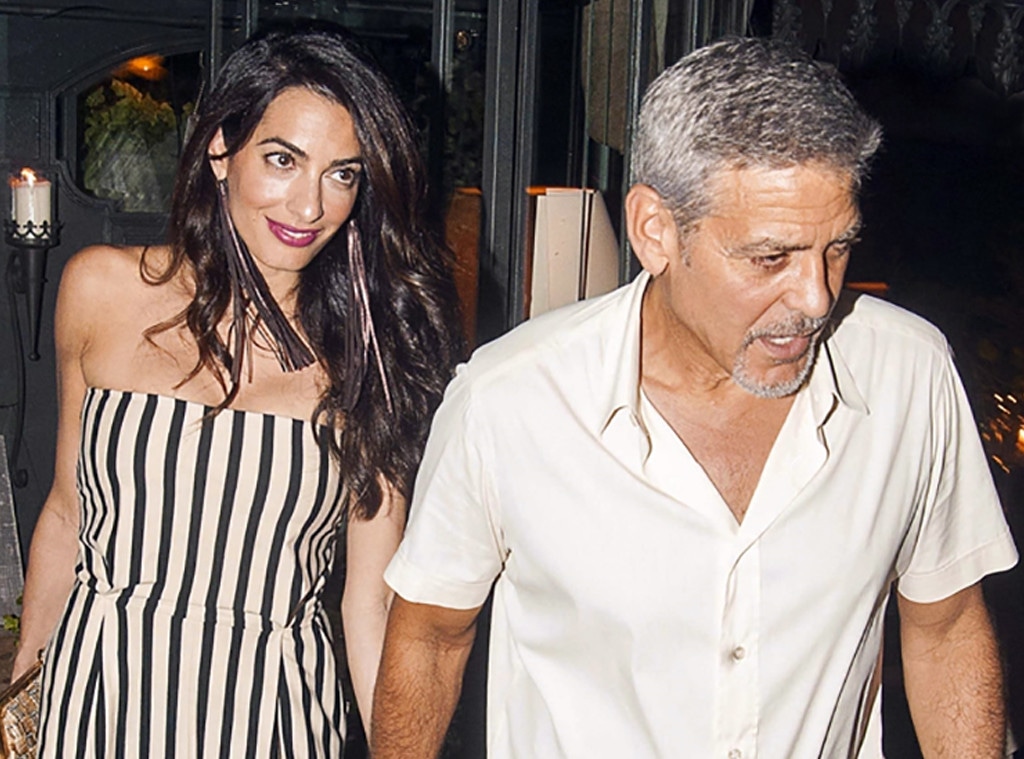 BACKGRID
Alexander and Ella Clooney may not know it just yet, but life is pretty darn sweet for those two.
The twin son and daughter of George Clooney and his wife of almost four years, Amal Clooney, are turning 1 Wednesday, and at their tender age they already represent the crowning achievements of their Oscar winner dad and human rights attorney mom. 
Society may try to insist otherwise, what with the international renown they had before becoming parents, but the couple are fully aware that this is as good as it gets.
"We had a little email exchange," George's ER co-star Julianna Margulies said on Good Morning America Monday, "and I was just asking how he's doing and he said, 'I just can't believe there's so much poop.'"
So fatherhood hasn't altered George Clooney's sense of humor one bit...
However, his quest to maintain privacy, which ramped up when he met and fell head over heels for Amal in 2013 (their first unintentionally public date at one of London's hottest restaurants was a real wake-up call for her), has only intensified over the past year. Though some persistent paparazzi have snapped the couple transporting their kids from place to place a couple of times, no one out of the inner circle, E!'s Zuri Hall or, perhaps, people eating in the same restaurant or fellow first-class passengers on a plane, have glimpsed Alex and Ella's faces—and no photographs have been willingly shared with the masses. 
One moment for a possible debut, Clooney's appearance on David Letterman's Netflix series My Next Guest Needs No Introduction, also passed by without a cameo from the babies.
Perhaps the big 0-1 will qualify as an occasion to present their kids to the world—on the cover of a magazine, maybe, with all proceeds going to charity—but it's easier to imagine the Clooneys continuing to keep the twins all to themselves.
But at least we know what they look like, ish.
Stephen Lovekin/Getty Images
They're "gorgeous," with dark hair, their proud grandfather Nick Clooney told Cincinnati's Fox 19 News last June. And Alex—according to Nina Clooney, anyway—may have George's nose.
We also know that the elder Clooneys are thrilled for their only son. George remains close with his parents and has been a doting uncle to his sister Adelia's two kids—and though up until pretty recently he wasn't convinced that he hadn't missed the having-kids boat entirely, he was of course happy to be able to share this milestone with the whole family.
Another source concurred in October, meanwhile, telling People that the kids are "too beautiful, simply adorable. One looks just like her mother and the other is the image of his father...like they took the best parts of both Amal and George and mixed them together."
While the actor has been adamant about not showing his children's faces, he has dropped some characteristic anecdotes over the past year. Alexander is "a thug already," he cracked to Entertainment Tonight during the Venice Film Festival last September, where his latest directorial effort, Suburbicon, premiered. "You saw him," he added, turning to Matt Damon, who was sitting beside him. "He's a moose. Literally, he just sits there and he eats like..." he joked, making grunting noises. "He's, like, checking IDs on the way into the nursery." 
So his son resembled a burly bouncer at 3 months.
As for Ella, "she's very elegant," George gushed, "all eyes, and she looks like Amal."
They picked the names Ella and Alexander, basically, because "we just didn't want to have really dumb names," he explained with a chuckle, a nod at the litany of unique celebrity baby names out there.
He also quipped that fatherhood had made him "much older." Agreeing with Damon's prenatal foreshadowing, Clooney declared, "I'm a mess—but [Amal's] like an Olympic athlete. You got two kids, you're breastfeeding like crazy—I'm very good, by the way, at diaper changing." (Damon also, for the record, predicted that Clooney would be "great.")
The reality of it all hit home, he recalled, when the twins were first born. 
"They're covered in slime and crying," he said, "and you're like, 'Wait a minute, what is that? We were just two, and now we're four."
To help with the transition, George and Amal enlisted the services of nanny extraordinaire Connie Simpson, author of The Nanny Connie Way: Secrets to Mastering the First Four Months of Parenting.
"If I were a baby, I would want Connie to be my Nanny," George and Amal said in a statement ahead of the book's release earlier this year. "I want her to wrap me in a blanket and rock me to sleep. We loved having her as part of our family."
The feeling was mutual, naturally.
"I actually came out of retirement to work for them because...I didn't want to feed them to the wolves," Simpson, who has also worked with famous parents Jessica Biel and Justin Timberlake and Emily Blunt and John Krasinski, told People in April. "I wanted them to enjoy this situation for what it really was and I knew there were two of them, so to see them be able to enjoy it that way made me really happy because they deserved it. He deserved it, and she deserved it too. So it was really sweet to see that."
She had known George since before he was married (to Amal, his second wife), and it was "amazing" to travel with them to see his family in Kentucky and watch them all go gaga over the twins.
But while Alex and Ella have more frequent flier miles than most grownups already (Dad famously passed out noise-canceling headphones on a flight), the babies are technically based in England, where George and Amal would prefer to raise them. The Clooneys have a house on the isle of Sonning Eye in South Oxfordshire, not too far from the home of British Prime Minister Theresa May. Family photos abound, including a grouping of shots from George and Amal's September 2014 wedding in Venice, Italy, and a picture of the couple shaking hands with former President Barack Obama, Vogue reported in its May issue.
"We've had some 'Mamas' and 'Dadas,'" Amal disclosed. "George was very careful to ensure that 'Mama' was the first word."
Their house is situated on the river Thames and the expansive grounds boast a pool and pool house, which doubles as an office and—complete with a bar and screening room—a place for their VIP guests (such as BFFs Cindy Crawford and Rande Gerber) to congregate. And, perhaps, to change into their swimwear.
Connie Simpson isn't providing the childcare anymore, but the couple still employ a nanny and a sizable full-time staff to ensure that the twins' needs are entirely attended to—and to give mom and dad the freedom to do things like work (which tends to take place in far-flung locales around the globe, let alone away from the house), attend Prince Harry and Meghan Markle's wedding and enjoy scooter rides around Italy when they're in town. George maintains his longtime second (or is it third or fourth by now?) residence on Lake Como, now yet another family home for the foursome.
For the most part, however, the twins go everywhere their parents do.
When Clooney was in Los Angeles, where he used to be based and still keeps a house, last fall while making the rounds for Suburbicon, the babies were there too.
"Would you like to see the babies?" he teased a Jimmy Kimmel Live audience, only to sort-of thrill them by having a diaper-bag-toting Matt Damon trudge out pushing twin carriages.
"I just want to make it clear, they're cheering for the babies," Kimmel pointed out.
"He's my manny," Clooney explained before Damon and Kimmel's "feud" once again took over.
Meanwhile, Nathan Heller, writing for Vogue, noted in his article that Alexander is his father's mini-me and Ella does, in fact, look like her mother.
"Between six and eight in the morning we get to have them in our bed—I don't schedule any calls before eight," Amal, whose work on behalf of imprisoned journalists, refugees from war-torn countries and even despotic leaders' henchmen whose legal rights were being trampled has taken her all over the world, told Heller. "When I was nursing, it was much more complicated, because there are two. I had all manner of weird cushions and pillows and machines."
George was in L.A.—the first time he'd been out of town without the kids—and checked in via FaceTime.
Then everyone was off to New York, where Amal is a visiting professor at Columbia and was a co-chair of the Met Gala in May. They celebrated George's 57th birthday there on May 6 as well, going on a double date with Gerber and Crawford. Also this year, they donated $500,000 to help fund the March for Our Lives pro-gun-control demonstration in Washington, D.C., which they also attended.
Protecting the twins' privacy won out over treating them to their first protest. But until the day comes when they're picking causes and cracking jokes and impressing the world on their own, Alex and Ella will learn plenty about activism and being good people (and fashion), just by hanging out with their parents at home.