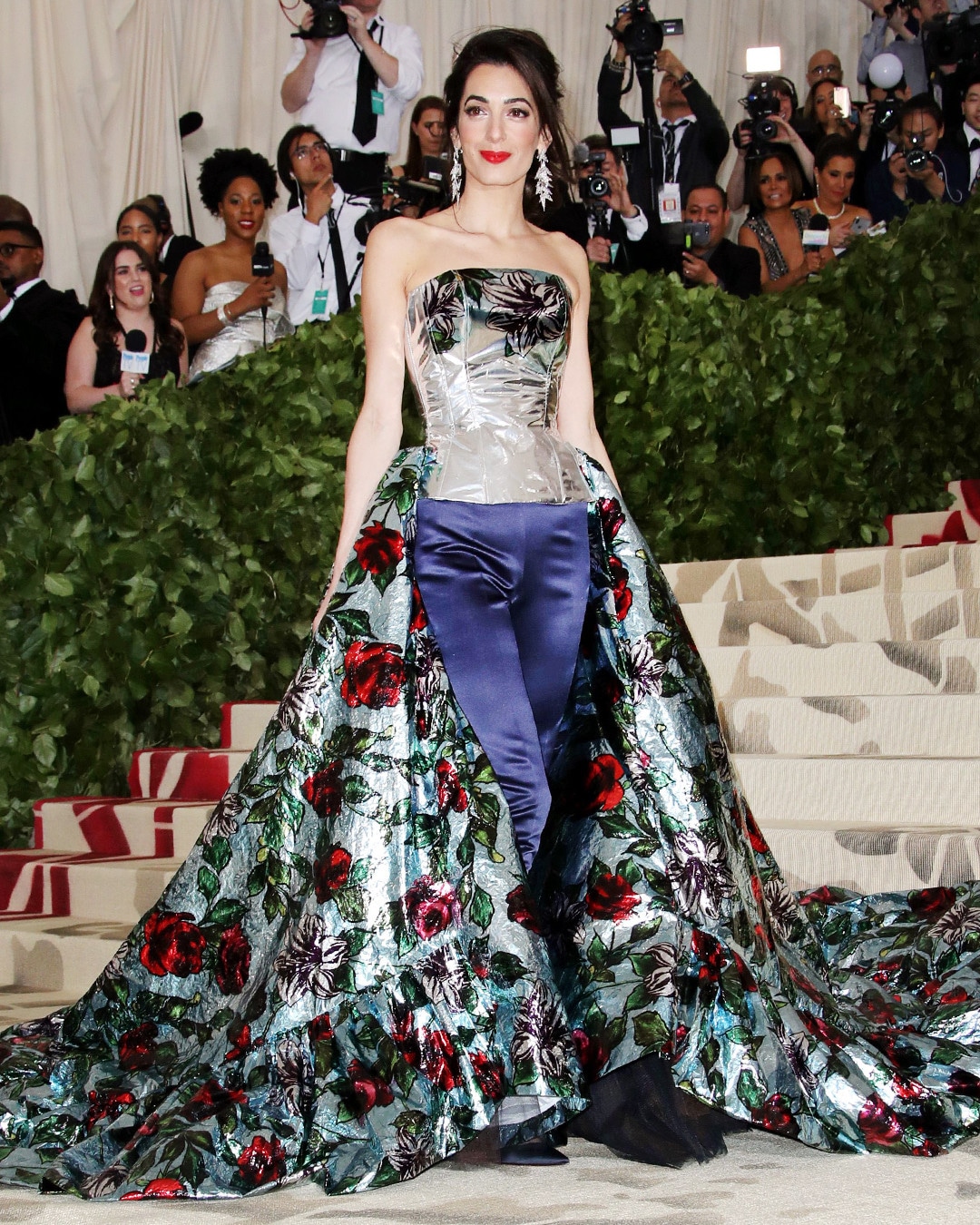 REX/Shutterstock
And the masterclass in over-the-top glamour continues. 
One of the first celebrities to arrive at the 2018 Met Gala, Amal Clooney set pretty high standards for stars to come, wearing a strapless, metallic bodice that flowed into a dramatic blue-ish silver train featuring large florals. The barrister, clad in Richard Quinn, balanced the Mylar-like material with navy skinny pants—a completely unexpected move for the traditionally classic beauty.
George Clooney's other half is always a shining beacon of impeccable tailoring, sophisticated silhouettes and perfectly coiffed hair and makeup, but she may have outdone herself. Serving as a co-chair of fashion's biggest night, expectations were already high. A pretty dress just wasn't going to cut it. Amal complemented the eye-catching ensemble with a high ponytail, perhaps to give the structure, print and fabrication of the look more emphasis. 
This isn't Amal's first Met Gala rodeo. In 2015, for the "China: Through the Looking Glass" theme, the beauty wore a red, strapless dress by John Galiano for Maison Margiela. The tiered effect added volume to the dress, giving her curves and shape, while the bodice's crisscross texture gave it some edge. Admit it: Amal Clooney has red-carpet sophistication down, but if you think she is a one-trick style pony, think again! 
"I hate the idea that you somehow, as a human being, have to be put in a box. There's no reason why lawyers can't be fun—or actresses can't be serious," she told Vogue. 
While the humanitarian is a master of class, she knows how to keep things fun and feminine as well. Just a day earlier, Amal celebrated her husband's 57th birthday with a dinner in Manhattan. The 40-year-old activist wore a short, half-sleeved Stella McCartney romper and nude Jimmy Choo strappy sandals, which showed off the barrister's toned legs. She accentuated the more casual ensemble with a gold belt around the waist, matching clutch and pink lips.
The woman has range. 
What do you think of Amal's Met Gala look? Let us know in the comments below!