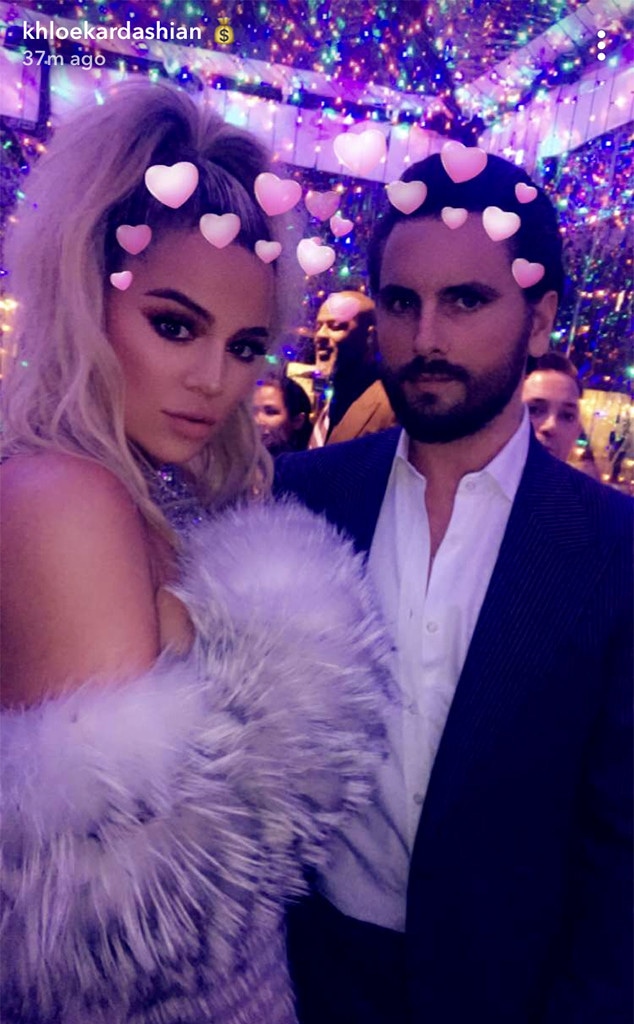 Snapchat
The Scott Disick thing is admittedly weird.
He and Kourtney Kardashian broke up in 2015, largely due to some chronically absurd behavior on his part. She's been dating Younes Bendjima for a year and Scott's still with Sofia Richie. Yet he remains embedded in the fold. In good times and bad, for better or worse, the Kardashian-Jenner family has never cut him off—from their connections, their homes or their hearts—and he has been given endless chances to regain the trust that's frayed over the years.
Happily, a little distance, combined with that closeness—be it actually geographical or just a promise of continued acceptance—seems to have helped Disick grow up and shed the trappings of drama that have plagued him for most of his adult life. And just in time, too, since he's celebrating his 35th birthday today.
There of course have been highs and lows in his relationships with individual members of the family, not all of whom are always feeling the Lord love every day, especially when they don't feel as though Scott is holding up his end of the equation. And he has a history of testing their patience.
"Scott just roams into my house like it's his house, he walks in my bedroom—I don't think he should come in my bedroom anymore!" Kourtney told Khloe and Kim Kardashian on their girls' trip to San Francisco last fall. Kourtney had told her therapist she wanted to "keep things comfortable" with the father of her three kids but it was time to set some boundaries when it came to showing up unannounced.
"All things that are understandable in this co-parenting life," Scott agreed when they eventually had the conversation. As for his own boundary issues, he joked, "I don't really want to hug anymore, I think we should just shake hands with each other."
Chris Weeks/Getty Images for Calvin Klein
Meanwhile, he didn't exactly take the news that Kourtney had a boyfriend well. "I get a little jealous," he admitted early on. And as recently as February he was "still insanely jealous," a source told E! News—though, having started dating Richie last September, he doesn't have any more legs to stand on there. 
Kris Jenner, who has tirelessly embraced Scott as if he were one of her own kids, noticed right away that he was having issues with Kourtney's new relationship, especially after he put on a robe and got in bed during a trip to Williams Sonoma with her.
"The situation is extremely hard and complicated, but I do have my own priorities and things that I need to focus on. He's just not my biggest concern anymore," Kourtney mused after telling her mom to ask Scott herself if she was so worried about him.
The predictably unpredictable son of a moneyed New York family who became a reality-TV star at 24 and is now invested in the luxury house-flipping trade has had his raw moments with the family before, especially when Kourtney finally let him go in 2015 and he felt that his relationships with Kris, Khloe and Kim were slipping away. But it took literally years before anyone, Kourtney included, knew what was really going on with her and Scott, since the two of them still went on cozy-looking trips and spent as much time with the kids together as possible. It really wasn't until she started dating Younes that the are-they-getting-back-together speculation stopped. 
If it has, indeed, stopped.
"I just feel like you love that you're able to hold this over me and that's like your control factor," Scott told Kourtney after she didn't invite him to Khloe's birthday party last June, to which Kourtney fired back, "And I feel like you think you can go out and do whatever you want and purposely try to hurt me and still get invited to everything."
Scott tried to rationalize his very public, leisure-time-heavy lifestyle as him acting out out of love rather than spite, but Kourtney wasn't having it. "That's not a way to show love," she informed him.
"I am on the longest Ferris wheel of all time," Khloe, who was hosting this little tête-à-tête on neutral ground at her house, chimed into their conversation. "Like, we gotta get off the ride at some point and get on a new one."
After they'd put that issue to rest for the moment, Scott half-jokingly asked Kourtney if she wanted to make out. "You guys are so f--king dysfunctional!" Khloe exclaimed. "I don't know if this is some thing you guys do as foreplay but this is f--king nuts." "We don't hook up," Kourtney assured her.
Aside from Kourtney, it's perhaps Khloe and Scott who've had the most turbulent relationship over the years, with Khloe liking him at first, then coming to despise him for not treating Kourt right, and then turning into one of his best friends, their selfie action the stuff of legend.
"Well Scott and I—we're sleeping together apparently," Khloe quipped to Complex in 2015 (pre-breakup with Kourtney), referring to the wide-eyed commentary often left on their cozy-looking pictures. "Obviously, we're best of friends, but what's crazy is how much I hated him before. He was a douchey little dick." 
She added, "He still falls off or makes mistakes, which everyone does. I don't expect anyone to be perfect, but what I like about Scott is that he's honest about his weaknesses and his strengths."
But at the end of the day it's always sisters before misters in this house (or these houses).
"I haven't seen any good behavior yet," Khloe advised her big sis when Kourtney said post-breakup that it was going to take a lot of effort on Scott's part to even consider getting back with him. 
Jackson Lee / Splash News
Kim observed at the time, "I think regardless of Scott and Kourtney being together, Scott will always be in our lives. I mean, he's the father of my nephews and my niece. We want him healthy and happy, so that he can be in their lives as much as possible. But I still want Kourtney to figure it out and be strong and not get back together with him."
Kim has tended to go with the flow when it comes to Scott, always treating him kindly when it was important to Kourtney but also not wasting too much effort on worrying when he was in the dog house.
But the sisters were all pretty much in agreement initially that Scott dating Sofia wasn't exactly their...favorite thing. 
At this point, though, the exes have more or less agreed to disagree about their significant others, so long as their kids are thriving and no one—Scott, that is—is making an ass of himself. Kendall Jenner, despite trolling Scott on social media—"Awww, Scott and his kids," she commented on one of his pics with Richie—still considers him close enough to jump out of a plane with him. Kris Jenner has gotten the question—"Wait, so how old is she? Because I really don't know! Is she Kylie's age?"—out of her system on the show. 
"I don't even track their relationship as much as I track the family like he's my kid," Kris once said about Scott and Kourtney.
And Kim certainly prefers happy, healthy Scott to the out-of-control version she tolerated for Kourtney's sake.
"I've started to see pictures of Scott running around New York and whatever makes him happy," she said toward the end of last year. "I don't judge, I don't care. I think it's a good thing. I just hope that he's making good choices and having fun and nothing's getting crazy."
Everyone—including Bendjima and Disick—managed to get into and stay in the holiday spirit at the annual family Christmas bash (though Scott noticeably did not bring a date). 
"Scott and Kourtney get along very well. There was no drama at all at the party between them. At this point, the Kardashians are his family too," an insider told us. "Scott is more part of the family than Younes is, that much is clear even just based on how he was interacting with everyone." 
Moreover, the many, many other life events occupying the family's time these days have largely relegated his relationship with Sofia to a side note. Kim's off with Kanye West and their three kids, Khloe is a new mom who's still figuring out her future with Tristan Thompson, and Kylie Jenner too is busy bonding with baby Stormy and boyfriend Travis Scott.
"When you involve the whole world, everyone has an opinion," Kylie told The Hollywood Reporter last summer, referring to how hard it was for Kourtney's breakup to play out on camera. "It's not the healthiest. That part of your life should remain sacred." (Case in point, she never confirmed her pregnancy till Stormy was born.)
Meanwhile, Scott has made himself available where need be. Toward the end of 2016 he was showing up for Rob Kardashian as he awaited the birth of his first child, sharing parenting advice with the expectant dad and expressing his hope that Rob's baby would become as close as North and Saint West are with his kids, Mason, Penelope and Reign.
And when Khloe got pregnant, Scott wanted to be there for her too.
"If she ever asks, I'm sure I would try" to lend a hand, he told E! News in October. "But I feel like all of us are so close that all of our children are kind of brought up in the same vicinity, or one block over, that everybody's kind of there for each other."
So far, so good.