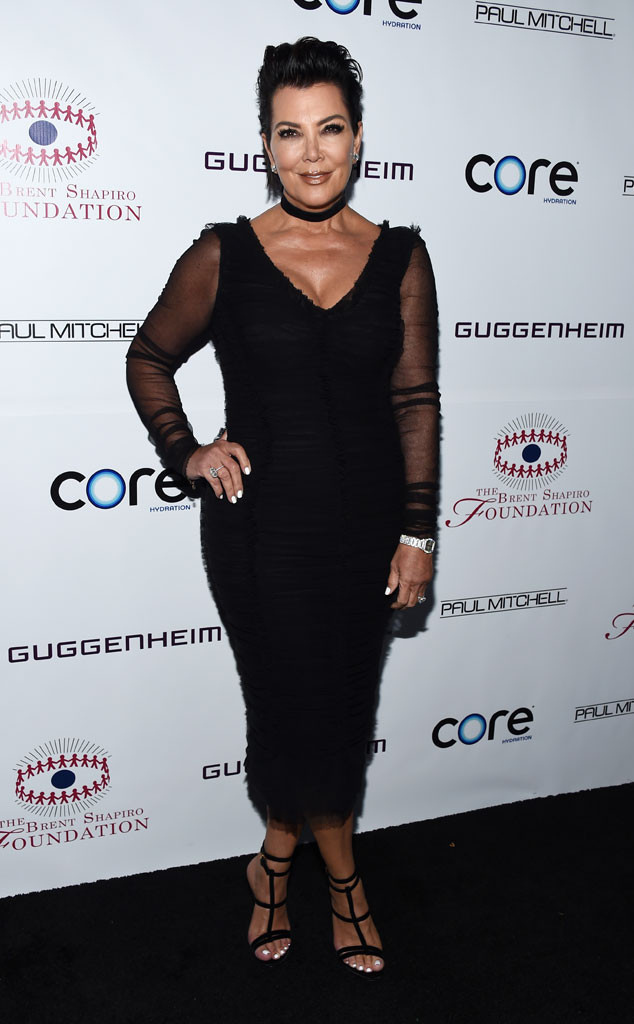 Amanda Edwards/WireImage
It's not always easy keeping up with the Kardashians—even for matriarch Kris Jenner.
Thankfully, social media has made it much easier to keep tabs on her globetrotting children. "I don't use Snapchat because I'm always working, but I do keep up with them on Snapchat," Kris admitted at the Annual Summer Spectacular to Benefit the Brent Shapiro Foundation in Beverly Hills Saturday. "It's like my babysitter," she added. "I can track my kids and what they're doing."
Sometimes Kris gets more than she bargained for—like when Kim Kardashian recently went on a nude selfie spree in Miami. That said, Kris is just happy Kim feels confident in her own skin. "You know what? I think she loves her body, feels great about herself and she's beautiful," she told reporters. "And I think she's an inspiration to young women, so whatever they want to do!"
Kris walked the red carpet with her boyfriend, Corey Gamble, but her five daughters were M.I.A. That's because Kim was in Miami with Khloe Kardashian and Kourtney Kardashian, as they were supporting Kanye West's double shows at the American Airlines Arena. And, thanks to a Snapchat shared Friday, fans finally got to see Khloe locking lips with NBA Player Tristan Thompson during one of Kanye's concerts.
"They are really cute," Kris told E! News. "You know, she's having a good time. He seems like a really nice guy." As for what makes Khloe and Tristan work, Kris said, "I don't know! I think just with any relationship, just in life, I think it's about chemistry and about values. You know, about how two people get along, so...you know how that goes!"