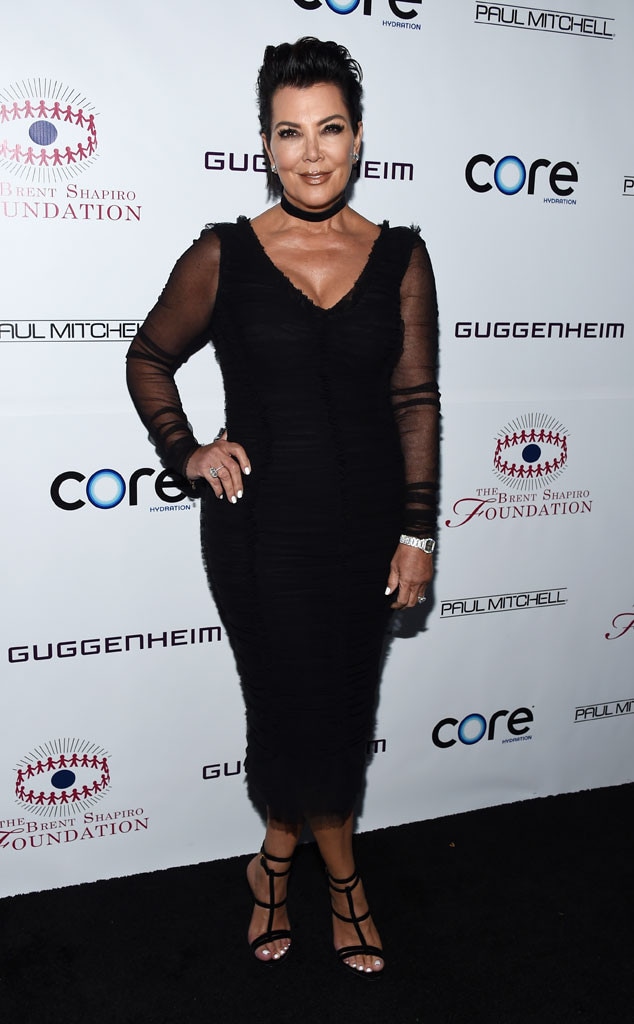 Amanda Edwards/WireImage
It's not always easy keeping up with the Kardashians—even for matriarch Kris Jenner.
Thankfully, social media has made it much easier to keep tabs on her globetrotting children. "I don't use Snapchat because I'm always working, but I do keep up with them on Snapchat," Kris admitted at the Annual Summer Spectacular to Benefit the Brent Shapiro Foundation in Beverly Hills Saturday. "It's like my babysitter," she added. "I can track my kids and what they're doing."
Sometimes Kris gets more than she bargained for—like when Kim Kardashian recently went on a nude selfie spree in Miami. That said, Kris is just happy Kim feels confident in her own skin. "You know what? I think she loves her body, feels great about herself and she's beautiful," she told reporters. "And I think she's an inspiration to young women, so whatever they want to do!"
Kris walked the red carpet with her boyfriend, Corey Gamble, but her five daughters were M.I.A. That's because Kim was in Miami with Khloe Kardashian and Kourtney Kardashian, as they were supporting Kanye West's double shows at the American Airlines Arena. And, thanks to a Snapchat shared Friday, fans finally got to see Khloe locking lips with NBA Player Tristan Thompson during one of Kanye's concerts.
"They are really cute," Kris told E! News. "You know, she's having a good time. He seems like a really nice guy." As for what makes Khloe and Tristan work, Kris said, "I don't know! I think just with any relationship, just in life, I think it's about chemistry and about values. You know, about how two people get along, so...you know how that goes!"
What about Kourtney, who broke up with Scott Disick in 2015? "Scott will always be one of my kids and part of our family," she said of her eldest daughter, who spent the weekend with BFF Simon Huck. "I don't even track their relationship as much as I track the family like he's my kid."
Rob Kardashian didn't join his three siblings in Miami, nor did he join his mom at the benefit. Instead, he enjoyed a quiet night at home with his pregnant fiancée Blac Chyna. Rob also took to Snapchat to reveal that Kanye and Kim had sent them Baby Yeezys. Kris—who was dressed in a Dolce & Gabbana dress and Tom Ford heels—is "really excited" to have a sixth grandchild on the way. But is she involved in planning Chyna's baby shower? "Maybe," she told E! News with a coy smile. "Maybe!" The parents-to-be are "doing good," Kris added, but if they've settled on a name, they aren't sharing it with the family just yet. "They won't let us give suggestions into the suggestion box," the reality star said. "I think they just want to figure it out on their own."
Overall, Kris said, "Everybody is doing really well." Keeping up with her famous family can be chaotic at times, but she wouldn't have it any other way. "I lean on my faith and I take a deep breath when things get crazy," the momager shared. "I feel sometimes like a fireman because I'm always putting out fires, but when I'm not doing that, you just have to enjoy the moment."
Keeping Up With the Kardashians returns this September, only on E!