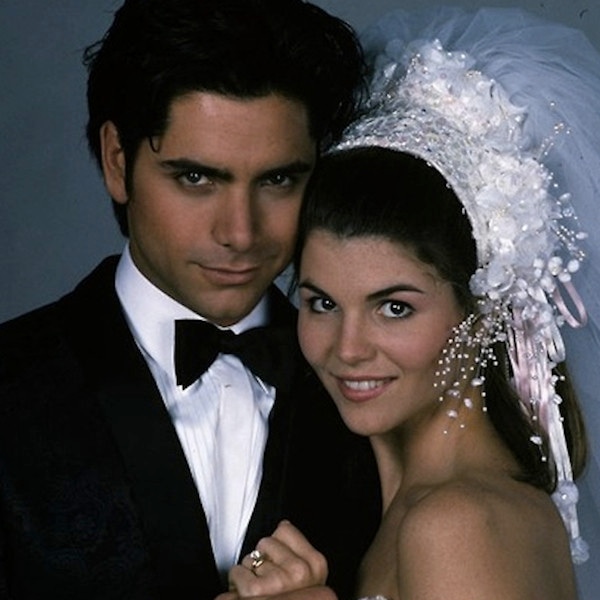 ABC
The house just keeps getting fuller!
If there's one thing we love about the cast of Fuller House—besides the fact that they have given us two fun sitcoms—is how close they are in real life. On screen they are family by blood, but off screen they are family by choice.
Most recently, both Bob Saget and Lori Loughlin welcomed John Stamo's son Billy Stamos into their Fuller House family. Their meeting was too cute and made it so obvious that this cast is more than co-workers. They get along great, spend time together when they're not being paid and are at all big life events.
See the best friendship moments from the cast that really is family below. Even if they don't do Fuller House forever—gasp it'll probably end one day—they'll always be our second family.
Here's Billy:
Not only did Saget and Loughlin bring the love when they met Billy Stamos, but they gave Full House a little shout out. "The Tin Man, Dorothy and The Scarecrow say hi to the cutest of Munchkins. #BillyandtheRippers," Stamos captioned the sweet photo of his friends meeting his son. Billy wore a "Jesse and the Rippers" onesie and we're in love.
Stop…party time:
In addition to going to Netflix events together, these celebs party at all kinds of award shows together. One of our favorite moments was from this year's Golden Globes parties when Loughlin and Candace Cameron Bure danced the night away.
Travel buddies:
From Vancouver with the ladies to road trips with your "sisters" these stars can't get enough of each other. In March 2018, Jodie Sweetin and Loughlin hung out in Vancouver. In 2017, Sweetin shared a fun adventure with Andrea Barber. Stamos and Dave Coulier have even been camping together!
Concert going partners:
What are friends for if they aren't going to rock out with you? Going to concerts together is one of many activities these actors do together outside of work.
Wedding warriors:
No plus one? No problem! The Fuller House cast go to weddings together and we bet they have a blast.
Children at heart:
It's no secret that Stamos loves Disneyland. He celebrated tying the knot with Caitlin McHugh by going to the happiest place on earth for goodness sakes. What's even better about his obsession is that his BFFs join in on the fun. He's taken Sagat and Coulier with him and gone on kid's rides because they're all big kids.
Night's out on the town:
Living in Los Angeles can have its perks when you're an actor. The biggest one? Running into your close friends and hanging out at fun places. This is what the Fuller House cast does on the regular.
Matching tees for the win:
Stamos and Coulier have matching Full House tees and we can't help but love them even more for them.
Supportive squad:
No matter what the event, this cast has each other's back. When Stamos was in Willy Wonka Live at the Hollywood Bowl his cast mates and their kids came out to show some love. When Bure's daughter wrote a book, Loughlin gave her a social media shout out. Supporting each other is what this squad does.
Throwbacks for days:
Some of us have known our best friends for 10 or more years, but this group has known each other for 30 plus years! It's insane and they have the goofy throwback photos to prove it.
Family forever:
Not only does the cast spend a lot of time with one another, but their spouses and children have grown up around one another. Stamos might be the newest parent in the bunch but he's been around to see all of his co-star's children grow and they're already returning the favor. The Fuller House family is way more than just its stars it's about their real families and it's adorable.
Which Full House cast moment makes you want to be a part of this squad? Vote for the cutest BFF moment in our poll now.
Full House Off Screen Moments