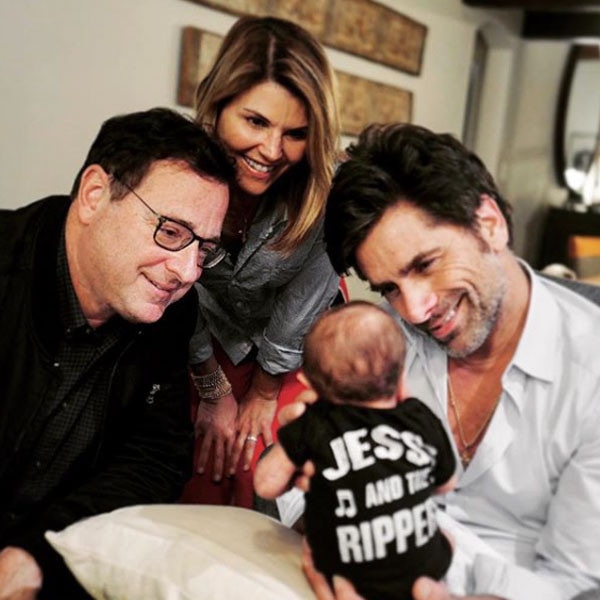 Instagram
Everywhere Billy looks, everywhere Billy goes, there's a heart, a hand to hold onto...from his dad's famous co-stars. 
John Stamos's newborn son Billy caught up with his dad's famous on-screen and off-screen besties, Bob Saget (aka Danny Tanner) and Lori Laughlin (Aunt Becky) and the photographic evidence will make your heart melt. Stamos posted a pic of the group on social media Thursday night, comparing them all to characters from The Wizard of Oz. 
"The Tin Man, Dorothy and The Scarecrow say hi to the cutest of Munchkins," he captioned the shot. 
"The sweetest little munchkin ever," Loughlin replied in a comment. 
It seems little Billy has even been fashionably initiated into the Full House family because the tot was sporting a onesie that read "Jesse and the Rippers" on the back, a nod to Stamos' character, Uncle Jesse's rock band. 
The first-time dad welcomed his little one with wife Caitlin McHugh in mid-April after first revealing they were expecting in December 2017. "I will be a fun dad," he told People at the time. "I've been practicing for a long time."
As for their firstborns name, it was a tribute to a special man in Stamos' life. 
"Welcome Billy Stamos (named after my father)," he wrote on an Instagram at the time of the baby's birth.
"From now on, the best part of me will always be my wife and my son.
Welcome to the Full House fam, Billy!