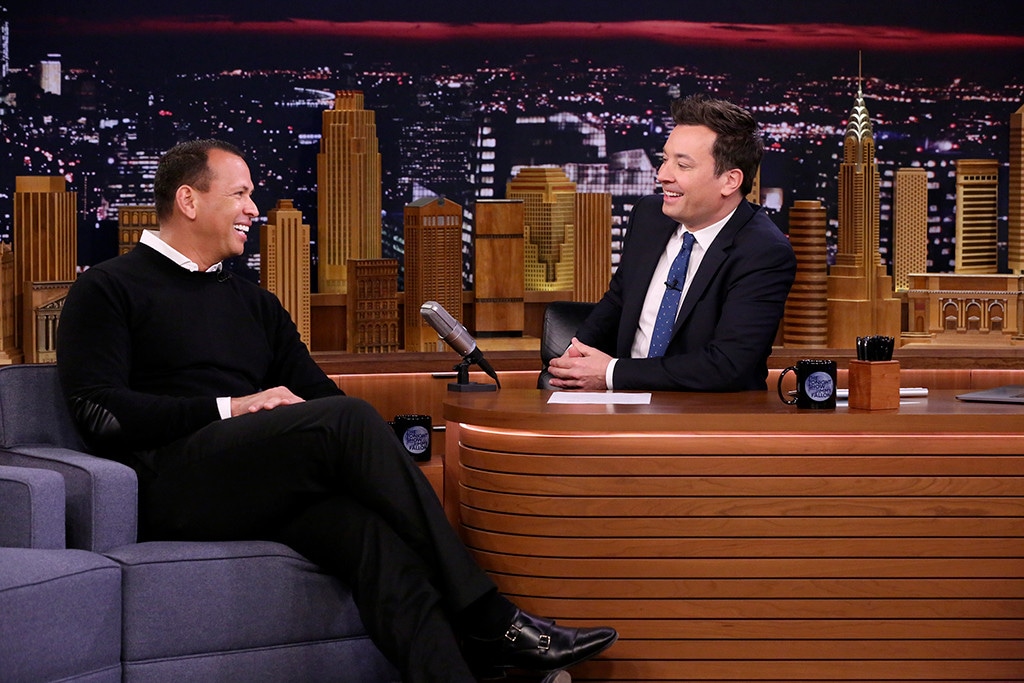 Andrew Lipovsky/NBC
If a proposal is in Jennifer Lopez's near future, Alex Rodriguez isn't giving away any hints.
During his guest appearance on Thursday's episode of The Tonight Show, the baseball star discussed his initial reaction to hearing Lopez's new song "El Anillo," which translates to the "The Ring," and whether an engagement might be down the line.
Before Lopez released the single, she invited Rodriguez to her studio to hear the song. After reading the lyrics, the former New York Yankees player said, "'Babe, it sounds like they're talking about us.'" Of course, with lyrics like "home run with three on base," the singer was indeed referencing her man.
"I knew it was going to be a smash the first time I heard it," he said.
When host Jimmy Fallon asked the sports analyst if he was thinking of proposing, Rodriguez replied, "I will say this: When it happens, Jimmy, you'll be the first to know."
Lopez also talked about the possibility of an engagement during her guest appearance on The Tonight Show earlier this week.
"No pressure," she teased when discussing the song's meaning with the late-night host. 
"The song is definitely about that. It is," she said. "But I felt like it was kind of like something that all women kind of get to a point where they say, 'OK, what's up?' It's like we're good. Everything's great. What's going on?"
The "Jenny From the Block" artist suggested she doesn't need a lot of time to know if she's with the right person.
"I feel like you know after—fairly quickly. The rest is just you being scared and whatever. But don't go by me. I've made tons of mistakes," she said with a laugh, seeming to poke fun at her prior three marriages.
However, during an earlier interview with Ebro Darden on Apple Music's Beats 1, the singer suggested she's in no hurry to walk down the aisle. 
"I'm not trying to rush into anything," she said. "I've done that before, to no avail. I'm a little bit more grown up now and I like to let things take their natural course. We are really kind of good for each other and are really having the best time and our kids love each other." 
The two celebrities started dating at the beginning of 2017.