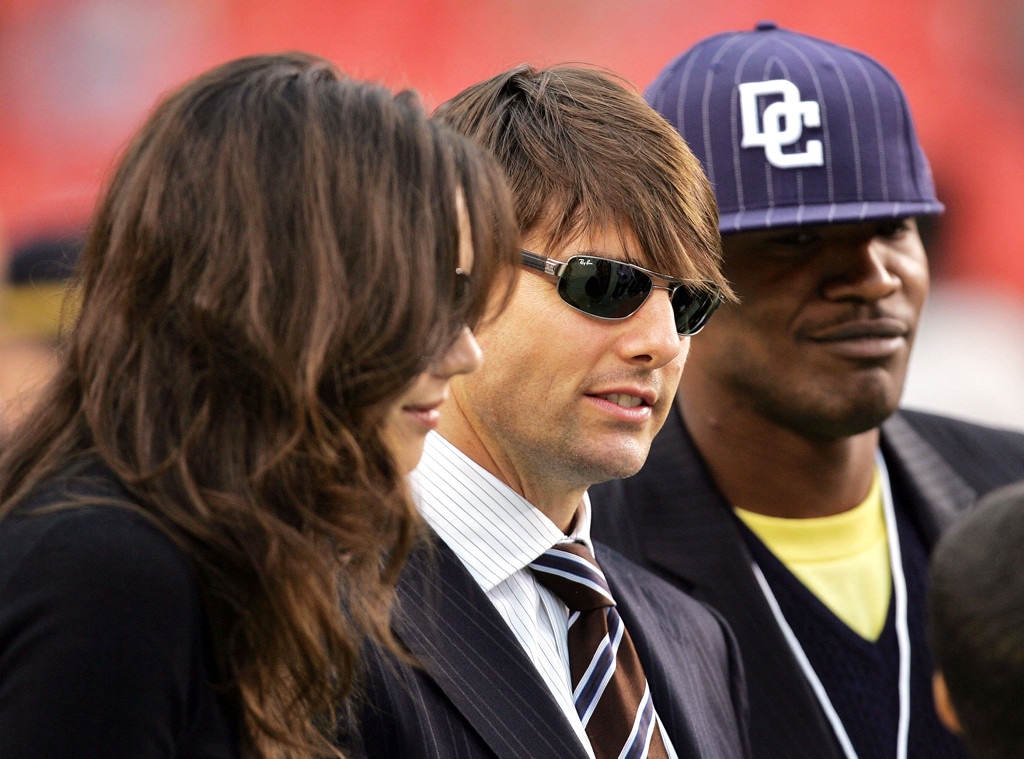 Win McNamee/Getty Images
The early-mid 2000s were a very different era.
Jennifer Aniston and Brad Pitt were splitting up in what would be the divorce of the decade, while Tom Cruise and Katie Holmes would start dating and get engaged that same year: 2005.
TomKat was a whirlwind courtship, for sure. After dating less than three months of dating, the Dawson's Creek alum and the Mission: Impossible star would announce their engagement. But what makes this relationship truly stand out was how public everything was.
From the initial dates to the wedding and birth of their child, everything about TomKat was splashed all over the Internet, magazines and more. Everywhere you looked they were putting their love on display. Even the most private of moments, the proposal itself, was done in public atop the Eiffel Tower.
"Yes, I proposed to her. It was early this morning at the Eiffel Tower, so I haven't slept at all," Cruise told reporters just hours after he popped the question. "Today is a magnificent day for me; I'm engaged to a magnificent woman." 
Tony Barson/WireImage.com
Before that, however, the Jerry Maguire actor was infamously bouncing up and down on Oprah Winfrey's couch professing his undying love for Katie. He also slapped the floor, causing many people to wonder whether this was a true relationship or merely a publicity stunt for both of their movies they were releasing at the time, War of the Worlds for him and Batman Begins for her.
"I'm in love! I'm in love," Cruise yelled, throwing his hands in the air. "I can't be cool. I can't be laid-back. It's something that has happened, and I feel I want to celebrate it. I want to celebrate her. She's a very special woman."
He would later tell The Insider after proposing, "I'll be jumping on couches for a very long time." 
The two tied the knot in an opulent, star-studded ceremony at Odescalchi Castle in Italy in November 2006, seven months after welcoming daughter Suri Cruise. Celeb attendees included Will Smith and Jada Pinkett-Smith, Brooke Shields and Chris Henchy, Victoria Beckham, Jennifer Lopez and Marc Anthony, and Jim Carrey and Jenny McCarthy, and many more.
In addition to their ostentatious nuptials, the family of three also posed for a 22-page spread in Vanity Fair. Shot by Annie Leibovitz, the cover introduced the world to Suri. But six years later, the couple would call it quits; TomKat officially divorced in August 2012.
After that, Katie returned to living a very quiet and fiercely private life. Suri would rarely be seen, and Katie returned to acting—onscreen and on Broadway. Two years after her very public marriage fell apart, she opened up to People magazine about closing that chapter of her life.
"I don't want that moment in my life to define me, to be who I am," she told People in 2014. "I don't want that to be what I'm known as. I was an actor before, an actor during and an actor now."
In addition to being an actor, however, Katie was able to find love again. She and Jamie Foxx, whom she met while involved with Tom, became a rumored couple in August 2013 after they were spotted dancing together at a benefit in the Hamptons. But after that moment, Katie and Jamie would go to great lengths to be photographed only twice together in three years.
But yesterday, everything changed. Jamie's longtime friend Claudia Jordan confirmed what everyone had been thinking for three years: Katie and Jamie were an item. "He is very happy with her," she said on the Allegedly podcast. "I like that he seems very happy." 
Rejoice! The world finally had the confirmation it needed—until it didn't. The next day Jordan backtracked on her comments, vehemently denying their status as a couple. "I have no knowledge of Jamie with Katie at all. I've never seen them together. He's never told me he's dating her," Jordan told Entertainment Tonight.
She added, "I don't have the knowledge of this being fact. I don't. I misspoke."
But sources have told E! News that Katie and Jamie are, in fact, a legitimate couple. Their relationship is "not a secret among their friends," one source shared. The two actors make sure to take separate cars, coordinate departures and arrivals so they are able to be at the same place in the same time, all while keeping a low profile. 
Another source told E! News that Katie, who also lives part time in Manhattan, spends "most of her time" at the Oscar winner's house in Los Angeles while in Tinseltown. They're not officially living together, but Katie "always" happens to be at his home. Because of her past experience, Katie doesn't want her private life "dragged through the tabloids," another source shared.
Katie's rep has repeatedly denied any relationship, calling rumors of engagement and pregnancy "categorically untrue." Jamie's rep also said he is "not engaged, not getting married and not having another child."
These two might not be engaged, getting married or having another child, but that still leaves dating on the table.
Should these two ever decide to tie the knot, it's clear it won't be a public affair. No Eiffel Tower proposals, no couches and certainly no interviews. Hindsight really is 20/20.