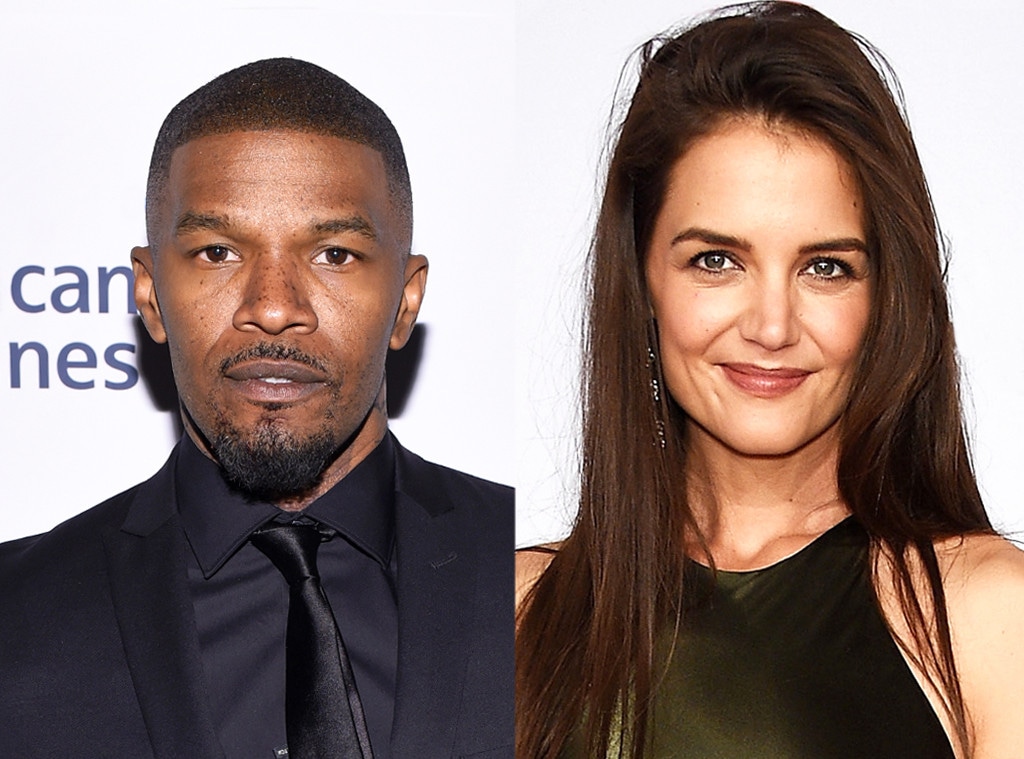 Dimitrios Kambouris/Getty Images for EIF, Getty Images
UPDATE: You know what they say about those who protest too much...
Real Housewives of Atlanta's Claudia Jordan just said her good friend Jamie Foxx "is very happy with her." "Her" being Katie Holmes.
Aha! Yet it's still fascinating, just how much effort has gone into making their relationship this big secret—for going on years now. We recently took a step back, considered all that effort from every angle, connected a few dots and read into all the signs...
______________________
At this point, Jamie Foxx and Katie Holmes have either never met or they're married with a baby on the way, depending on who you ask.
Suffice it to say, they do know each other, have known each other for a long time and have spent plenty of time together. But while many signs point to Holmes and Foxx being more than friends, there are just as many indicators that they're not.
And doing their best to ensure that the public remains entirely out of the loop are the actors themselves, who have managed to be photographed together exactly twice in three years—the results of said photos remaining inconclusive pending a full forensic investigation.
They've been characterized as everything from a hot fling to a cozy relationship to secretly engaged, and every step of the way they've laughed it off, danced it off or flat-out denied whatever the latest leg of the story may be.
Most recently Holmes' rep called a report that their wedding plans were on hold due to Holmes' pregnancy "categorically untrue." Foxx's rep also tells E! News that he is "not engaged, not getting married and not having another child."
Well, no surprise there.
But not being engaged, married or expecting still leaves a lot of possibilities on the table.
Multiple sources have told E! News that they are dating, with one insider saying it's been going on for years and it's "not a secret among their friends." They have remained most careful not to be seen in public together and they strategically coordinate their arrivals and departures in able to be at the same place at the same time but not attract too much attention.
Meanwhile, another source said that as far as it seemed they were just good friends—but also neighbors when they're in Los Angeles. A different source said that Holmes, who also lives part-time in New York, "spends most of her time" at Foxx's L.A.-area home and seems to "always" be there, but they're not officially living together.
It all began in August 2013 when the two shared stage space at a benefit in the Hamptons, their physical proximity inevitably leading to rumors that they were dating.
"[The rumors] are 100 percent not true," Foxx, who co-starred with Holmes' ex Tom Cruise in 2004's Collateral (which came out the year before Cruise and Holmes met), told Entertainment Tonight that October. "In fact, it's quite hilarious because we simply danced at a charity event along with a lot of other people."
"I had Colin Powell on stage dancing," he would additionally crack to ABC News in November 2013, "so they could have said me and Colin Powell were dating!"
He had met Holmes before that night at least once, albeit years beforehand and with a Cruise-shaped buffer in between. Tom and Katie attended the Monday Night Football kickoff game in September 2006 in Maryland, a couple of months before they tied the knot in Italy, and Foxx also happened to be there.
But back to Holmes' life after she divorced Cruise in 2012.
If not for the Foxx rumors, the actress would currently be holding court as one of the most private stars in all of Hollywood (and New York, et al.)—out in public frequently but otherwise a complete mystery when it comes to what occupies her personal life when she's not being a 24/7 mom to now 10-year-old Suri Cruise. She has been linked to a few other men here and there over the years, but those headlines have been fleeting.
Aside from just wanting privacy, it's not a stretch to figure that Holmes was inextricably linked to her husband in a way not even Nicole Kidman was after 10 years of marriage to Cruise, so therefore she had already had it with public romance.
"I don't want that moment in my life to define me, to be who I am," Holmes told People in 2014, two years after her divorce. "I don't want that to be what I'm known as. I was an actor before, an actor during and an actor now."
Fast-forward a bit and in the February 2016 issue of More she insisted she didn't have "a five or 10-year plan" when it came to her life. She didn't specify personally or professionally, but it sounded like both.
"You've got to keep going," she also advised in that interview. "In every part of your life. Focus on the positive. Stay creative. Go to things that interest you. Do work that's fulfilling. Challenge yourself. What's amazing about the human spirit, there are so many people doing inspiring things. If you focus on that, it makes your life richer."
A source tells E! News that, based on her past experience, she most certainly does not want her personal life "dragged through the tabloids" again.
And yet Foxx has remained a constant companion throughout—in the headlines, at least.
In March 2015, after another report had them quietly "hooking up" for years, Foxx told a paparazzo who had trailed him to his car, "Oh come on, you guys have been trying to get that to stick for three years." He did, however, concede that they were "just friends," as opposed to ships in the night.
Another, albeit much grainier, photo surfaced of the two, this time taken in a recording studio. They're seated toward each other, her legs crossed and his extended under her chair, and Foxx is looking at her while Holmes looks at her phone—but the fingers on the hand not holding her phone are intertwined with Foxx's right-hand fingers.
Also that month, a source told People, "Jamie and Katie are friends and have been for a long time. They are two adults who are attractive and single, and so apparently conclusions will be drawn. But contrary to those conclusions, they're not about to run off and make some serious commitment."
Same ambiguous nutshell.
Holmes was then among the famous faces at Foxx's 48th birthday at New York City's Le Bilboquet in December, according to TMZ, which certainly didn't do anything to help change any convinced minds heading into the new year.
This past March, the both of them were repeatedly spotted wearing bands on their left ring fingers, prompting the speculation that they had leaped past going public with just dating and secretly wed, and then Katie was seen with a diamond ring.
"She's not engaged to anyone," Holmes' rep told E! News at the time; no confirmation was forthcoming, either, as to who gave her the ring or whether she acquired it herself.
The increasingly busy actress—she joined the cast of Ray Donovan last year and directed her first feature, the mother-daughter drama All We Had, which premiered last month at the Tribeca Film Festival—is currently in Toronto filming the miniseries The Kennedys After Camelot, in which she's reprising the role of Jacqueline Kennedy.
There was no sign of Foxx at Suri's 10th birthday party in New York in April, and then Holmes attended the Met Gala solo, once again wearing a dress by her good friend Zac Posen.
However, our sources most recently saw her in L.A. on May 6, before she headed back to New York and then to Canada, and she was driving a Mercedes G Wagon that a source says she had been seen in before—as a passenger, with Foxx behind the wheel.
By May 12 she was in Toronto, and on May 13 Foxx was Snapchatting from his eldest daughter Corinne's graduation from USC. He took his daughter to Beyoncé's show at the Rose Bowl the following night, and tonight he's in Las Vegas for the grand opening of Jewel nightclub at the Aria hotel.
So between multiple cities, a handful of friends, a steady trail of cameras and a pack of anxious inquiring minds, Jamie Foxx and Katie Holmes have been doing exactly as they've pleased for years and no one seems to know exactly what that is.
And we don't see any reason why they should stop now.
—Reporting by Sara Kitnick, Holly Passalaqua and Alli Rosenbloom

(Originally published May 20, 2016, at 3 a.m. PT)