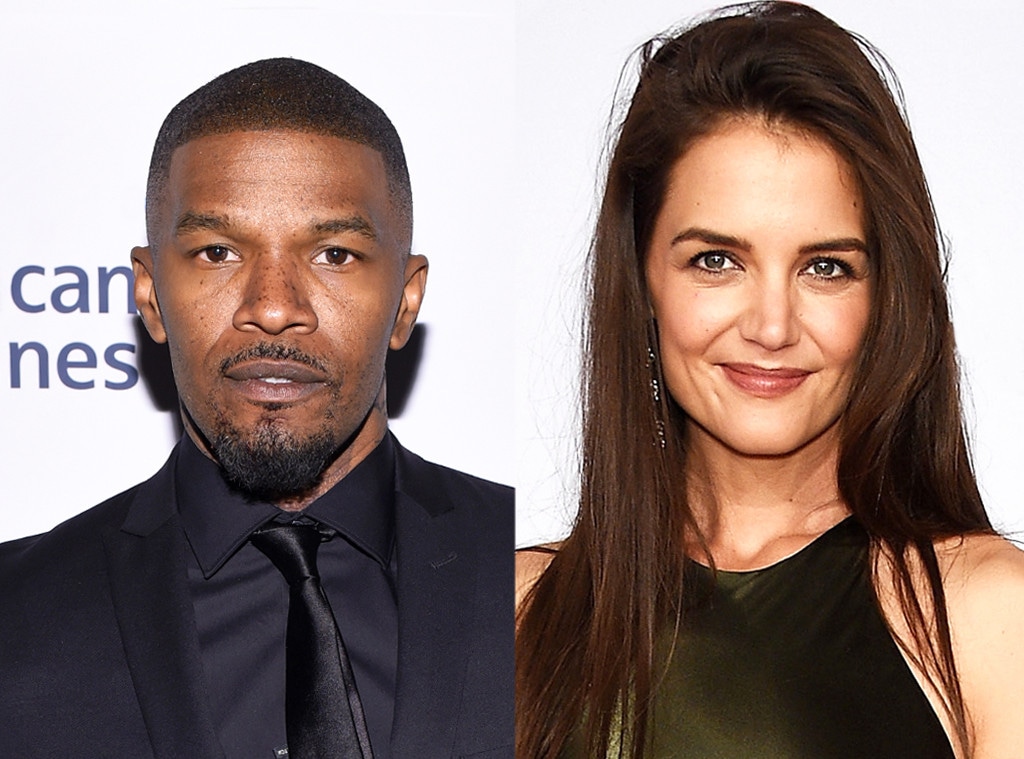 Dimitrios Kambouris/Getty Images for EIF, Getty Images
We now have confirmation of Jamie Foxx and Katie Holmes' relationship.
The former Real Housewives of Atlanta star, Claudia Jordan, joined the Allegedly podcast on Tuesday and revealed that Foxx is, in fact, dating Holmes.
When asked about the Annie actor, Jordan said, "[He's a] good friend of mine. Never [hooked up with him]." When asked about his relationship with Holmes, Jordan added, "He is very happy with her. I like that he seems very happy."
The confirmation comes after Holmes sparked engagement rumors in January when she was spotted wearing a ring on that finger, recirculating speculation that she's been seeing Foxx after her split from Tom Cruise.
It all started in 2013 at a charity event, the 4th annual Apollo in the Hamptons,where Jamie and Katie were photographed dancing together. Then, earlier this year, a report claimed the stars have "been hooking up on the DL" for the past year and a half. Both Holmes and Foxx remained mum on the speculation at the time, but the actor wasn't afraid to speak out about it in March, promising it's all tabloid rumors.
"Oh come on, you guys have been trying to get that to stick for three years," Foxx told an inquiring paparazzo in Los Angeles at the time. When asked for clarification, Foxx reassured the shutterbug that the two are "just friends" and are actually working together on an upcoming animated project. "That's all it is," he added.
Most recently Holmes' rep called a report that their wedding plans were on hold due to Holmes' pregnancy "categorically untrue." Foxx's rep also told E! News that he is "not engaged, not getting married and not having another child."
But just because they aren't engaged or expecting a child doesn't mean they aren't something.
In fact, multiple sources have told us that they are dating, with one insider saying it's been going on for years, and it's "not a secret among their friends." They have remained most careful not to be seen in public together and they strategically coordinate their arrivals and departures in able to be at the same place at the same time but not attract too much attention.
And according to Claudia Jordan, that's the truth!