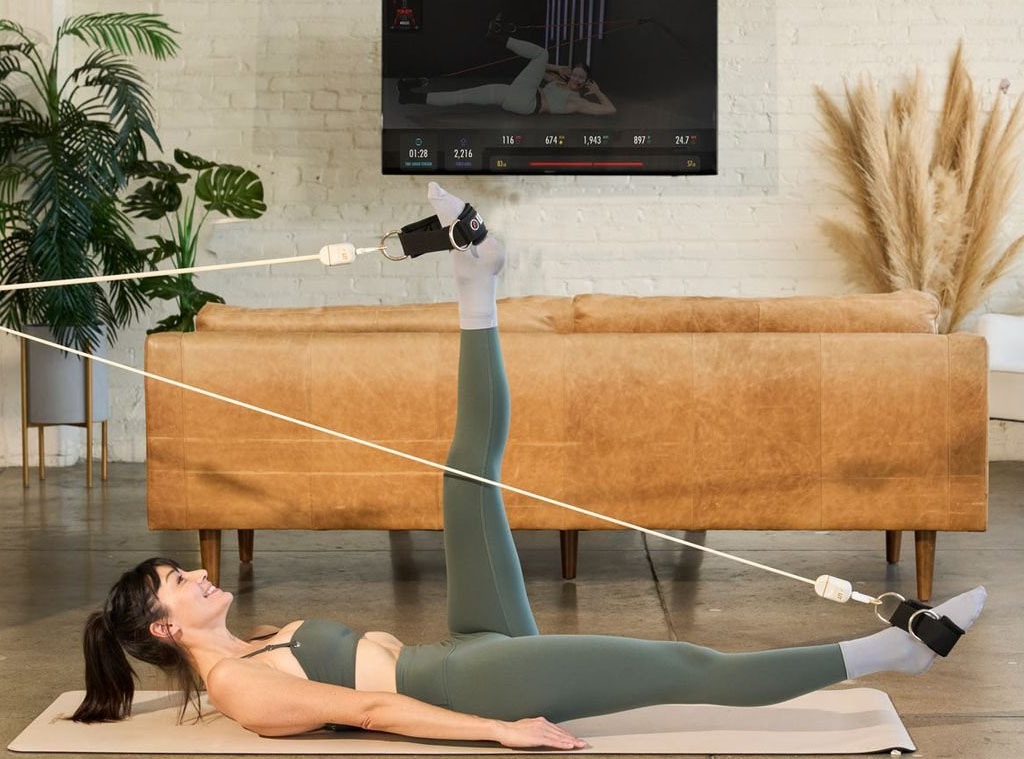 Photo Credit: LIT Method
The brands featured in this article are partners of NBCUniversal Checkout. E! makes a commission on your purchase. Prices are accurate as of publish time. Items are sold by retailer, not E!.
LIT Method was founded by a husband and wife duo in 2018 with the goal of making all-in-one, strength-and-resistance, "premium fitness" home workouts accessible to all. Lifelong athletes who "struggled with a series of recurring injuries of their own," per the website, Justine and Taylor Norris noticed "a pattern of frustration and a fear of re-injury among patients and athletes in traditional rehabilitation settings."
That's when the duo decided to "provide a sustainable alternative" to what's thought of as traditional workouts, one that's built upon a mission of no running, jumping, nor weights involved. The mission to "build" bodies and not "break" them led the pair to develop their signature workout in 2016, and in 2018 began working on home workout equipment to match.
In 2022, they introduced the LIT AXIS™, which they call "the world's first fully-connected fitness system that functions entirely from the palm of your hand. The  "portable smart resistance training system" does not use electricity, doesn't need to be charged, and offers access to a unique "data-driven fitness experience." Plus, users can explore 350+ exercises through the brand's app.
Scroll on to learn more and shop the innovative home workout brand.
LIT Method Axis Complete Set - Pearl
The AXIS is a "fully-connected fitness system that comes with everything you need to complete workouts in strength training, Pilates, cardio, and more," says the LIT Method website. This kit includes a pair of AXIS Smart Sensors that "pair with any device via Bluetooth" and can support up to 200 lbs.
The Complete Set also includes the following (all details per the brand):

• Pair of adjustable LIT bands (0-60 lbs.)
• Pair of adjustable LIT bands (30-100 lbs.)
• Pair of handles
• Pair of ankle cuffs
• Universal anchor for multiple attachment points
• Lightweight protective carrying case
• Three months of complimentary online access to the LIT Training app that includes live and on-demand classes.
This item can only be shipped to addresses in the United States
LIT Method Axis Pilates Pack - Cherry
The specialty pack is ideal for those who want to take on more Pilates-focused workouts. It includes:
Pair AXIS Sensors
Pair of 15 lb. Resistance Trainers
Pair of 30 lb. Resistance Trainers
Pair of handles
Pair of ankle cuffs
Pair of Pilates Loops
LIT Bar
Universal anchor
Carrying case
Free shipping
Free membership trial to LIT On Demand
This item can only be shipped to addresses in the United States
LIT Method Adjustable Door Anchor
Per the brand, their door anchor is "uniquely designed to fit around any size door," and "provides unlimited variety to anchor your equipment for Pilates, strength training," and more. Plus, it's a "heavy-duty" anchor that includes "unique bar codes to easily scan and start workouts."
This item can only be shipped to addresses in the United States
Now that you've got your workout in, treat yourself to a sunless tan from home with Miley Cyrus-approved brand Dolce Glow. Because, really: Summer is a state of mind.