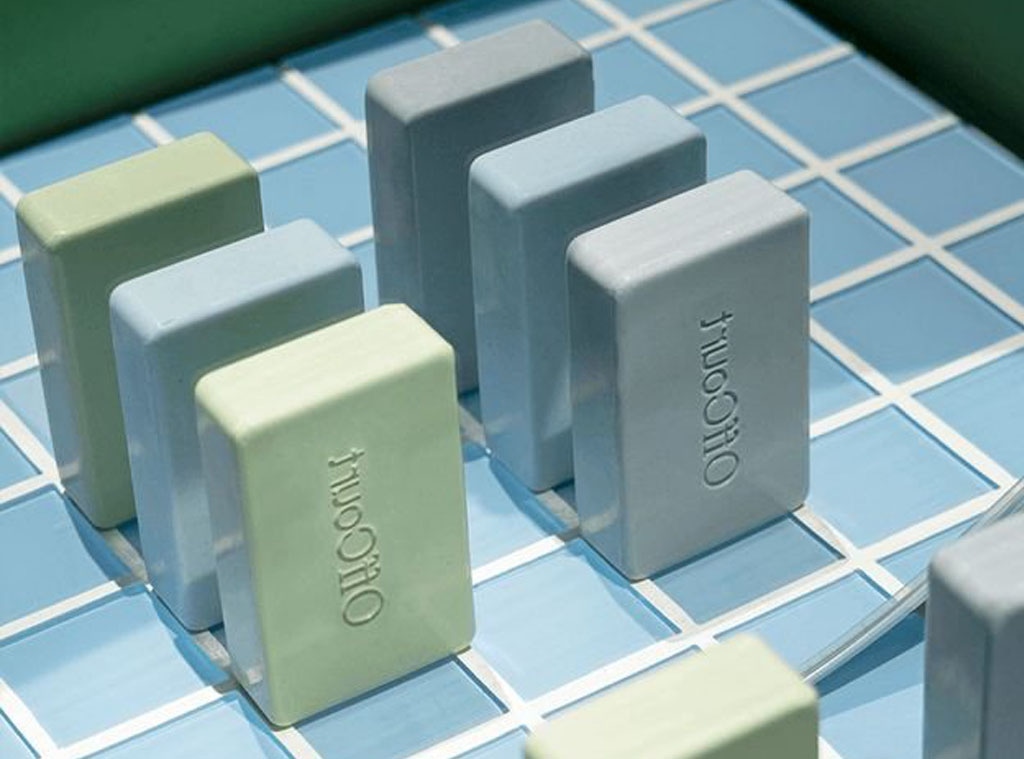 The brands featured in this article are partners of NBCUniversal Checkout. E! makes a commission on your purchase. Prices are accurate as of publish time. Items are sold by retailer, not E!.
For a long time, men's skincare products have gotten a bad rap. Basically, ever since the early '00s when it seemed like the cleansing and scent options designed specifically for them were all like, sports-themed time-savers that did too much, or were just overly fragranced in a way that perhaps suggested "smell" was a substitute for "shower."
But we're in the future now. We know that men can (and should!) have just as many multi-functional and effective products as everyone else. They too deserve stylishly minimalist packaging, shower- and travel-sizes, and scents that rejuvenate, not overwhelm. 
That's where OffCourt comes in. The brand's cleansers, soaps, deodorants, and fragrances are specifically formulated to work with active lifestyles. Whether you know a dude (and, honestly, "dude" is gender-neutral) who loves to hit the gym or one whose skincare product shelf could use a little refresh — or both — the odds are OffCourt has something for them.
Below, learn more about the innovative line (think "super-power glycolic and lactic acids for particle-free exfoliation," and "skin balancing and hydrating properties") and improve a gym bag near you.
OffCourt Deep Cleansing Body Wash - Fig Leaves + White Musk
"Our signature fragrances might make your shower seem like a party," states OffCourt, "but this body wash means business." Like most of their skincare products, this multifunctional cleanser-replenisher-exfoliant is offered in shower and travel sizes, ensuring folks can stay fresh anywhere and anytime.
OffCourt Deep Cleaning Body Wash Trio Pack
This trio of OffCourt's best-selling body washes in the line's signature fragrances will cleanse, hydrate, and "gently exfoliate," leaving one's complexion "smooth[er] and your microbiome better than we found it," according to the brand.
OffCourt Gym Bag Kit
This signature set of "performance body spray, exfoliating soap, and deep cleansing body wash" (in coordinating scents!) make it easy for anyone to look, feel, and smell their best post-workout.
OffCourt Fragrance
Know a guy who needs to upgrade his go-to scent? Or maybe, you know, have one in the first place? Introduce them to OffCourt's classic fragrance: "Lemon, mandarin, green apple, and grapefruit notes break the ice," while "airy driftwood adds a light woodiness providing body and depth." You don't have to tell them all that, though.
OffCourt Light-Weight Facial Hydrator
OffCourt's innovative facial hydrator is designed to work with sweat, not against it. It works alongside active lifestyles by "instantly [absorbing] into the skin to soothe, cool, and hydrate from within." Per the brand, there's "no greasy residue," not even after "intense workouts, stressful meetings, summer afternoons, [or] other sweaty situations."
OffCourt Deep Cleansing Body Wash - Coconut Water + Sandalwood
This "powerful" and "deep-cleansing" body wash is what OffCourt refers to as their very own Swiss Army Knife. You can expect "super-power glycolic and lactic acids for particle-free exfoliation," as well as "skin balancing and hydrating properties" you might not expect from the same product.
OffCourt DogPound Performance Body Spray
Here, "the same odor-fighting base formula packed with prebiotics and aluminum-free actives" that you expect from OffCourt is combined with an "ultra-premium, gender-neutral fragrance" in the exclusive collab between the label and DogPound.
OffCourt Exfoliating Body Soap
Designed to cleanse, hydrate, nourish, and exfoliate, the brand's "rich-lathering, medium-grit formula removes dead skin, bacteria, and sweat while replenishing nutrients to keep your skin healthy and fresh."
OffCourt Performance Body Spray
According to the brand, their two-in-one "deodorant cologne" proves not only that "bad smells are optional," but hat "aluminum-free deodorant can actually work," too.