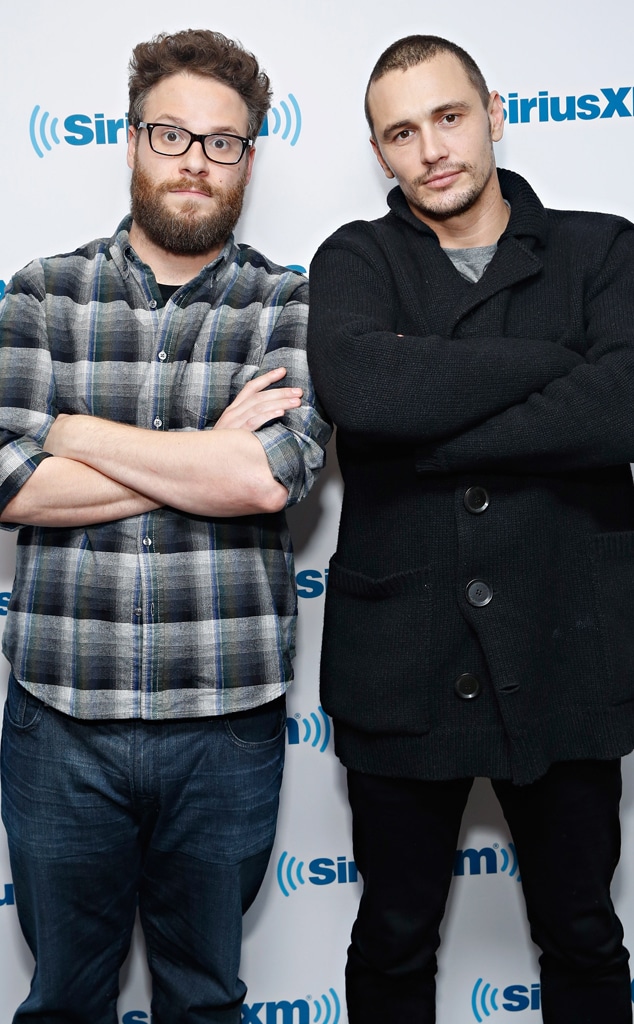 Cindy Ord/Getty Images for SiriusXM
Once one of the most famous sets of co-stars, it seems Seth Rogen and James Franco's working relationship has come to an end—at least for right now. 
Following sexual misconduct allegations made against Franco, which his lawyer denied, and a 2019 lawsuit that has been tentatively settled according to court documents obtained by E! News in February, Rogen has shed new light on where he stands with his longtime friend and silver screen partner. 
During an interview for The Sunday Times, Rogen was asked about recent comments made by Knocked Up actress Charlyne Yi, who wrote in part of an April Instagram post, "Seth also did a sketch on SNL with Franco enabling Franco preying on children." Yi was seemingly referencing an exchange the actors had during Rogen's April 2014 monologue, in which they poked fun at alleged messages Franco sent to a 17-year-old girl in an attempt to meet up with her that had leaked online earlier that month. He addressed the situation on Live! at the time, telling Kelly Ripa and Michael Strahan, "I guess I'm just a model of how social media is tricky" and that he had used "bad judgment" and learned his lesson. 
Yi also wrote she tried to break her contract and quit The Disaster Artist, which Rogen co-produced, because, she accused, Franco is a "sexual predator." "White men saying it's not their responsibility when holding Franco accountable," she wrote in the post, "or when holding Seth Rogen and enablers accountable."
When asked if he gave any consideration to the possibility that it's true he enabled Franco, Rogen told the British newspaper, "What I can say is that I despise abuse and harassment and I would never cover or conceal the actions of someone doing it, or knowingly put someone in a situation where they were around someone like that."
Still, he would do some things differently. "I do look back at a joke I made on Saturday Night Live in 2014 and I very much regret making that joke. It was a terrible joke, honestly," he said. "And I also look back to that interview in 2018 where I comment that I would keep working with James, and the truth is that I have not and I do not plan to right now." 
Having worked together since Freaks and Geeks in 1999, as well as on notable films like This Is the End and Pineapple Express, the two forged a friendship that has also been impacted. 
Watch:
Alison Brie Addresses James Franco Allegations at SAG Awards
"I'd say yes," Rogen responded when asked if the end of their professional relationship has affected their personal one. However, he stopped short of declaring their personal relationship over, too.  
"I don't know if I can define that right now during this interview," Rogen said. "I can say it, um, you know, it has changed many things in our relationship and our dynamic." While it was painful, "Not as painful and difficult as it is for a lot of other people involved," he noted. "I have no pity for myself in this situation."
For more from Rogen, tune in to Daily Pop on Tuesday, May 11.