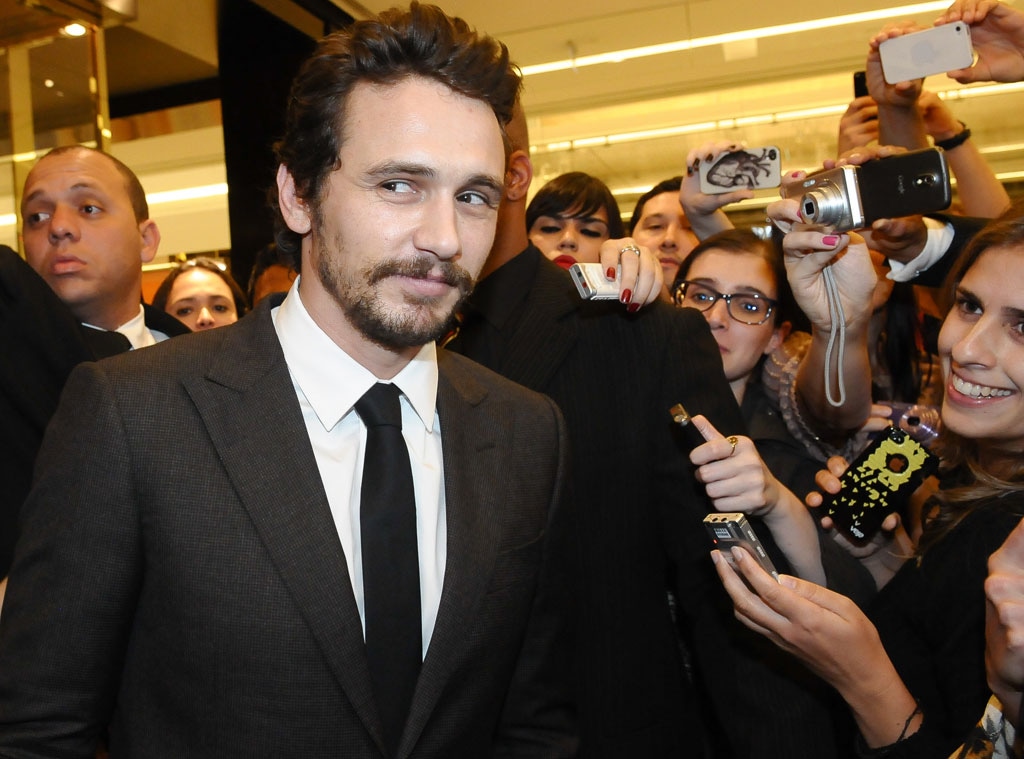 GADE/AKM-GSI
If Lucy Clode is to believed, James Franco tried to arrange a hotel hookup with the 17-year-old Scottish tourist via Instagram. Based on leaked screenshots, the 35-year-old actor did not end up meeting the teen.
Clode visited New York City as an early 18th birthday present, and she met Franco at his Broadway show, Of Mice and Men. She took an Instagram video with the star, and he said, "You gotta tag me."
Later that night, the two began to flirt via the social networking site. It's possible the messages in the screenshots have been faked, but Clode did ask Franco to send photo proof of his identity—twice.
Here is a transcript of their alleged Instagram conversation:
Franco: Hi
Clode: hi
Franco: Where do you live?
Franco: NYC?
Clode: Scotland
Clode: In a small town called Dollar
Franco: How long will you be in New York?
Clode: Oops sorry, um a few days it's my 18th birthday present
Franco: You're 18?
Franco: Who are you with?
Franco: Do you have a bf?
Clode: Nearly 18, my mum and not if you're around
Franco: When is your bday?
Franco: Where are you staying?
Franco: What's your #?
Clode: In May but I have exams then, just off of Times Square in Hilton, what do you mean #?
The two then allegedly communicated via text message. Here is the transcript:
Franco: Can I see you?
Clode: As long as you are james Franco
Franco: I am
Franco: You're single?
Franco: What's the hotel?
Franco: Should I rent a room?
Clode: April fools was an hour ago though...
The Your Highness star then shared what appears to be a selfie.
Franco: It's me
Franco: Yes or no?
Franco: Tomorrow or thurs?
Franco: Ok
Franco: Be well
Franco: X
Clode: I'll come back when I'm 18
Franco: X
Clode: Well this is a story my Scottish friends will never believe
Franco: Don't tell
Clode: I just want proper evidence that it's you and I won't
Franco: I gave it to you
Franco: If you don't want to meet, then text me when you do.
Franco: Bye
Clode: You sound so dodgy though
Franco: Bye
Clode: One second, I will meet you if you write my name on a piece of paper then send it to me with your face also in the picture, please
The Oz the Great and Powerful actor—if it is indeed him—obliged Clode's request.
The alleged conversation was leaked online Wednesday, and Franco responded to the scandal via his own Instagram account at 12:08 p.m. ET, writing "I HOPE PARENTS KEEP THEIR TEENS AWAY FROM ME. Thank you." The movie star later deleted the image, but the link remains on his Twitter account.