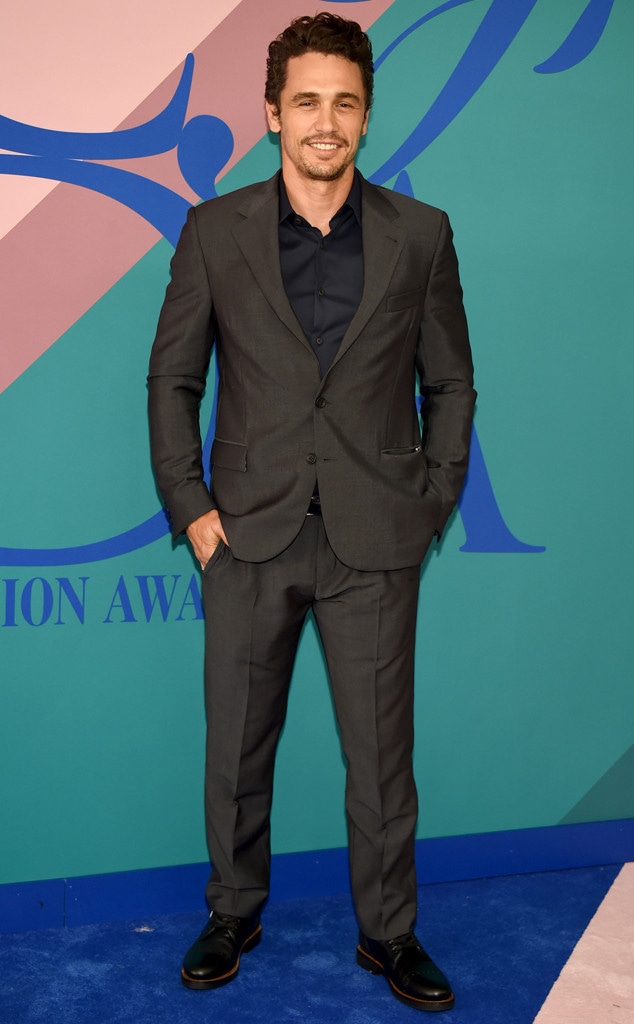 Dimitrios Kambouris/Getty Images
UPDATE: A tentative settlement over a 2019 sexual misconduct lawsuit that was filed against James Franco has been reached, according to documents obtained by E! News on Saturday, Feb. 21.
Per the attorneys for the plaintiffs, the agreement will be "further memorialized in a Joint Stipulation of Settlement to be filed with the Court at a later date." At this time, no other details have been shared.
_____________
James Franco is facing new accusations of sexual misconduct for the second time in two years. 
In January 2018, five women, four of whom were his students, came forward to discuss their experience studying under the instruction of the actor. In the exposé published by The Los Angeles Times, the aspiring filmmakers alleged that Franco would walk off film sets in frustration anytime an actress refused to take their tops off for a scene. One student in particular described, "I felt like I was selected for something based on my hard work and my merit, and when I realized it was because I have nice [breasts], it was pretty clear that was not the case."
Ultimately, none of the women pursued legal action against the star, instead they demanded real change and an apology. 
However, now that nearly two years have gone by, one of the original four complainants, Sarah Tither-Kaplan, and another student, Toni Gaal, are filing a lawsuit in which Franco is accused of engaging in "widespread inappropriate and sexually charged behavior towards female students by sexualizing their power as a teacher and an employer by dangling the opportunity for roles in their projects."
Not only do the women accuse Franco of these behaviors, they also claim that Franco's partners, Vince Jolivette and Davis Jay, partook as well. They say that there was an "an environment of harassment and sexual exploitation both in and out of the class" at the now-defunct film and acting school named Studio 4. 
Watch:
Alison Brie Addresses James Franco Allegations at SAG Awards
Included in the lawsuit are alleged details about the cost of attendance, the audition process and the perceived mistreatment of female students. Moreover, the court documents reveal that applicants for the master class sex scenes say they were required to submit and sign away their rights to tapes of themselves, which were essentially auditions for the course. If and when the students were accepted into the class, Gaal and Tiether-Kaplan allege that "young" women were "routinely pressured to engage in simulated sex acts that went far beyond the standards in the industry."
And, as claimed by Tither-Kaplan when she first spoke out, Franco allegedly would remove the plastic guards that covered students' private parts when he simulated oral sex on them. Franco's attorney at the time, Michael Plonsker, previously denied the woman's allegations.
Vince Jolivette, the co-owner of the production company that ran Studio 4 Rabbit Bandini Production, also previously stated that the school was "always run professionally" and that there was "positive" feedback from students.
Frank Lewis/startraksphoto.com
James himself has spoken about the accusations made in 2018 at length. At the time, he said that accusations "were not accurate" but admitted there is "a conversation that obviously needs to be had."
"In my life I pride myself on taking responsibility for things that I've done. I have to do that to maintain my well-being," Franco said. "I do it whenever I know that there's something wrong or needs to be changed, and I make it a point to do it. The things that I heard that were on Twitter are not accurate, but I completely support people coming out and being able to have a voice because they didn't have a voice for so long. So, I don't want to shut them down in anyway. It's, I think, a good thing, and I support it."
However, James is now defending himself or, at least, his attorney is. His attorney, Michael Plonsker tells E! News these claims "have already been debunked."
"We have not had an opportunity to review the ill-informed Complaint in depth since it was leaked to the press before it was filed and our client has yet to even be served," Plonsker states. "James will not only fully defend himself, but will also seek damages from the plaintiffs and their attorneys for filing this scurrilous publicity seeking lawsuit."
Likewise, according to the lawsuit, the women also seek monetary damages and the return or destruction of any video recordings of former Studio 4 class members, in addition to class-action status so other women who may have similar experiences can join.
In a statement to E! News, Dan Stormer, attorney for Sarah Tither-Kaplan and Toni Gaal, states, "They brought this lawsuit to put an end to the abusive power relationships that exist not only in Hollywood, but in society in general. James Franco and his associates abused the exceptional power they had to the detriment of women. They promised to deliver legitimate acting training and career advancement, instead they simply put women in incredibly demeaning and sexual circumstance." 
E! News has reached out to Franco's attorney and rep, as well as Jolivette and Jay's, but were not able to reach them by the time of publication.
(This story was originally published on Oct. 3, 2019 at 3:26 p.m. PT)