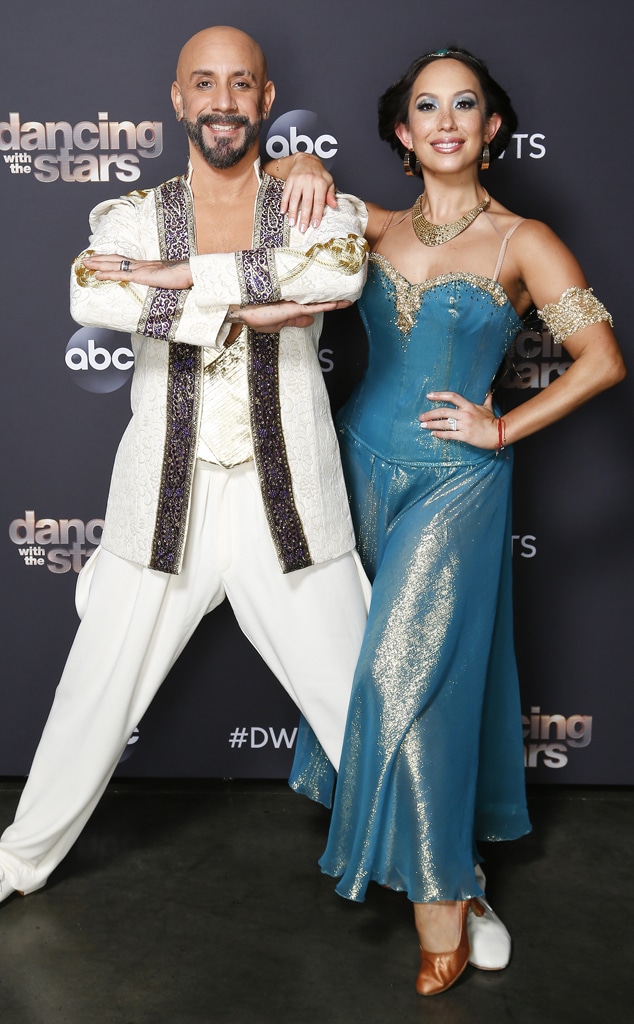 ABC/Kelsey McNeal
AJ McLean is celebrating a major milestone with the help of his loved ones.
Over the weekend, the Backstreet Boys star opened up about his recovery from alcoholism, while also marking the one-year anniversary of his sobriety.
The 42-year-old star also discussed his journey with his podcast co-host and former Dancing With the Stars partner Cheryl Burke, as well as his friend René Elizondo Jr. 
"I'm gonna be one-year sober tomorrow [Dec. 7], which is insane," AJ shared on the Pretty Messed Up podcast on Sunday, Dec. 6. "As long as I'm keeping my side of the street clean, I can't worry about keeping your side of the street clean. And everything actually worked itself out. I feel much better."
While touching on his accomplishment, the singer took a moment to thank René for always standing by his side.
"I was hiding it from my wife, or at least trying to, my bandmates and everybody else," AJ explained of his past struggles. "But there was a certain comfort level with René, where he didn't have to pull it out of me like everyone else did."
AJ recalled feeling like his wife, Rochelle DeAnna McLean, who he married in 2011 and shares two kids with, was going to abandon him. The singer explained he felt the same way about his bandmates. However, he said he never felt that way about René.
"I was terrified," he expressed. "I thought the boys were gonna be disappointed, or I thought my wife was gonna leave me. I could be completely vulnerable with René... I felt safe, I felt not judged. Not saying I felt judged by my wife because she doesn't judge me at all, but I always had this inkling of fear... like, 'Oh my god, she's going to leave me.'"
AJ clarified that his wife and the Backstreet Boys have been nothing but understanding and supportive of his journey.
Watch:
AJ McLean Joins "Dancing With the Stars" Season 29
In October, the musician discussed his "turning point" and what led him to become sober. While the star noted he's been in rehab multiple times, it wasn't until one of his daughters reacted to the smell of alcohol lingering on him that he decided to make a change.
"I was never sober. Not for a second," he shared in an interview with Good Morning America, adding that after he came home from a Las Vegas trip 11 months prior, he was faced with a harsh reality. "The turning point for me was when I came back home, my wife could smell it on my breath and my youngest of my two daughters would not sit with me."
He added, "There's too much to live for today. My beautiful children, my amazing wife, my career, my brothers. I've never felt more grounded than I do today."
Alberto E. Rodriguez/Getty Images for Race To Erase MS
AJ wasn't the only one to share his story on the latest podcast episode of Pretty Messed Up. Cheryl, who has been open about her own journey and recently celebrated two years of sobriety, touched on her past struggles. 
"I don't think I ever drank socially. I drank for a reaction, which was to numb myself and to be more social," she said. "It was never just to have one cocktail. I don't think I've ever had that."
"I would have to drink before I saw anybody," she admitted. "I would drink at home before dinner. I would never start with anybody, I would start by myself at home."
The professional dancer pointed out how her father's death pushed her to get sober, which was also around the time she and her now-husband Matthew Lawrence got engaged.
"When I decided to quit drinking," she began, "This was two years ago when Matt and I were at our engagement party, it was a decision that happened right after my father's death. My father was an alcoholic, and I was reacting really weird to the alcohol, I started to get hives all of a sudden."
The DWTS pro shared that therapy and meditation have helped her throughout her recovery. While the star has never joined an Alcoholics Anonymous program, she said, "I have been really curious about joining one."
Listen to AJ, Cheryl and René's podcast discussion here.