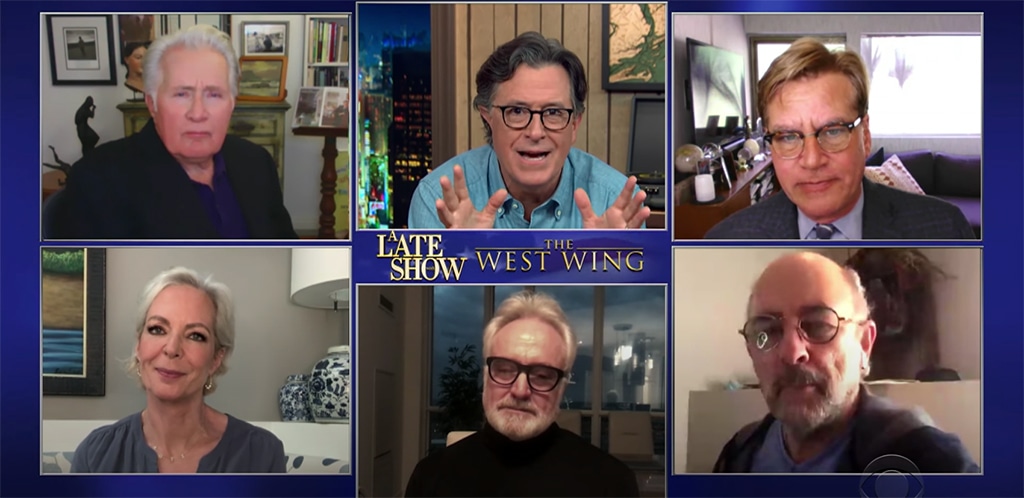 YouTube
It's been 14 years since The West Wing ended. But on the Oct. 9 episode of The Late Show With Stephen Colbert, Allison Janney, Richard Schiff, Martin Sheen, Bradley Whitford and Aaron Sorkin virtually came together for a little reunion.
The castmates covered a lot of ground, too—including how much influence the stars had over their characters.
"Yes, of course, the actors influenced the characters as we went," Sorkin, the creator, said. "That's one of the really nice things of doing series television, about staying with something. I stayed with it for four years. You're kind of on your own with the pilot. Then, with this group, starting with episode two, you start to get to know them a little bit and they're really filling out these characters and it just starts to work. I think we had some very good episodes in the first season, but I feel like it took us the first year to learn how to do the show."
For instance, Sorkin recalled how Schiff threw him a curveball when he first started playing Toby Ziegler.
"It was while we were shooting the pilot, maybe four or five days in, I noticed he was wearing a wedding ring," Sorkin said. "I went to him in-between takes and said, 'I just hadn't thought Toby was married.' And Richard said, 'Yeah, me neither.' I said, 'Well, you're wearing a wedding ring.' He said, 'Yeah, I was going to let you figure that out.'" 
Although, Schiff insisted on telling his side of the story, noting the two remembered things a little differently.
"What I said was, 'I've decided that he was a widower, which is why he is so intense and so focused and maybe a little bit sad, and give him some depth and that he lost someone very close to him,'" the 65-year-old actor said. "You remember it as 'you figure it out' because you were thinking, 'Damn I gotta figure this out now.' Because you had written my ex-wife."
Similarly, Sheen discussed why he specifically wanted his character, President Josiah Bartlet, to be Catholic.
"I wanted Bartlet to have a personal reference of morality so that it went beyond the normal course of politics or public life, that he took personal that there was reward and punishment," the 80-year-old actor, who is Catholic himself, noted. "But I also wanted him to have a Notre Dame degree for obvious reasons that I didn't have one. So I'm grateful that Aaron gave me both."
Michael O'Neil/NBCU Photo Bank/NBCUniversal via Getty Images via Getty Images
In addition to discussing the evolution of the characters, the co-stars dished on their favorite episodes. While Janney said it was hard to pick just one, she said that "one of the most rewarding" and emotional episodes was "The Women of Qumar." 
"I loved it because it was C.J., her personal beliefs and conviction coming in conflict with what the Bartlet administration was putting out because they were selling arms to the fictional country of Qumar that was abusive to women," the 60-year-old actress continued. "It cost her something emotionally. So that was a great storyline to see—something showing her conflicted...That was an amazing episode to be a part of."
She also said she loved "all the silly things" she got to do, such as making Bartlet pardon two turkeys on Thanksgiving and working with other barnyard animals.
Watch:
Allison Janney's Reading Takes a Surprising Turn
Want more West Wing reunions? Well, you're in luck. The stars are set to join forces again for "A West Wing Special to Benefit When We All Vote" on HBO Max Oct. 15.