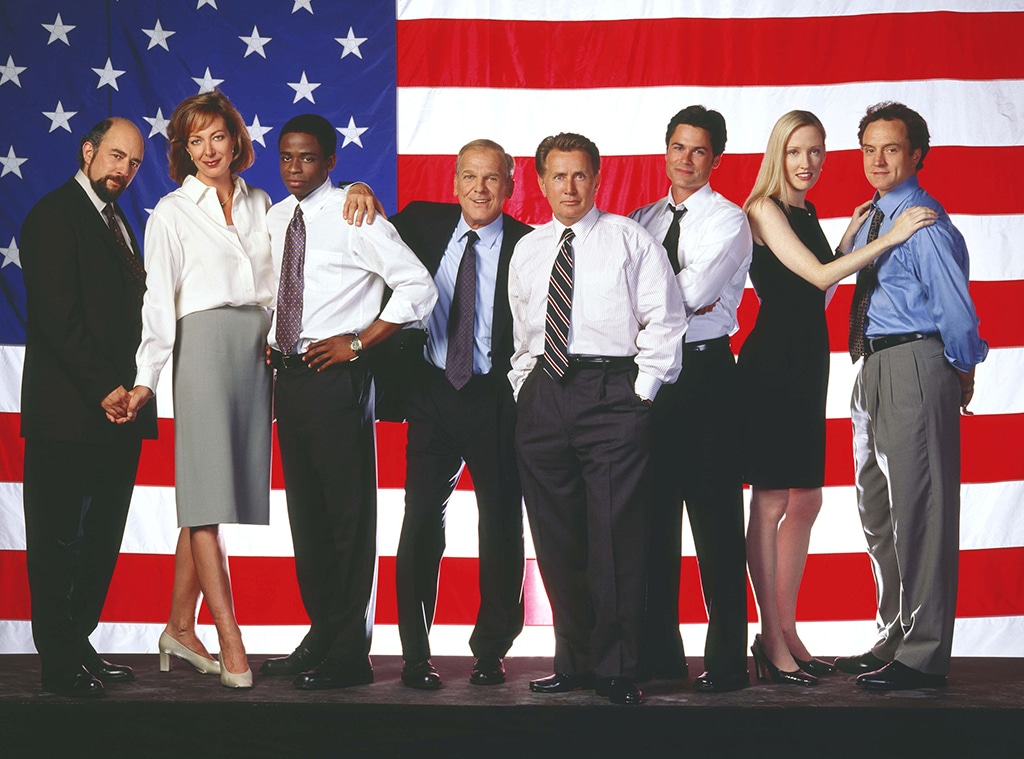 James Sorensen/NBC/Newsmakers
Even fictional politicians are gearing up for election day.
The cast of The West Wing reunited for Entertainment Weekly's latest cover story in an effort to promote their upcoming reunion special, which itself is meant to encourage viewers to vote in November's presidential election. 
A West Wing Special to Benefit When We All Vote will be shot this fall, featuring much of the main cast reprising their roles from the show in a theatrical staging of the season three episode, "Hartsfield's Landing." Creator Aaron Sorkin will write new material for the event while Martin Sheen, Rob Lowe, Dulé Hill, Allison Janney, Janel Moloney, and Bradley Whitford are all set to participate. It will air on HBO Max closer to election day, and the special will help support Michelle Obama's When We All Vote organization. 
In the meantime, the cast of The West Wing joined EW to share memories from the set of the beloved drama, pay tribute to late costars John Spencer and Kathryn Joosten, and to talk about why it was so important to them to urge people to vote. 
Said Hill, who played presidential aide Charlie Young, "Our nation is about the citizens who actually roll up their sleeves and get involved, and one of the ways [to do that] that was important on the show and important to us in real life is voting. I think that has resonated with people over the years. And I'm honored to be a part of this campaign to just inspire people to vote. Because if we take our eyes off the prize, the prize will be lost. We have to stay engaged if we want to see ourselves reflected in our country."
Whitford, who played Deputy Chief of Staff Josh Lyman, emphasized that voting is the way that citizens create the future of the country. 
"This country is based on the idea that the future is an act of our own creation, and political participation by everyone is really important," he said. "Politics is the way you create your moral vision. It's not an extracurricular."
Watch:
Jonathan Van Ness Urges LGBTQ Fans to Vote in 2020
While politics were deeply ingrained into the NBC series, which ran from 1999 to 2006, it was about so much more than that for viewers and for the actors. 
"The memories associated with West Wing are in two categories," Moloney, who played Josh's assistant Donna, says in one of the videos. "There's the prank, silly category, and then the creative, amazing, mind-blowingly lucky category." 
Moloney remembered Whitford helping her through her first "walk and talk" scene, and Hill recalled Sheen teaching him a handshake he learned from Lawrence Fishburne on the set of Apocalypse Now. Whitford told a story of professional dancer Hill tap dancing as famed musician Yo-Yo Ma improvised on the cello during the filming of a season two episode. 
"Nothing beats that," Whitford said. 
Lowe, who starred as Deputy Communications Director Sam Seaborne, described a table read for the episode in which Mrs. Landingham (Joosten) died. Brian Williams had brought his whole family to watch the read-through, and they were shocked as the whole cast broke down over the death. 
"There was an audible gasp and people were sobbing and so upset," he said. "The poor Williams family didn't know what the hell to do." 
The full issue of Entertainment Weekly will be on stands Friday, Aug. 28.