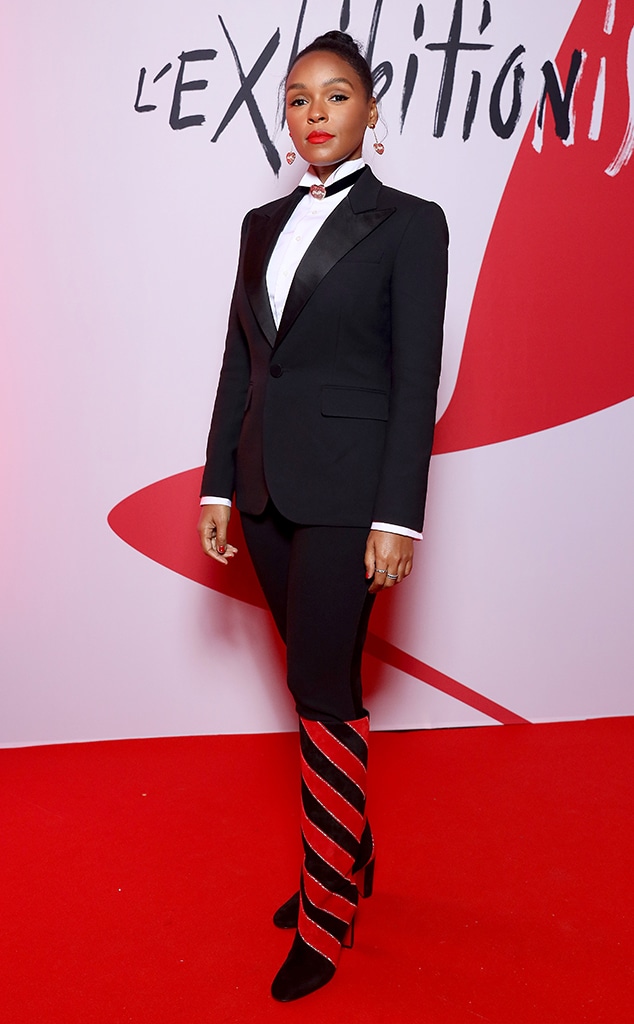 Victor Boyko/Getty Images For Christian Louboutin
Janelle Monáe is ready for change. 
While speaking with Variety for its 2020 Power of Women issue, the musician shared her views on the current climate of the country, explaining that the Black community needs its white allies to help make a change in the fight for racial justice.
"Because we need you," she told the outlet. "We need more people inside these places, inside these police precincts and these buildings, to stand up. And to be marching. And to be right there with us."
Monáe's message was mirrored in a recent Instagram post that she made in response to the death of George Floyd. In it, she urged people to join the front lines of Black Lives Matter protests to bring more awareness to the movement.
"I'm tired of talking and begging. This is a step," she began. "Only. WE NEED SYSTEMIC CHANGE and LONGTERM JUSTICE to be SERVED ON BEHALF OF OUR PEOPLE. Yes WE will keep speaking and marching AND BURNING SHIT DOWN."
"AND when will the majority of protests & outrage be led by white people & police officers everywhere?" Monáe continued. "Internally and publicly! These are your people murdering us. Why are OUR voices & outrage LOUDER THAN YOURS during these times? WE DIDN'T DO THIS. I'm tired of US HAVING TO DO THE WORK YOU SHOULD BE DOING."
In addition to calling for allies, the Homecoming actress has also been giving back to protesters by donating. On May 30, she matched rapper Noname's $1,000 donation to the Minnesota Freedom Fund, a nonprofit organization that helps pay bail for individuals. 
Like Monáe, several celebrities have donated in support of protesters. Among them are Chrissy Teigen, Steve Carell and Seth Rogen. Vowing to be better allies, Blake Lively and Ryan Reynolds also donated $200,000 the NAACP Legal Defense Fund, which fights racial injustice by making structural changes to expand democracy and eliminate disparities.
"This is just a start," Lively and Reynolds said of their donation. "We also pledge to stay educated and vote in every local election. We want to know the positions of school board nominees, sheriffs, mayors, councilpersons. We want to know their positions on justice. But mainly, we want to use our privilege and platform to be an ally. And to play a part in easing pain for so many who feel as though this grand experiment is failing them."
"E! stands in solidarity with the black community against systemic racism and oppression experienced every day in America," the network said in a statement on May 31. "We owe it to our black staff, talent, production partners and viewers to demand change and accountability. To be silent is to be complicit. #BlackLivesMatter."