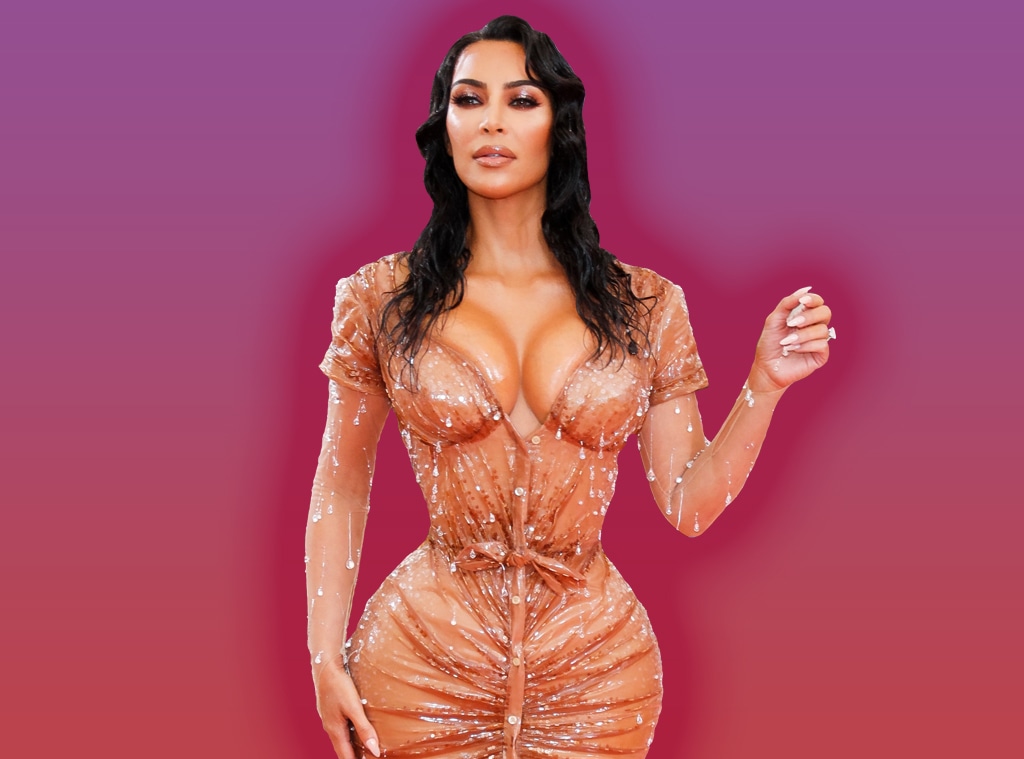 Shutterstock; E! Illustration
It was a dress Kim Kardashian was willing to pee herself in. 
When it came time for the 2019 Met Gala, the world practically let out a collective gasp when the then-Vogue cover girl set foot on the iconic steps to the Metropolitan Museum of Art. While hers was one of the most anticipated ensembles of the event, practically no one could have accurately predicted what the star, who's no stranger to breaking the Internet, had in store this time around. With Thierry Mugler at the designing helm and corsetmaker Mr Pearl at work, Kardashian was transformed into the most extreme version of herself, or—as she described the vision—a California girl getting out of the ocean and onto the red carpet.
While eyes everywhere were transfixed on her body proportions—one rumor alleging she had ribs removed—the soon-to-be mom of four was just trying to breathe...and not pee. As she described on Keeping Up With the Kardashians, being in that corset felt "like you're doing a crunch, but you can't get out of it and then you literally can't breathe."
Considering the corset and the dress took the assistance of multiple people to put on, going to the bathroom also proved to be a nearly impossible feat. So, Kardashian considered a scenario as extreme as the theme itself. 
"If it's an emergency, I think I pee my pants and then have my sister wipe my leg up," she said while preparing for the event, as shown on Keeping Up With the Kardashians. "I'm not even joking. She can wipe my leg up."
If constricted breathing and bathroom usage wasn't enough discomfort for one night, the dress' beading poked Kardashian from the inside. "It's a cactus," she quipped. Oh, and sitting was also an issue. 
"Ok, so, Anna [Wintour], if I don't sit down for dinner, now you know why. I'll be walking around, mingling, talking, but I cannot hardly sit," she demonstrated in a Vogue behind-the-scenes video. "I can only like half-sit." 
Dimitrios Kambouris/Getty Images
While Kardashian kept a composed smize on for the entire event, by the time she had arrived back in the privacy of their hotel room, she was begging for someone to take the ensemble off of her. "I think I'm bleeding on the inside," she said in the van on the way back, months later revealing the corset had left indentations on her stomach and back. However, when it came to nailing it at the Met Gala, the pain didn't matter. 
"The night is almost over—do you know how happy I am?" she said as she changed into her Met Gala after-party look. "And it was a success."
Kardashian isn't alone in sacrificing pain for a winning Met Gala look. Three years earlier, her younger sister, Kylie Jenner, revealed her glitzy Balmain gown had left her with some leg wounds. "When ur dress made you bleed and ur feet are purple," Kylie captioned a photo of her scratched leg before assuring, "It was worth it though."
Watch:
Kim Kardashian Channels Wet California Girl at Met Gala
For her first Met Gala in 2018, a then-very pregnant Cardi B made her debut in Moschino from head to toe—quite literally The breakout star donned a bejeweled headdress and equally encrusted gown topped with a voluminous overskirt, all in homage to the night's "Heavenly Bodies" theme. All together, the look was heavy. "I can't even talk," she told Liza Koshy on the red carpet. "30 pound dress, 3-4 pound baby."
Not far away, Rihanna was doing some heavy lifting of her own in a now-iconic couture papal ensemble designed by John Galliano for Maison Margiela that was as heavy as it was a scene-stealer. 
Noam Galai/Getty Images for New York Magazine
"Every step was a squat," she joked to ET. "I promise you my butt gained from that night." In fact, Rihanna had a simpler option for the ball, but she felt "like it was an insult to the people who sat there and like, hand beaded that entire thing, to just say, 'No, put that in the archives,'" she told ET. 
As Rihanna quipped to Koshy, evoking that night's theme, "It would be a sin not to wear it."