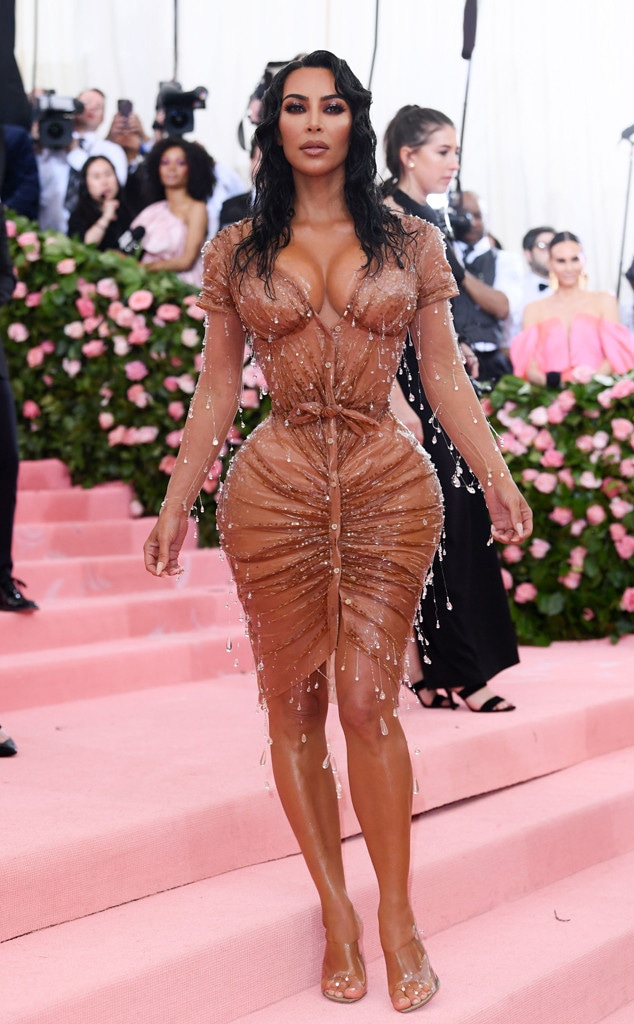 David Fisher/REX/Shutterstock
When it comes to fashion, Kim Kardashian is always committed.
Case in point: She sacrificed sitting, peeing and breathing (kinda) in order to squeeze herself into her 2019 Met Gala ensemble. In fact, it took a team of three (!!!) to lace up her corset that completely cinched her waist. They also literally dressed her into her skin-tight gown, because there was no way she could do that on her own.
"Okay, so Anna [Wintour], if I don't sit down for dinner, now you know why," the reality TV star said, almost out of breath, in a behind-the-scenes video for Vogue where she donned her corset and tights. "I'll be walking around, mingling, talking, but I cannot hardly sit."
Later in the video, the KKW Beauty founder explained that she wouldn't be able to pee either. "Wish me luck, I won't be able to pee for about four hours," she said while getting dolled up for the big night. "We're coming up with a plan for what we do in case of an emergency."
The Keeping Up With the Kardashians star also shared that transportation was a challenge. "I asked them to get a stool. So I'll have to stand as I'm riding in a sprinter van on the way there with, I think, a pole, so I can hold onto the pole," she said. "Just wish me luck."
But it was so worth it, because as soon as she graced the pink carpet, people went wild over her custom Mugler design. Of the body-hugging, nude-colored dress, she told E! News' Zuri Hall that Thierry Mugler envision her as a "California girl stepping out of the ocean."
Mission accomplished!
Watch:
Kim Kardashian Channels Wet California Girl at Met Gala
Of the "wet" design, Kim revealed that her dress was nearly 8 months in the making.
"This is the first time in 20 years that Mr. Mugler has designed for the House of Thierry Mugler," she said while on the pink carpet on Monday night. "So [for him] to come design this gown for me, is such an honor. This is about 8 months in the making."
Since it took an entire team to get her ready and into her jaw-dropping gown, she confessed that she was in awe over the process.
"I've never seen a team like this before," she said in the Vogue video. "This is, like, beyond what I thought couture was."
They say beauty is pain, but Kim makes it look like a walk in the park. See the full video above to find out how it all came to life.