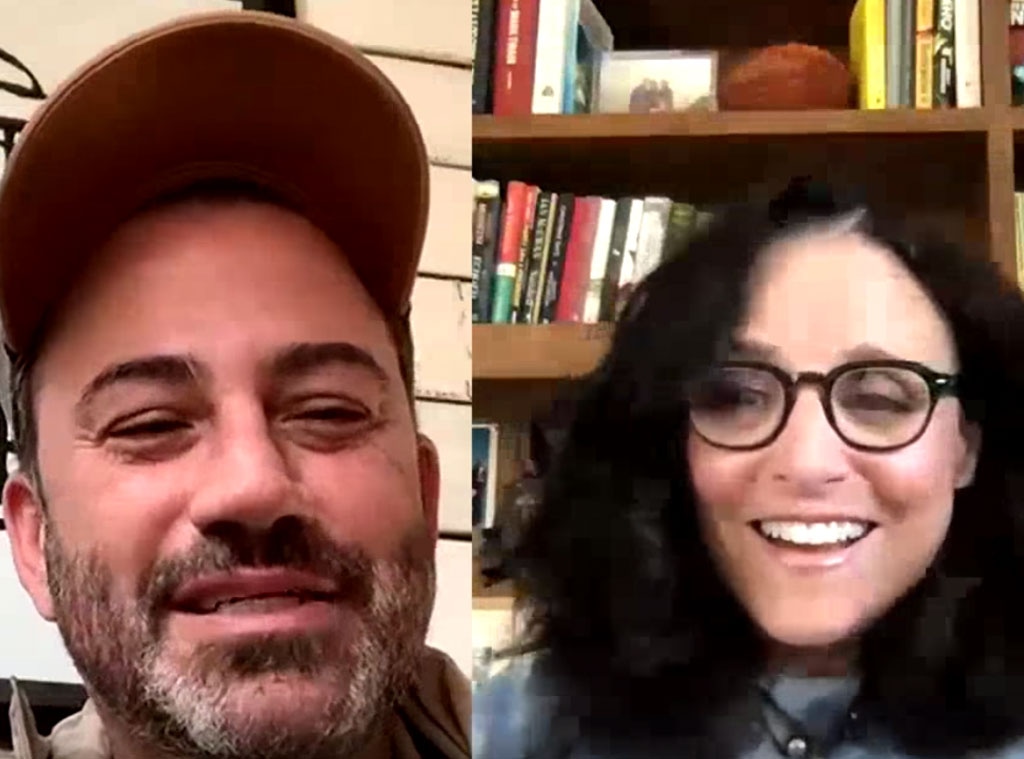 YouTube
Julia Louis-Dreyfus isn't messing around. 
On Thursday, the Veep star joined Jimmy Kimmel for an at-home episode of Jimmy Kimmel Live, where she revealed how she's been holding up while social distancing. Sitting comfortably in her study, the self-professed "clean freak" shared how she's doing her part to prevent the spread of the coronavirus. 
"I am [a clean freak]," she told the late night host during their FaceTime-styled interview. "I'm washing my hands." But according to Julia, her handwashing method has gotten a little extreme since the pandemic. "So, you know how your computer or your phone, you can turn it on by using your fingerprint?" she continued. "Well, I've washed away my fingerprints…so, that doesn't work anymore." 
Ironically enough, she admitted that her iPhone's face recognition feature has been working better since she began social distancing. Julia continued, "Whenever I get all glammed up, you know…back when we used to do Hollywood-y things…and wear gowns and things, this damn phone does not recognize me when I'm all glammed up."
"When I'm all dressed up, it doesn't recognize me, which really hurts my feelings, you know, because I just think that's a bummer," she joked. Seeing the dilemma as a compliment, Jimmy told the Seinfeld alum that she's doing "too good a job" at getting dolled up, to which Julia quipped, "Yeah, I'm not going to take it as a compliment."
Still on the topic of her social distancing, Julia shared that she's not doing well on the cooking front. "It's irritating the hell out of me," she said of cooking for her husband Brad Hall and their sons Henry Hall, 27, and Charlie Hall, 22. "I don't like to cook this much and it's three grown men and myself. It's a lot of food."
Despite being a talented baker, the Downhill star joked that her family has banned her from baking.
"I'm a baker. I love to bake. In fact, remember I made you a pie once?" she continued. "But I've been forbidden from baking because everyone's trying to eat healthy, you know, while we're all quarantined up. It's a mess because I would be making carrot cake, key lime pie, the whole…the orange cake. I have [an] amazing orange cake recipe."
Watch:
Celebrity Livestreams to Watch While Social Distancing
After swapping recipes, Jimmy asked Julia how she's been keeping herself active during in recent days. To keep from going stir-crazy, she said that she's made going outside for walks and hikes as often as she can. Hearing her response, Jimmy quipped, "No, I'm not doing that. I don't believe in exercise." 
As for what's on her Netflix queue, Julia said that she's making her way through Cheer and has moved on to a similar sports docu-series called Last Chance U, which follows the football program at East Mississippi Community College and its players. "You should watch…it's heartbreaking and fabulous," she told the late night host. "And you will like it because it's football. And I hate football and I liked it."