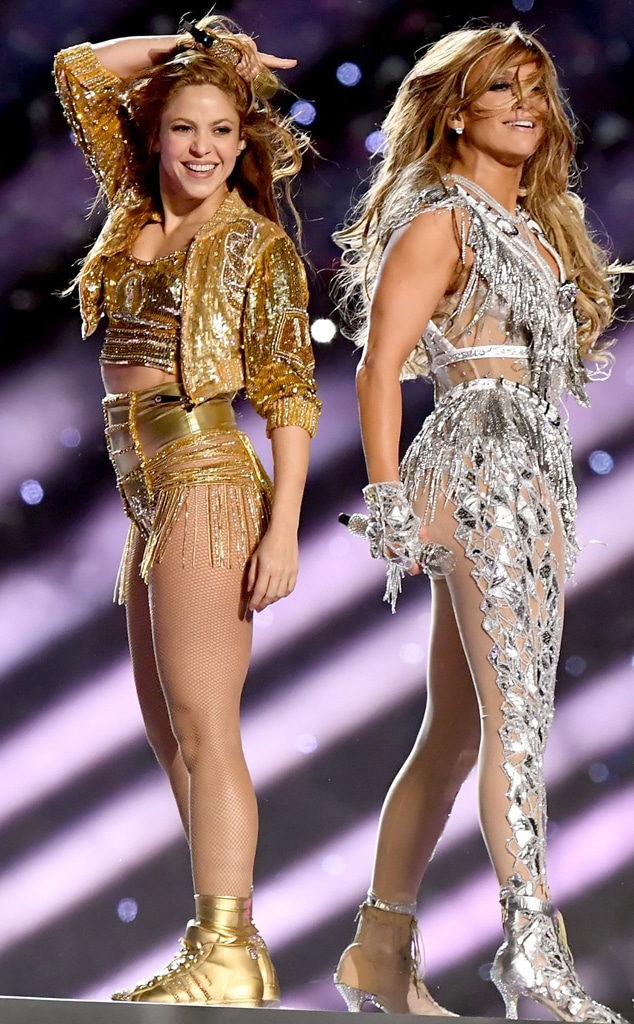 Kevin Winter/Getty Images
Jennifer Lopez and Shakira showed up and showed out on Sunday night.
The dynamic duo commanded the Hard Rock stadium in Miami, as soon as they stepped foot on stage to perform during the 2020 Super Bowl Halftime Show. And as expected, both artists shut it down as they both played their iconic hits.
During tonight's epic performance, the two superstars took a moment to honor the late Kobe Bryant, who died exactly one week ago. The NBA legend, his 13-year-old daughter, and seven others all passed away due to a helicopter crash in Calabasas, Calif.
According to The Hollywood Reporter, in the middle of J.Lo's set, she and her 11-year-old daughter, Emme, performed "Let's Get Loud."
While the moment certainly wowed the crowd and everyone else sitting at home, eagle-eyed fans noticed that a large cross illuminated on the field. The colors purple and gold also lit up, which was an homage to Kobe's longtime basketball team, the Los Angeles Lakers.
Ahead of the kick-off, the NFL also paid tribute to the late star. The stadium's large screen displayed an image of Kobe and his teenage daughter with a message that listed the people who passed away last Sunday. In addition, a moment of silence was held for the victims of the crash and players stood on the 24-yard lines.
On Thursday, both Shakira and J.Lo promised to deliver a special homage to the Lakers star. 
"I think we will all be remembering Kobe on Sunday," the Colombian singer said during a press conference. "We'll be celebrating life, and celebrating diversity in this country."
Lopez chimed in, recalling the moment she and Alex Rodriguez learned about the heartbreaking news.
"Alex came to me with tears in his eyes, and he's like, 'You're not going to believe what happened.' He was devastated. He knew Kobe really well," she explained. "I knew Kobe and Vanessa more in passing. He had come to my last show in Vegas—the both of them—as a date night and we had a beautiful night that night."
"I think of how awful that must be for her right now," she continued. "I've just been praying that God guides her through every moment because she has three more babies to take care of and just wishing that the nightmare was over but it's not going to be. That's life and we have to carry on. But at the same time, it affects us and it will affect us forever."
At this time, the helicopter crash is still under investigation.