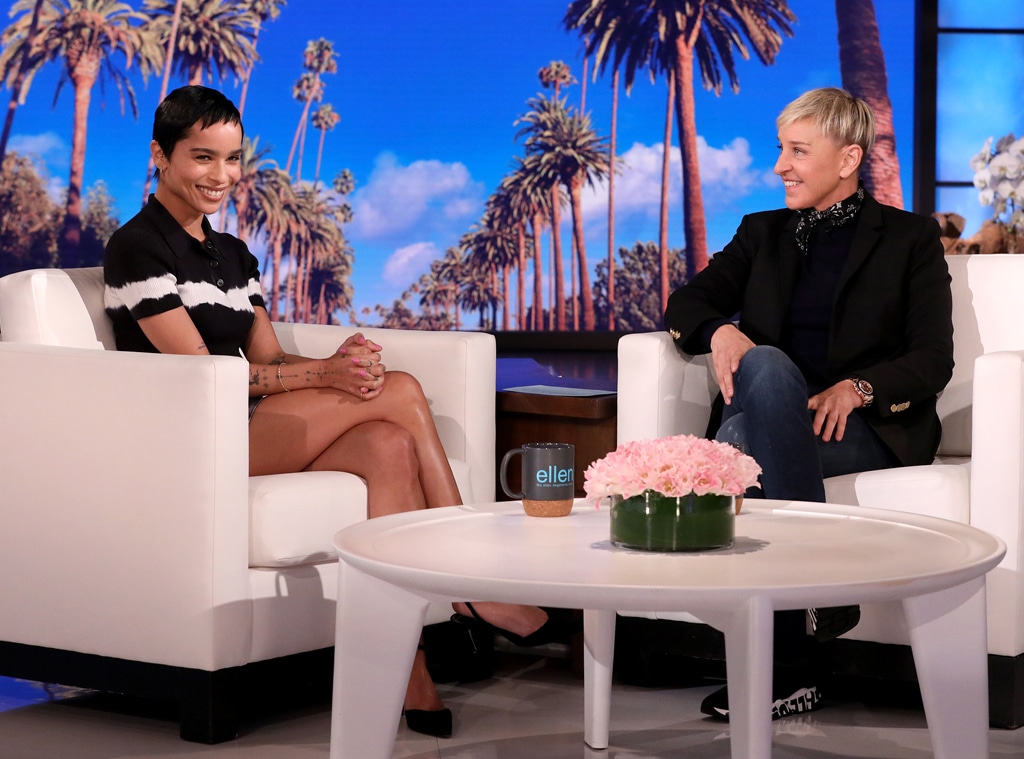 Michael Rozman/Warner Bros.
Zoe Kravitz is preparing for the role of a lifetime.
The Big Little Lies star made her first appearance on The Ellen DeGeneres Show on Monday, and during the interview, the star dished on all of her upcoming projects. The most exciting of the bunch is the upcoming Batman flick in which she's playing the iconic Catwoman alongside Robert Pattinson's Batman. (The film also stars Colin Farrell as Penguin, Paul Dano as Riddler, Andy Serkis as Alfred Pennyworth and Jeffrey Wright as Commissioner Gordon.)
Of course, one of the first things people think of when they think of Catwoman (and any comic book character, truly) is the costume. Kravitz revealed to Ellen DeGeneres that she has been training like never before in order to be in peak physical shape for the "very physical" movie and its accompanying Catwoman suit.
When asked if the fittings for the infamous suit have begun, Kravitz confirmed they're already well into the process.
As she explained, "We've had many. It's going really well."
She continued to say that her workouts for the role have been grueling. "It's very exciting," the High Fidelity star said. "And I've been training a ton, too, which has been great and hard."
As DeGeneres chimed in, "I bet, it's very physical."
"Very physical," Kravitz continued. "I come home just limping every day. It's actually kind of pathetic."
As it turns out, Kravitz was recently able to spend some time with another woman who has donned the iconic Catwoman suit: Michelle Pfeiffer.
Bringing up the 2020 Golden Globes, the recently married actress revealed to the host that she was sitting with Big Little Lies writer David E. Kelley, who is married to Pfeiffer.
As she shared, "I was actually sitting at the Globes with David Kelley, because he writes our show, and Michelle Pfeiffer and I was bowing to the queen. And I'm kind of nervous to be in her presence now."
Honestly, who can blame her? Luckily for fans of the beloved comic franchise, Kravitz revealed to DeGeneres that she is going to London to start filming the newest Batman installment this week. It won't be long before the world gets to see what Kravitz—and her highly anticipated cat suit—have in store.
Watch:
Zoe Kravitz Says "BLL" Season 2 Will Explore Bonnie's Past