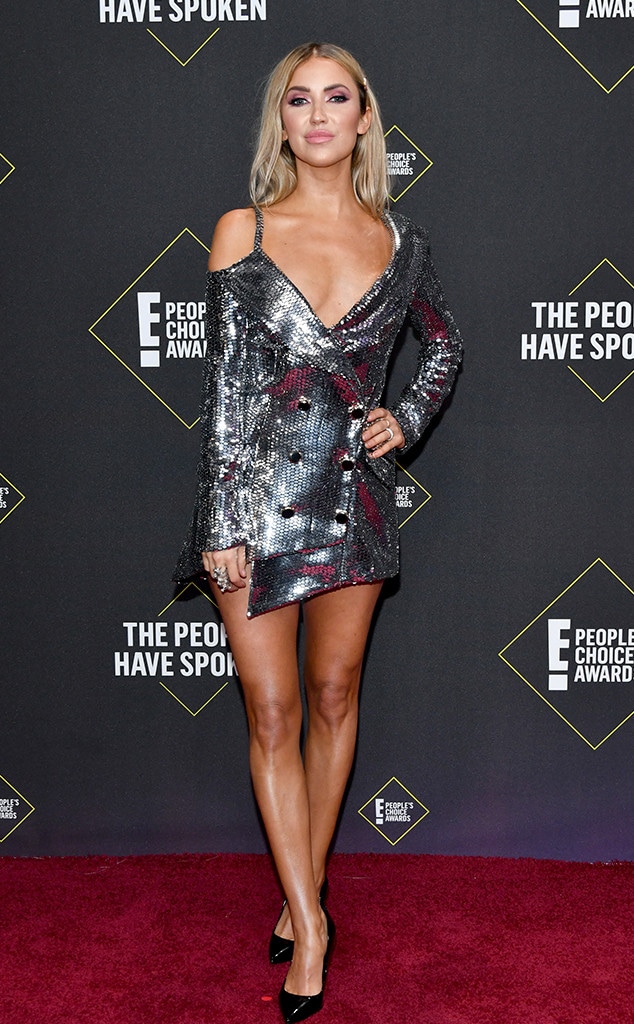 Amy Sussman/E! Entertainment/NBCU Photo Bank
New year, new decade, but still ready to throw some shade.
While fans are excitedly counting down the hours for the 23rd season of The Bachelor, former contestants are taking a walk down memory lane, reflecting on when they were in 28-year-old's Peter Weber's shoes.
For one, former Bachelorette star Kaitlyn Bristowe took to Instagram to reflect on her time on the show, wish her friend who's on this season luck and also throw a little shade while she's at it. 
Sharing throwback pic of herself when she was on the show, Bristowe also began her lengthy post by writing, "BABY KB!! Good luck, @pilote_pete we are all rooting for you. Unless you break my friends heart. She's on your season. Then you will have me to deal with [flexing arm emoji] (jk)."
The 34-year-old continued, "I always question watching every season due to a little PTSD, overwhelming emotions, and knowing a little too much. But I just always want to support people going through this "journey." So while I have bitter feelings towards one person out of hundreds, I will choose to love the hundreds of others who changed my life." 
Bachelor Nation fans might recall that the "one person" she has "bitter feelings" toward is former ex Shawn Booth, who she dated for about three years and who fans saw fall in love in 2015 on The Bachelorette. 
The two announced their split in Nov. 2018 and Bristowe opened up about the "big elephant in the room" during an episode of her podcast Off the Vine With Kaitlyn Bristowe. 
At the time, she said she thought the two would get through their rough patch. 
"To be honest, I thought we would choose the road where we would end up together," she said. "I just never took our commitment or being engaged, lightly at all. I had the mindset of doing whatever it took to make it work. And now realizing, maybe to a fault, with all the hard moments in life come life lessons and that's what I need to take from all of this. Sometimes you need to take a moment and take a step back to think about what you are fighting for and if it make sense for your long-term happiness."
And six months after her split with Booth, Bristowe shared that she knew their relationship was on the rocks for about a year before they called it quits.
"I think I knew for a year that my relationship wouldn't work, and I think I knew that he just couldn't give me the kind of love that I needed in my life. And he admitted that," she said during an episode of Ashley Laconetti's podcast The Ben and Ashley I Almost Famous Podcast. "And I think for a solid year, maybe half a year, I was already grieving the relationship. And I think I was just so prepared for it that, when it happened, I knew what I wanted; and I knew what I deserved; and I knew that I was happy on my own and that I wasn't just replacing somebody."
Watch:
Kaitlyn Bristowe & Jason Tartick the Next "Bachelor" Power Couple?
In the spring of 2019, however, the former Bachelorette found love once again. This time, in Jason Tartick. 
"Jason is the most stable human being I've ever met in my life. He is an absolute rock for me. I've never met anyone like that," Bristowe told E! News last year. 
But just because she's moved on, doesn't mean she won't continue to take a jab or two at her former ex. 
Bristowe concluded her Instagram post, "I will try to remember the positive experiences. Let's please all try really hard to not hate, or bully contestants this year. Try to remind yourself they are humans, not characters. Words hurt and you never know how you would be in these kinds of situations. A little chirping and teasing is fun, questioning people's behavior is fine. Hate is not. Xoxoxo."