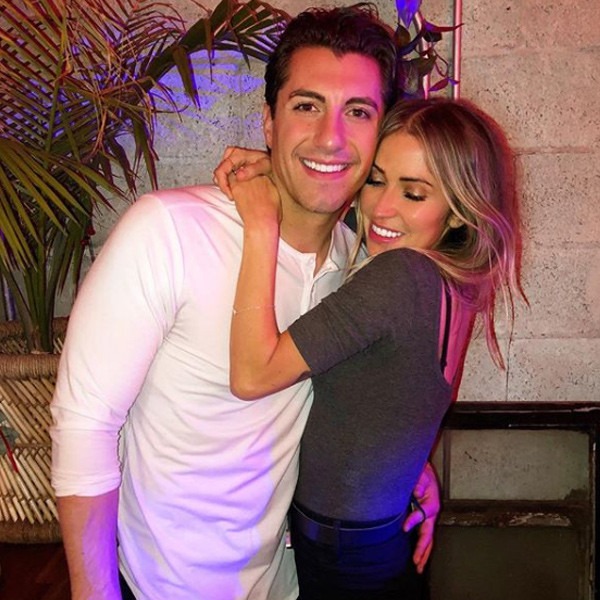 Instagram
Love happens in mysterious ways when you're in Bachelor Nation.
When Kaitlyn Bristowe first became part of the ABC franchise, she immediately caught the attention of viewers with her wicked sense of humor and fun personality when she was a contestant on Chris Soules' season.
She made such a great impression that she was chosen to be The Bachelorette in 2015. While she may not have received the perfect ending with Shawn Booth, the Off the Vine podcast host has been experiencing a new romance with The Bachelorette alum Jason Tartick.
"Jason is the most stable human being I've ever met in my life. He is an absolute rock for me. I've never met anyone like that," Kaitlyn gushed to E! News exclusively when celebrating her new Dew scrunchies collection, which is a public re-release of a Frank Body collaboration—previously available exclusively to Frank shoppers. "I don't even know how to put it into worlds of the kind of person he is. He's just the kind of person that your dad would hope you would marry."
She continued, "He's everything. He's hilarious. He's so driven. He's smart. He's well-spoken. He loves his family. He's romantic. Like, he's everything."
Fortunately for fans, they've been able to experience some of this love story through social media or through her PodcastOne show that just wrapped up a successful Spring Break tour throughout the country.
Despite dating long distance, Kaitlyn says Jason is the "best communicator I've ever met" and they always make sure to be on the same page.
"I think healthy communication is what makes long distance work and a lot of Facetimes," Kaitlyn shared. "To be honest, we've been really fortunate enough to fly and travel and be able to meet up on the weekends so I still get to see him quite a bit for doing long distance—especially given that we are from Seattle to Nashville. We're pretty lucky."
While the couple doesn't have any immediate plans to move closer to each other, they have a trip to Mexico together on the agenda.
And despite some critics who originally thought Kaitlyn jumped into a relationship too soon after her split, the businesswoman is focused on all the support she has received from fans and followers alike.
"I really couldn't believe how many people were supporting us and could genuinely see the happiness between us," Kaitlyn explained. "I just always know that at the end of the day, I think I knew for the past half of the year that [my last relationship] wasn't going to work and I tried to make it work and at the end of the day, he just couldn't see himself with me."
Ultimately, there is so much in the present that Kaitlyn has to look forward to. In addition to an upcoming partnership with Wayfair and her expanding wine line, the businesswoman has a brand-new collection of Dew scrunchies set to be released May 15.
"I'm obsessed with my scrunchies! Not only because they're cute, but they're also the best quality," she explained to E! News. "The best way to describe [the new collection] is just the same but a little better. The ones that I got a year ago look like they're brand new and they feel like they're brand new. People loved it so much last time so we're giving the people what they want."
And for all those fans who showed up to her live Off the Vine podcast tapings wearing Dew scrunchies, she sees you and appreciates you.
"I get emotional every time because people just rock them on their wrist or they're in their hair," Kaitlyn recalled. "I just feel like it's more than just a product at this point and it's such a good community of women that come together and rock your scrunchies and be part of the scrunchies gang…It's so cool to see."
Make sure to watch Kaitlyn on The Biggest Bachelorette Reunion in Bachelor History Ever! airing tonight at 8 p.m. on ABC. And learn more about her Dew scrunchies online now.