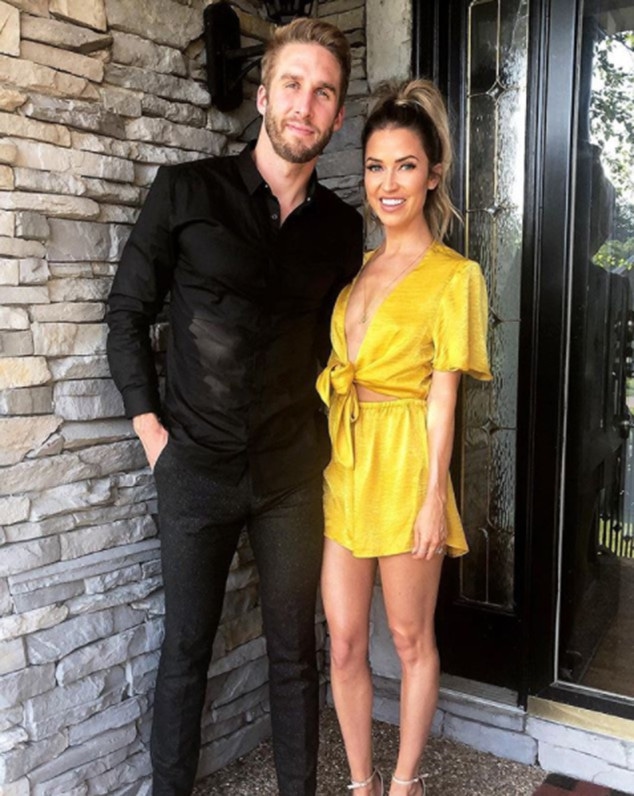 Instagram
Kaitlyn Bristowe is breaking her silence on her split from Shawn Booth. 
The former Bachelorette star opened up about the "big elephant in the room" on Tuesday's episode of her podcast Off the Vine With Kaitlyn Bristowe.
"It's been a really hard few months now," the reality star admitted. "I really did think we'd get through it." 
While Bristowe knew fans had suspected the split for a while, she said she realized the two were at a "crossroads" during a recent trip to Canada.
"To be honest, I thought we would choose the road where we would end up together," she said while fighting back tears. "I just never took our commitment, or being engaged, lightly at all. I had the mindset of doing whatever it took to make it work. And now realizing, maybe to a fault, with all the hard moments in life come life lessons and that's what I need to take from all of this. Sometimes you need to take a moment and take a step back to think about what you are fighting for and if it make sense for your long-term happiness."
Nicholas Hunt/Getty Images for JEEP
After three years together, Bristowe said she and Booth realized "there were some important fundamental values that weren't lining up",  as well as "some things we'd probably never see eye-to-eye on." So, she said the two decided "to be honest" with each other and walk away with the memories and "beautiful moments" they had created. She also said the relationship fans saw on social media and TV was genuine and not played up for the public.
"I want to reiterate to people, what you saw on social media was real and what we had was real love," she insisted. "But when it comes to roadblocks, and those fundamental values and getting through thing together, I just don't think we were on the same page—and it's painful to admit that. But you need that foundation and you need that partnership if it's going to last forever."
Bristowe then broke down about how she felt like she was letting Bachelor Nation down.
"A part of me always felt like I was disappointing people with this breakup and my heart just aches," she cried.
Photo by Jerod Harris/Getty Images
She also opened up about how she missed the pair's dog Tucker, who remains with Booth. 
"I think I've been grieving this for a while," she said. "And knowing that Tucker isn't in my home anymore. Sorry. Sometimes I feel like he was almost the glue to our relationship. I clearly love that dog so much, but I will still see him." 
While Bristowe admitted opening up about the split wasn't easy, she felt the need to address it considering so many fans followed their romance since day one. She then thanked them for their support.
"I also wanted to say thank you to everyone who has respected this decision and for all the kind messages," she said. "I know that there are so many bright days ahead and, in a weird way,  as much I was dreading releasing that statement and accepting it was the end, it has let me close the door on that thought of forever and start envisioning my new future ahead, which I am excited about. I hope with all of this I can choose to look forward and not in the rearview mirror at what could have been and what could have been different. I just hope, through this time, I can help other women who might going through a hard time, men too, knowing there is light at the end of the tunnel. And you always have to choose the right path for you and for your own happiness, even if that means battling heartbreak or hard times."
In the end, she reassured her listeners that she has a "a lot of self-love" and that she "will find happiness."
"It's a bump in the road," she said, recalling some words of wisdom from a friend "and everyone is going to have blips their whole life. And it's just how you choose to get through them. We are all stronger than we think we are. Shawn was my best friend and you're grieving a relationship." 
Even though they're no longer romantically involved, Bristowe revealed she and Shawn "will remain friends."
Terry Wyatt/Getty Images for The Kevin Carter Foundation
Bristowe and Booth announced their breakup earlier this month.
"After three incredible years, we have decided to go our separate ways," the now-exes said in a statement to People. "This difficult decision comes after thoughtful, respectful consideration. Even though we are parting as a couple, we're very much committed to remaining friends. We have both evolved as people, which is taking us in different directions, but with the hope that we will continue to support each other in new ways. Due to the nature of how we met, our relationship has always been very public, and we have enjoyed sharing it with all of you, but we ask that you respect our decision and our privacy at this time."
During her podcast, Bristowe made it clear that neither she nor Booth received any money for sharing the news with the magazine. While she acknowledged she may have "disappointed" some of her fans by not announcing the split directly, she said it was a decision they made together and that it wouldn't have been fair to reveal it on her own.
Booth has also spoken out about the split. In a recent Instagram post, he thanked his fans and followers for their support.
"I just want to thank everyone who has been so supportive of my relationship with Kaitlyn over the years," he wrote on Instagram. "You've made me feel incredibly special, supported, and very loved. So from the bottom of my heart, thank you. It truly means a lot. And thank you to everyone who has sent their love & support during this painful time. I love you guys."
Fans first met Bristowe on Chris Soules' season of The Bachelor. She then went on to pass out the roses on season 11 of The Bachelorette. Booth competed for her heart and ended up proposing.
 To hear her full comment on the split, check out her podcast.