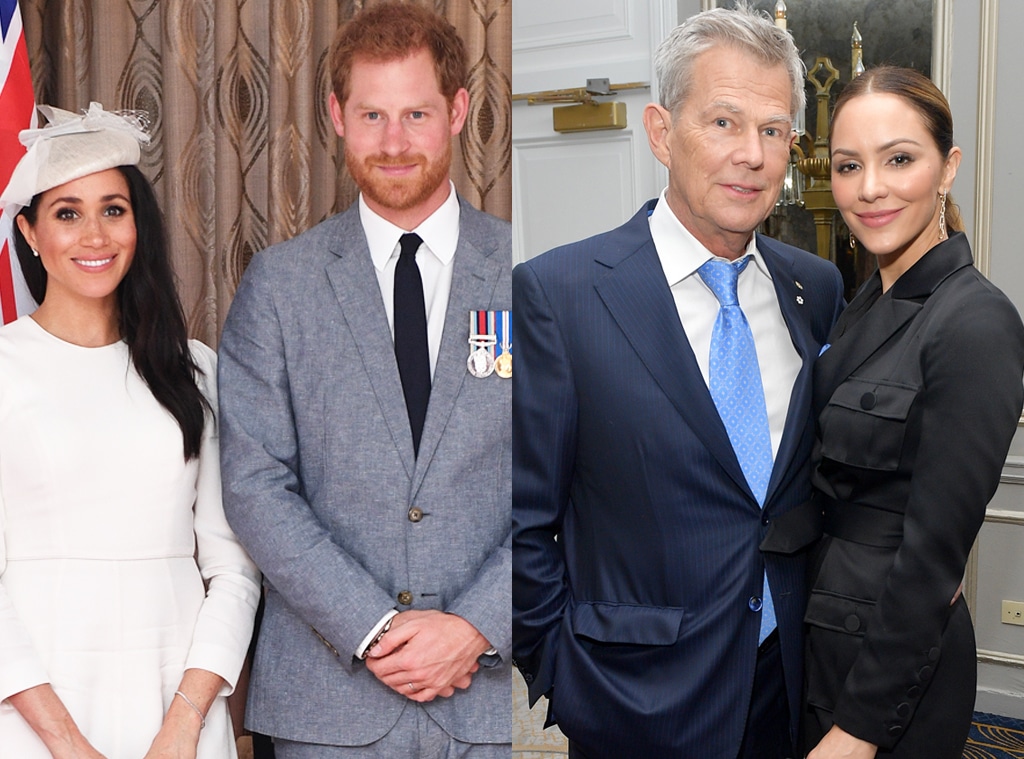 Andrew Parsons - Pool/Getty Images, Matt Winkelmeyer/Getty Images for TIFF
You know what they say: famous couples who help each other find mansions together, stay together.
Meghan Markle and Prince Harry spent their first Christmas with 7-month-old son Archie Harrison Mountbatten-Windsor in Canada this year, opting to spend the holiday at a private location with the Duchess' mother, Doria Ragland, instead of participating in Queen Elizabeth II's holiday celebrations. (Don't worry, they got the okay from the Queen!)
But how did they choose where to stay? As it turns out, Smash alum Katharine McPhee—who went to school with Meghan in Los Angeles when they were teens—had her husband David Foster help them find the luxurious Canadian home.
As the famed music producer told DailyMail.com, "I felt honored that I was able to help Meghan there, because I'm a Canadian and we're a commonwealth country, we're the Crown's. It's important to us, so I grew up with that kind of sentiment."
DailyMail.com reports the home is worth $14 million. It's located on a secluded waterfront on Vancouver Island in British Columbia, in an area called North Saanich. Foster does not own the home himself, nor did he reveal the owner. He's also not aware if the royals paid rent to stay there.
As the 69-year-old—who was born on Vancouver Island—added, "I was really happy to be able to help them to find a respite just to take a little time off."
The musician continued to gush about the Canadian town and how its relaxed environment allowed Harry, Meghan, Archie and Doria to have a quiet holiday.
Watch:
David Foster Opens Up About Relationship With Katharine McPhee
"The owner has allowed this to happen through me, and I was happy to facilitate," he shared. "I don't know what their next plans are, but I know that it was reinvigorating for them to spend some downtime."
"This is a great testament to my hometown of Victoria that they were able to go under the radar for so long," David added.
He also brought up his wife's past with the Duchess of Sussex. (Katharine attended Immaculate Heart Middle School at the same time her older sister, Adriana, and Meghan attended the companion high school.)
"Katharine went to school with Meghan and her sister went to school with Meghan," he divulged. "We actually met Meghan and Harry at D-Day in London maybe a year ago. Immediately we were drawn to them, like everybody is, and I was just happy to help."
The producer wrapped things up by praising Harry and Meghan for doing what they want. "I was just happy through my friend to facilitate what I could for them," he shared. "And it looked like they had a great rest. They're a young modern family. I'm sure they want to balance their commitment to the crown and be a 2020 family."
That they do. A spokesperson for the family told E! News in December that the Sussex royals were happy with their private, quiet holiday.
"Their Royal Highnesses the Duke and Duchess of Sussex are spending private family time in Canada," the spokesperson said, adding that the family was "enjoying the warmth of the Canadian people and the beauty of the landscape with their young son."
And part of enjoying that landscape includes some hiking! On Friday, a couple shared a photo that was taken by the Duchess of Sussex herself. According to CTV News Vancouver Island, Iliya Pavlovic and Asymina Kantorowicz were struggling with their selfie stick when Meghan, who was standing nearby with Harry and her former Suits co-star Abigail Spencer, offered to take the picture for them.
Clearly, these royals have loved their time in Canada. Thanks, Katharine and David!