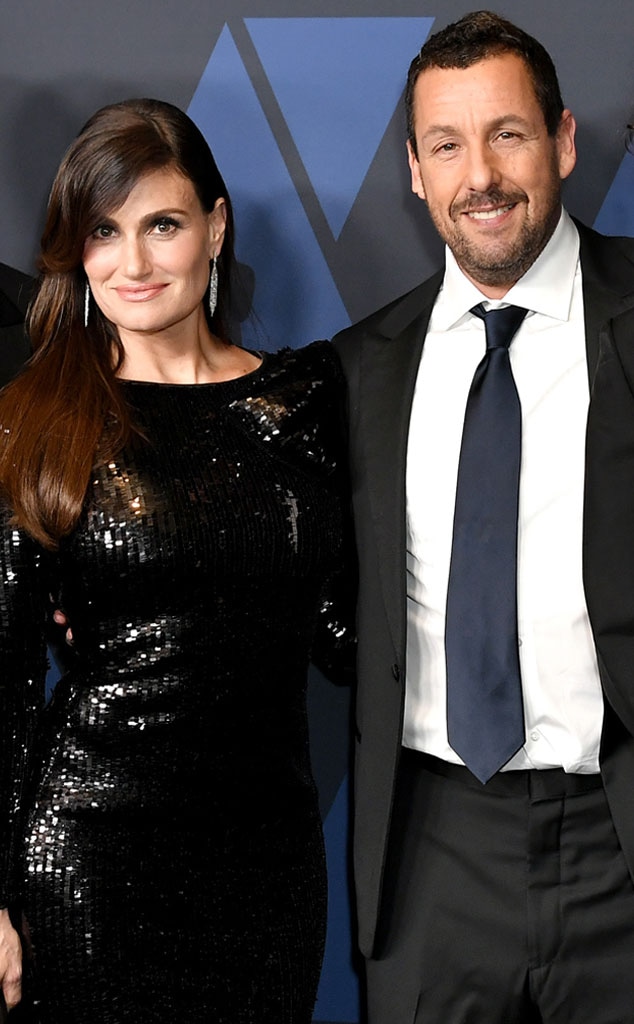 Rob Latour/Shutterstock
Even Adam Sandler stans Idina Menzel.
During an appearance on The Ellen DeGeneres Show airing Monday, the Frozen 2 star dished about her time on set of Uncut Gems with the Saturday Night Live alum. And as it turns out, he's just as much of a fan of her singing voice as the rest of the world.
As Menzel told guest host Ellie Kemper, "He brought in a boombox to set." Before you ask, no. He did not play "Let It Go." His fangirling goes all the way to Menzel's early Broadway years. (She was in the original Broadway casts of Rent and Wicked. She won a Tony for the latter.)
As Menzel joked, "He played 'Defying Gravity,' and it embarrassed me."
In chimed Kemper, who had already spent some time fangirling over the actress' Broadway success earlier in the interview. As she said, "But it's a tribute, as well!"
As the singer continued, "He DJs the whole time 'cause he wants the crew to just relax and have fun, so he's always playing music."
While Sandler made sure to make everyone feel at home on set, his character in Uncut Gems is not as lovable.
As Menzel told Kemper, "He's like the guy that sells bling to all the athletes and the rappers, and he's also a really bad gambler. And he's just a guy that really wants to win in life. And I play his wife who he's kind of cheating on. Not kind of, he's cheating on. And she's the only one in his life that really tells the truth."
Her role in the film apparently has resonated with audiences beyond the age of her Frozen fans.
As the 48-year-old shared, "I've been in the audience while people have been watching it, and they tend to like my character only because she says exactly what they want to say to this character."
Speaking of Frozen, Kemper couldn't help but try and get a scoop about the beloved Disney franchise.
"I want to ask you, 'cause I have to," The Office alum said. "Will there be a Frozen 3?"
As Menzel excitedly replied, "I hope so!" As she later added, "Do you want to be in it with us?"
Watch:
Idina Menzel & Kristin Chenoweth on Why "Wicked" Resonates
"Yes, that's what I'm getting at," Kemper quipped back.
As for who the Unbreakable Kimmy Schmidt star would want to play, she said, "A new little redheaded snowball."
Now, check out the rest of the interview to hear Kemper's story about her love for "Defying Gravity."