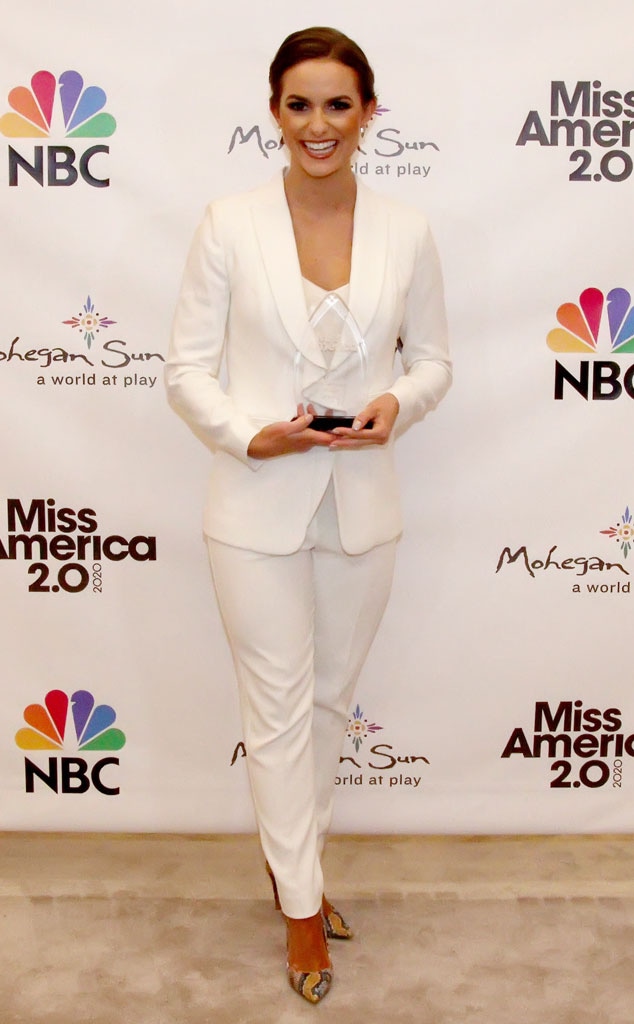 Donald Kravitz/Getty Images
And the winner of the Miss America 2020 pageant is... Miss Virginia, Camille Schrier.
On Thursday, Dec. 19, the beauty queen reigned supreme during the Miss America pageant. The 24-year-old beat 50 other contestants to earn the coveted title at the 93rd annual competition, which aired live on NBC from the Mohegan Sun in Uncasville, Conn. 
Miss Georgia Victoria Hill was named the first-runner up, while Miss Missouri Simone Esters came in as the second runner-up. 
Tonight's competition followed 51 intelligent, beautiful and charismatic candidates as they competed for scholarships to be used to continue their efforts toward community service and education. Judges Kelly Rowland, Karamo Brown and Lauren Ash quizzed the contestants on current events, their platforms and more. 
Now, former Miss America Nia Franklin of New York will crown her successor, who will continue to advance her message of empowerment and independence through their community efforts. 
During the show tonight, Schrier shared her passion for science by conducting a chemistry experiment onstage and advocating for the importance of drug safety. She is currently a pharmacy student at Virginia Tech University. 
Donald Kravitz/Getty Images
While pageants have historically gotten a bad rap for their regressive politics when it comes to women empowerment, diversity and inclusion—this past year shows that things are moving in a different direction.
The former Miss America made history along with the newly crowned Miss Universe, Zozibini Tunzi of South Africa, Miss USA Cheslie Kryst and Miss Teen USA Keliegh Garris—marking the first time ever that these titles were held by black women. 
In May, former Miss America told the New York Times, "It's important to little brown and black girls to see three strong figures, three strong women, African American women that are doing so much great work. People will argue that race doesn't matter. But race does matter in America because of the history, because of slavery." 
During the competition last year, Franklin also opened about the struggles she's faced not seeing herself represented in the world around her. 
"I grew up at a predominately Caucasian school and there was only five percent minority, and I felt out of place so much because of the color of my skin," Franklin said/ "But growing up, I found my love of arts, and through music that helped me to feel positive about myself and about who I was."
Congratulations to Miss Virginia on snagging the coveted title!